McCarthy shores up votes to shut down George Santos expulsion push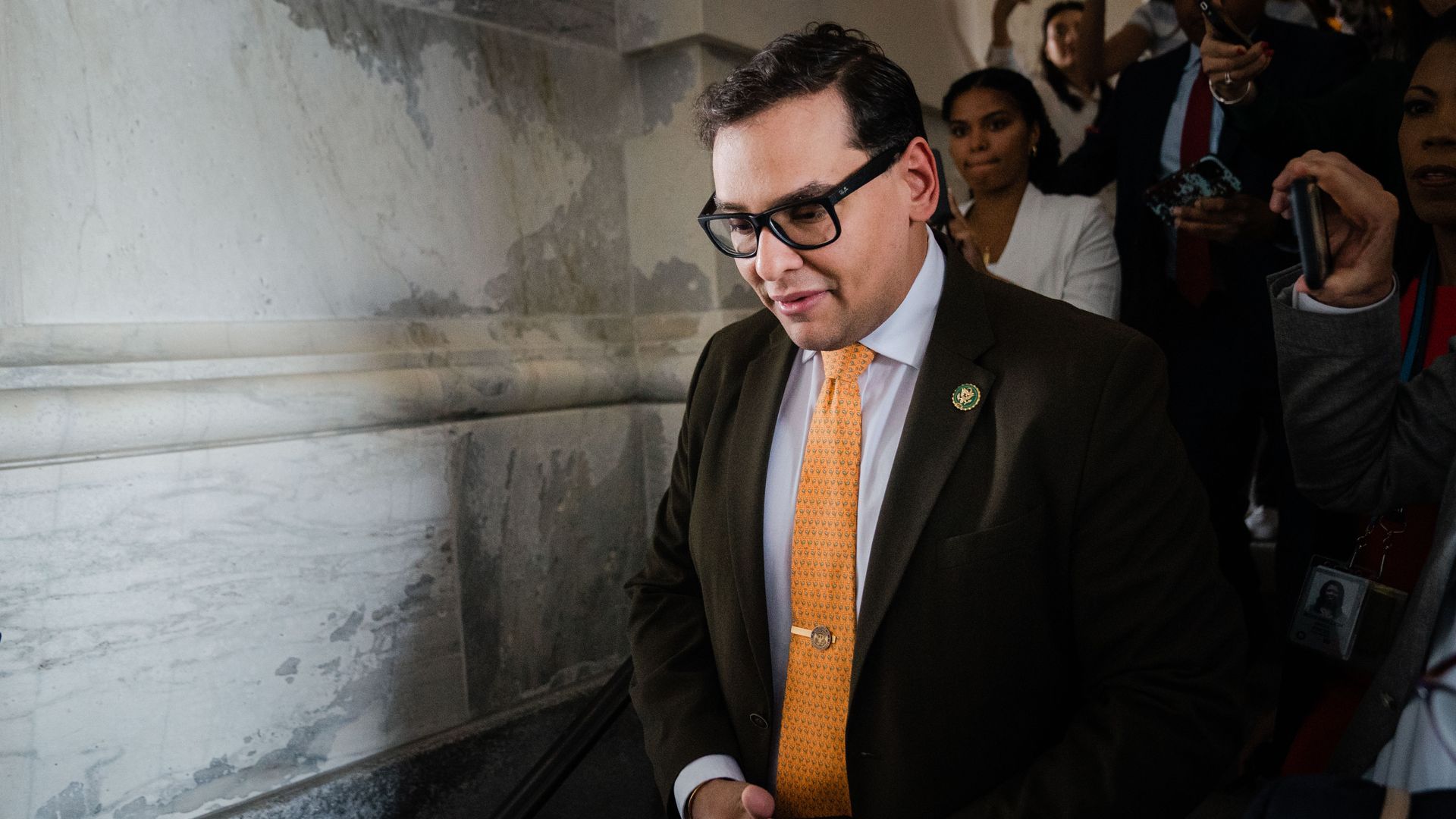 House Speaker Kevin McCarthy (R-Calif.) is on track to be able to effectively kill a Democratic resolution to expel Rep. George Santos (R-N.Y.) from Congress.
Why it matters: The vote forces vulnerable Republicans, especially Santos' fellow New York freshmen, into a politically difficult position.
House Democrats' issue advocacy arm is already running robocalls targeting those Republicans on the vote, Axios has learned.
Driving the news: Several House Republicans who have called on Santos to step down say they will vote for McCarthy's motion to refer the resolution to the Ethics Committee, which is already investigating Santos.
Rep. Marc Molinaro (R-N.Y.) told Axios in a statement he will "vote to begin the process of removing George Santos from this sacred institution by formally referring his case to the House Ethics Committee," adding that he expects an "immediate and swift review."
"The rule of law and due process are cornerstones of our society," Rep. Brandon Williams (R-N.Y.) told Axios in a statement.
Rep. Mike Lawler (R-N.Y.) said in a statement, "Never before has a member of Congress … been removed without a criminal conviction or a referral," adding that he will vote for referral.
Rep. Nancy Mace (R-S.C.), another moderate who has called for Santos' resignation, "[will] be a yes," her spokesperson Will Hampson told Axios.
Yes, but: Reps. Nick LaLota (R-N.Y.), Anthony D'Esposito (R-N.Y.) and Tony Gonzales (R-Texas) did not respond to requests for comment.
The backdrop: McCarthy met with the New York GOP delegation on Tuesday night, as Democrats triggered a vote on the resolution, to lay out his strategy to refer the matter to Ethics, according to senior aides to two of the members.
McCarthy has said he wants the committee, whose investigations are infamously slow, to handle the Santos probe in an expedited fashion.
Santos is also under indictment by the Justice Department on charges of wire fraud, money laundering, theft of public funds and lying to Congress. He has pleaded not guilty.
The other side: Despite McCarthy's gambit, Democratic leadership is still supporting the measure, introduced by Rep. Robert Garcia (D-Calif.).
House Democratic Caucus Chair Pete Aguilar (D-Calif.), at a lunch on Wednesday, urged Democrats to stay united on the vote, according to a source familiar with the matter.
What we're watching: Democrats' House Majority Forward is already taking aim at all five of Santos' fellow first-term New York Republicans in swing districts, as well as Reps. David Schweikert (R-Ariz.), Juan Ciscomani (R-Ariz.) and John James (R-Mich.).
The nonprofit is running robocalls in those eight swing districts hammering Santos as a "fraudster who lied to the American people" and the "deciding vote" on McCarthy's debt ceiling bill, according to transcripts and audio obtained by Axios.
The robocalls encourage voters to call their members and "tell them to vote to expel George Santos from Congress."
The bottom line: This is another example of the tenuous balancing act McCarthy has to perform to keep Santos' crucial floor vote as long as possible while trying to protect his most politically vulnerable members.
Go deeper