Pressure grows on Bob Menendez to resign from Senate after indictment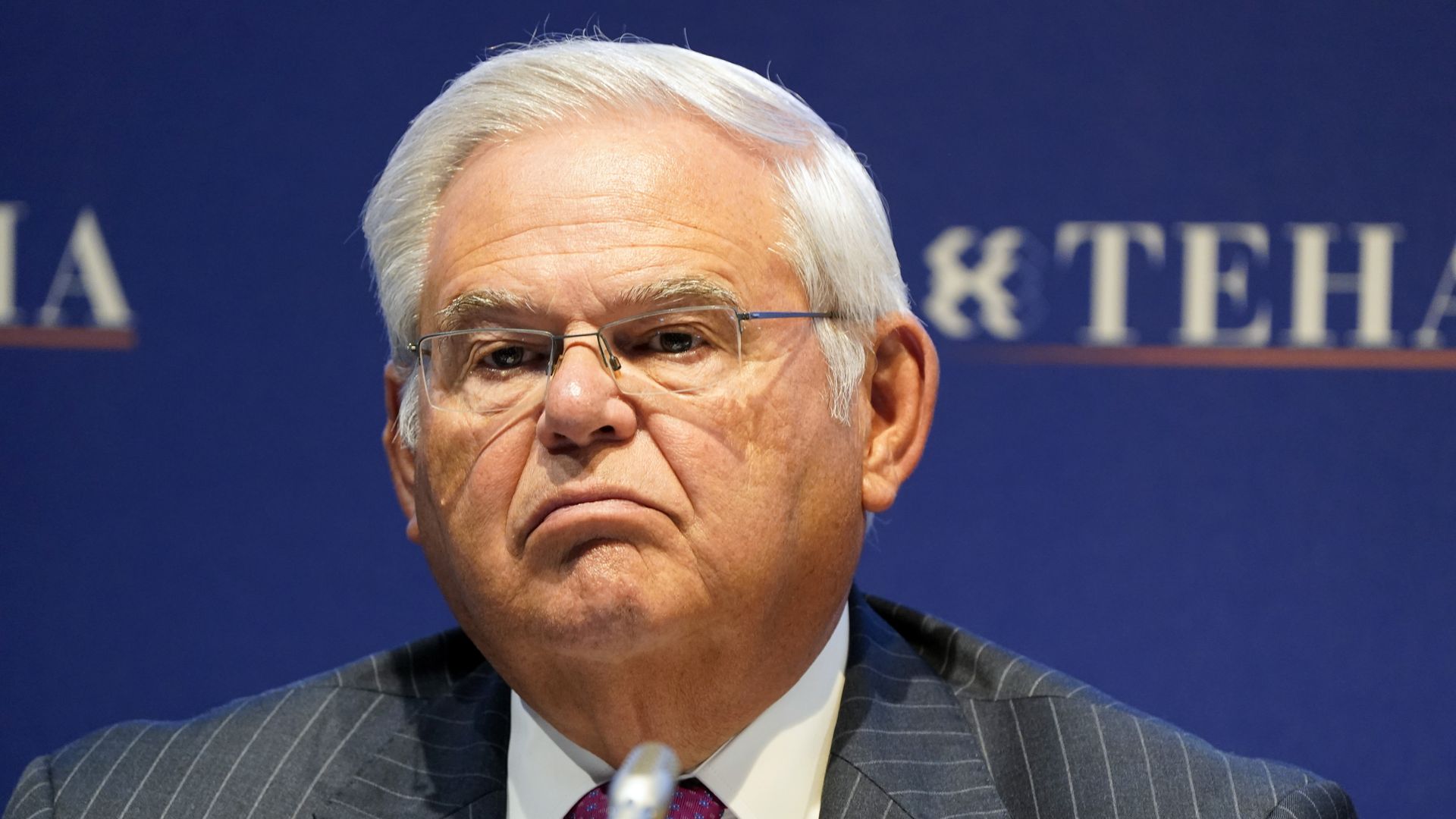 Sen. Bob Menendez (D-N.J.) faces growing calls to resign after being indicted on bribery charges this past week.
Driving the news: Menendez, who was indicted alongside his wife, Nadine Menendez, has refused to resign and said he is "not going anywhere."
Catch up quick: Prosecutors are accusing Menendez and his wife of accepting "hundreds of thousands of dollars of bribes" in cash, gold, lavish gifts and other expenses in exchange for using his power to benefit a trio of New Jersey businessmen, Axios' Andrew Solender reports.
The New Jersey senator, who was chair of the Senate Foreign Relations Committee before he stepped down on Friday, has faced corruption-related charges before.
Senate Majority Leader Chuck Schumer (D-N.Y.) said Friday that Menendez stepping down as committee chair is temporary, "until the matter has been resolved."
What they're saying: "I think ... the situation is quite unfortunate, but I do believe that it is in the best interest for Senator Menendez to resign in this moment," Rep. Alexandria Ocasio-Cortez (D-N.Y.) said on CBS' "Face the Nation" Sunday.
Ocasio-Cortez said it "shouldn't matter whether it's a Republican or a Democrat," and that "the details in this indictment are extremely serious."
Ocasio-Cortez also responded to Menendez's statement that the indictment had to do with him being Latino, saying that while there is systemic bias, "I think what is here in this indictment is quite clear."
She added that Menendez resigning from the Senate is "in the best interest to maintain the integrity of the seat," but added that everyone should be given the "presumption of innocence until proven guilty."
State of play: House Speaker Kevin McCarthy (R-Calif.) is also part of the mounting list of political leaders calling on Menendez to step down.
New Jersey Gov. Phil Murphy, along with nearly all of New Jersey's Democratic House delegation, has called on Menendez to resign.
Murphy, a Democrat, said the allegations in the indictment are "deeply disturbing," per a statement Friday, adding that the "alleged facts are so serious that they compromise the ability of Senator Menendez to effectively represent the people of our state."
Worth noting: Rep. Andy Kim (D-N.J.) said Saturday he will run against Menendez in 2024.
Kim said this was "[n]ot something I expected to do," but added that the state "deserves better," per a statement Saturday on X, the social media network formerly known as Twitter.
Former New Jersey Gov. Chris Christie ruled out running for Menendez's seat on Sunday in an interview with NBC's "Meet the Press."
Christie said he had a chance to appoint himself to the Senate in 2013, but "if I didn't appoint myself to the United States Senate, the easiest way to get there, I sure as heck am not going to run for it."
Go deeper: Menendez resists Democrats' mounting calls to resign
Go deeper