Menendez resists Democrats' mounting calls to resign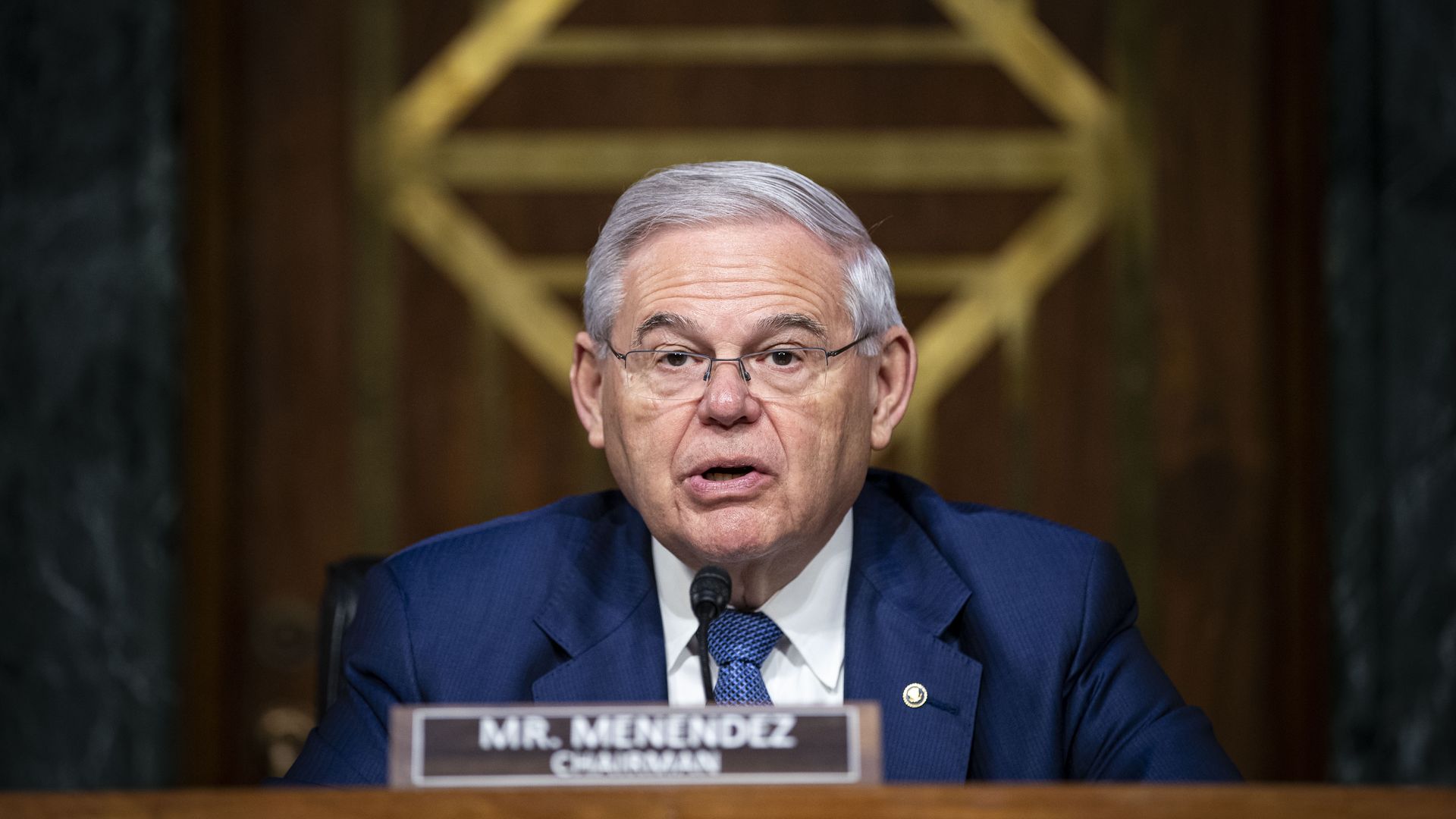 Sen. Bob Menendez (D-N.J.) said Friday he won't resign from the Senate despite mounting calls from fellow Democrats for him to do so over an indictment on bribery charges.
What he's saying: "It is not lost on me how quickly some are rushing to judge a Latino and push him out of his seat," Menendez said in a statement. "I am not going anywhere."
The New Jersey senator said he will "continue to fight for the people of New Jersey with the same success I've had for the past five decades."
The details: Menendez and his wife were charged Friday by the U.S. Attorney for the Southern District of New York with conspiracy to commit bribery, conspiracy to commit honest services fraud and conspiracy to commit extortion under color of official right.
The indictment accuses Menendez of accepting "hundreds of thousands of dollars of bribes" in cash, gold, lavish gifts and other expenses in exchange for using his power to benefit a trio of New Jersey businessmen.
The senator is also accused of using his official role to benefit the government of Egypt, including by providing "sensitive U.S. government information."
Driving the news: Several leading New Jersey Democrats, including nearly half the Democrats in the state's congressional delegation, have called for his resignation.
New Jersey Gov. Phil Murphy, State Assembly Speaker Craig Coughlin and State Democratic Party Chair LeRoy Jones all called for Menendez to resign.
Rep. Frank Pallone (D-N.J.), the top Democrat on the House Energy and Commerce Committee, said in a statement that Menendez "should resign in the best interest of our state."
Rep. Andy Kim (D-N.J.) said in a statement to Axios – first reported by the New Jersey Globe – that Menendez can't focus on his state "while addressing such a significant legal matter," adding: "He should step down."
Rep. Mikie Sherrill (D-N.J.) posted to the social media site X that "it's in the best interest of our state that Senator Menendez resign."
Rep. Bill Pascrell (D-N.J.) said in a statement: "I do not believe that Senator Menendez can continue to carry out the important duties of his office for our state."
Zoom out: It's not just New Jersey politicians saying it's time for Menendez to go.
Rep. Dean Phillips (D-Minn.), a member of House Democratic leadership, said in a CNN appearance that "based on what I've seen, I'm disappointed and, yes, I think he should resign," adding that Senate leadership should "absolutely" push him out.
Between the lines: "These are cartoonish corruption charges. This isn't 2017 by a mile," a senior New Jersey Democratic congressional aide told Axios. "If Donald Trump or a powerful republican did one-tenth of this nonsense we'd be howling to the hills for them to go to the big house."
Menendez wriggled out of corruption charges over an alleged pay-to-play scheme in 2017 after jurors were unable to reach a unanimous verdict.
The aide said Sherrill and Murphy are "usually the pictures of caution and that they did the right thing speaks to the overwhelming evidence."
The intrigue: Senate Majority Leader Chuck Schumer (D-N.Y.) said in a statement that Menendez "rightly decided to step down temporarily" from his chairmanship of the Senate Foreign Relations Committee "until the matter has been resolved."
Under Senate Democratic Caucus rules, committee chairs under indictment must relinquish their roles.
Schumer did not go as far as to call for Menendez to resign from the Senate, however, calling him a "dedicated public servant" who "has a right to due process and a fair trial."
Editor's note: This story has been updated with additional developments.
Go deeper