Democrats quietly move to succeed Biden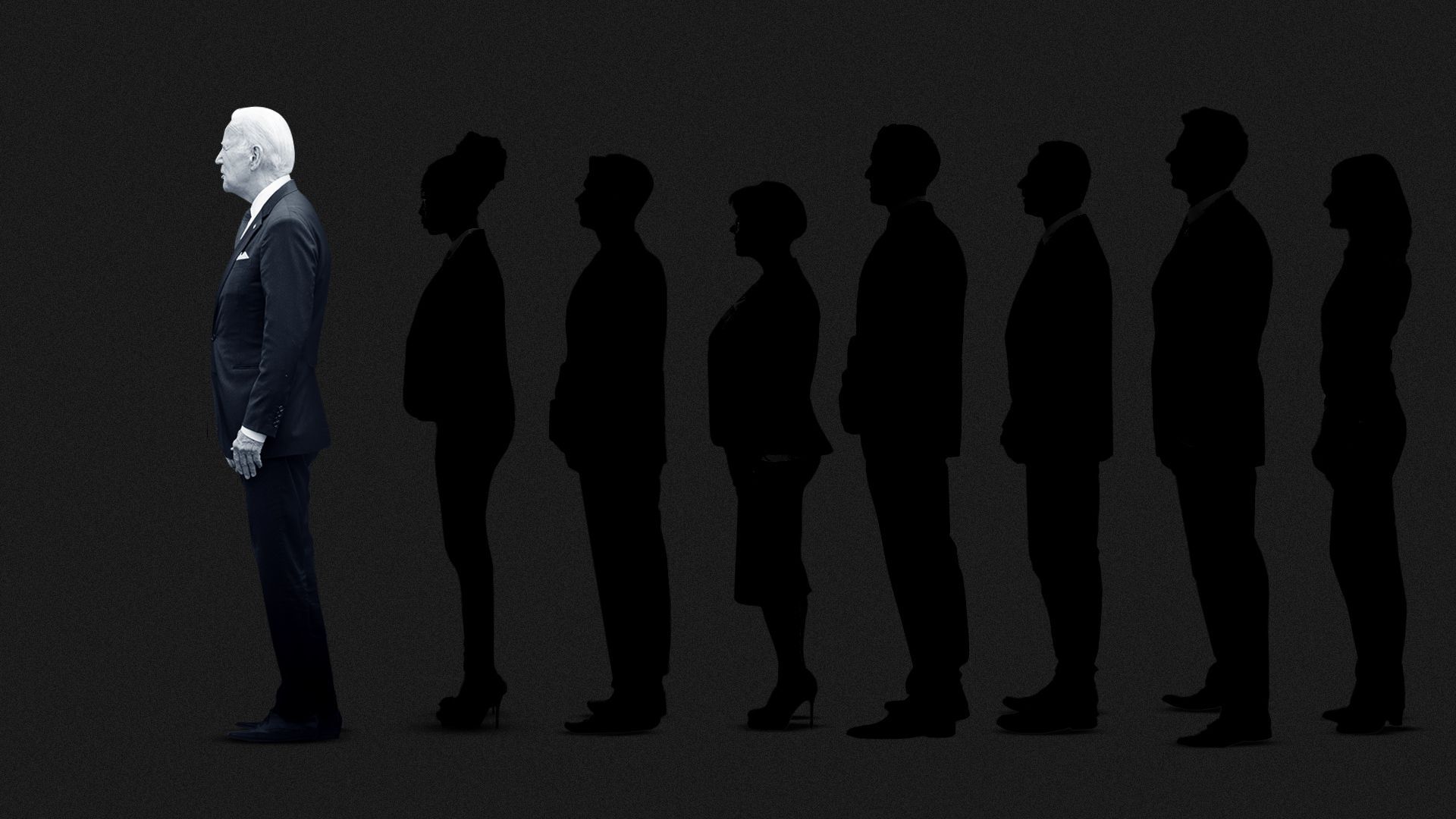 Democratic governors and senators are quietly moving to boost their national profiles and position themselves to run for president in 2028 — or in 2024, if President Biden unexpectedly drops out.
Why it matters: The ambitious, next-generation Democrats all support Biden's re-election — but they're drawing battle lines for the next race for the White House.
The early jockeying is also a hedge against Biden, 80, having a health scare or deciding not to run for re-election before the Democratic National Convention next August, several high-ranking Democratic officials tell Axios.
What we're watching: In recent months, more than half a dozen Democratic lawmakers have established national political organizations, embarked on resume-building foreign trips, and visited states that traditionally hold early presidential primaries.
New Jersey Sen. Cory Booker — who ran for president in 2020 — already has $10 million cash on hand for a 2026 Senate re-election bid that he could transfer to a 2024 presidential campaign.
Booker will headline a panel in South Carolina on health care and abortion rights on Nov. 18, and is involved in the Charleston mayoral race, in which his former aide Clay Middleton is a candidate.
Michigan Gov. Gretchen Whitmer, California Gov. Gavin Newsom and Pritzker all recently launched national political groups — "Fight Like Hell PAC," "Campaign for Democracy," and "Think Big America," respectively.
Newsom's group has focused on gun safety while Whitmer and Pritzker's groups have honed in on abortion rights.
Vice President Kamala Harris has focused on abortion rights and recently embarked on a well-received "Fight for Our Freedoms College Tour" that included several historically Black colleges and universities.
Reality check: All of the Democrats' offices reiterated to Axios their support for Biden and their plans to work hard to get him re-elected.
Biden, who would be 86 at the end of his second term, has released a report from his doctor that he is in good health for a man of his age, and has said he's focused on winning re-election.
Biden's campaign declined to comment.
The intrigue: Democrats' commitment to Biden hasn't stopped them from running just-in-case scenarios.
If Biden were to leave the race before the end of this year, there likely would be time for candidates to get on enough state ballots to determine the nomination.
But if he were to exit after Jan. 1, the nomination fight more likely would go to the Democrats' convention in Chicago because candidates wouldn't be able to get on the ballot in enough states, according to a recent analysis by the Brookings Institution's Elaine Kamarck, who has been on the DNC's Rules Committee since 1997.
In that case, Biden likely would have some delegates and could ask them to support a candidate — but the delegates would be free to support who they want.
Zoom in: In October, Pritzker, 58, launched Think Big America, a group that's using his wealth to fund abortion rights ballot measures across the country.
Pritzker, a billionaire businessman, personally gave $750,000 and Think Big America gave $250,000 to support Ohio's Issue 1 amendment, which would enshrine abortion rights in the state's constitution and is on the ballot in next week's election.
Think Big America also donated $1 million to Nevadans for Reproductive Freedom, which is behind an abortion-rights ballot measure, a Think Big spokesperson told Axios.
Pritzker also landed the Democratic convention for Chicago; he and his allies are raising money for it.
Newsom's group has focused on pushing for a constitutional amendment that would ban the sale of assault weapons and require gun buyers to be 21, among other things.
California passed the proposed amendment this fall, but it remains a long shot to be ratified by Congress and at least 38 states, as required.
Since March, the group also has raised $1 million for Biden's re-election through its digital channels and $1.2 million for state parties in red states, Newsom spokesperson Nathan Click told Axios.
Whitmer's group hasn't done much publicly since its launch in June.
Spokesperson Andrew Feldman told Axios the group will make its first candidate endorsements in the "coming weeks." He declined to say how much money the group has raised or how it's being spent.
Newsom and New Jersey Gov. Phil Murphy both recently went abroad to meet with foreign leaders.
Newsom went to Israel and China last month and sat down with President Xi Jinping and Foreign Minister Wang Yi.
Murphy visited South Korea, Japan, and Taiwan last month, and met with Japanese Prime Minister Fumio Kishida.
Behind the scenes: Booker has kept his 2020 political team close and keeps in contact with supporters in early primary states, a person familiar with the situation told Axios.
Khanna has also been calling Democratic officials in South Carolina, a person familiar with the calls said.
Arizona Sen. Mark Kelly has been visiting conservative and swing states this year including Montana, Michigan, Texas and Wisconsin, where he stumped for Senate colleagues and addressed local Democrats.
Flashback: While rare, there is precedent for a president abruptly deciding not to run for re-election.
On March 31, 1968, President Lyndon Johnson withdrew from the 1968 race as the Vietnam War consumed his presidency.
Citing the challenges facing the country, Johnson said: "I do not believe that I should devote an hour or a day of my time to any personal partisan causes or to any duties other than the awesome duties of this office."
Go deeper