Vivek Ramaswamy predicts "surprise result" in Iowa caucuses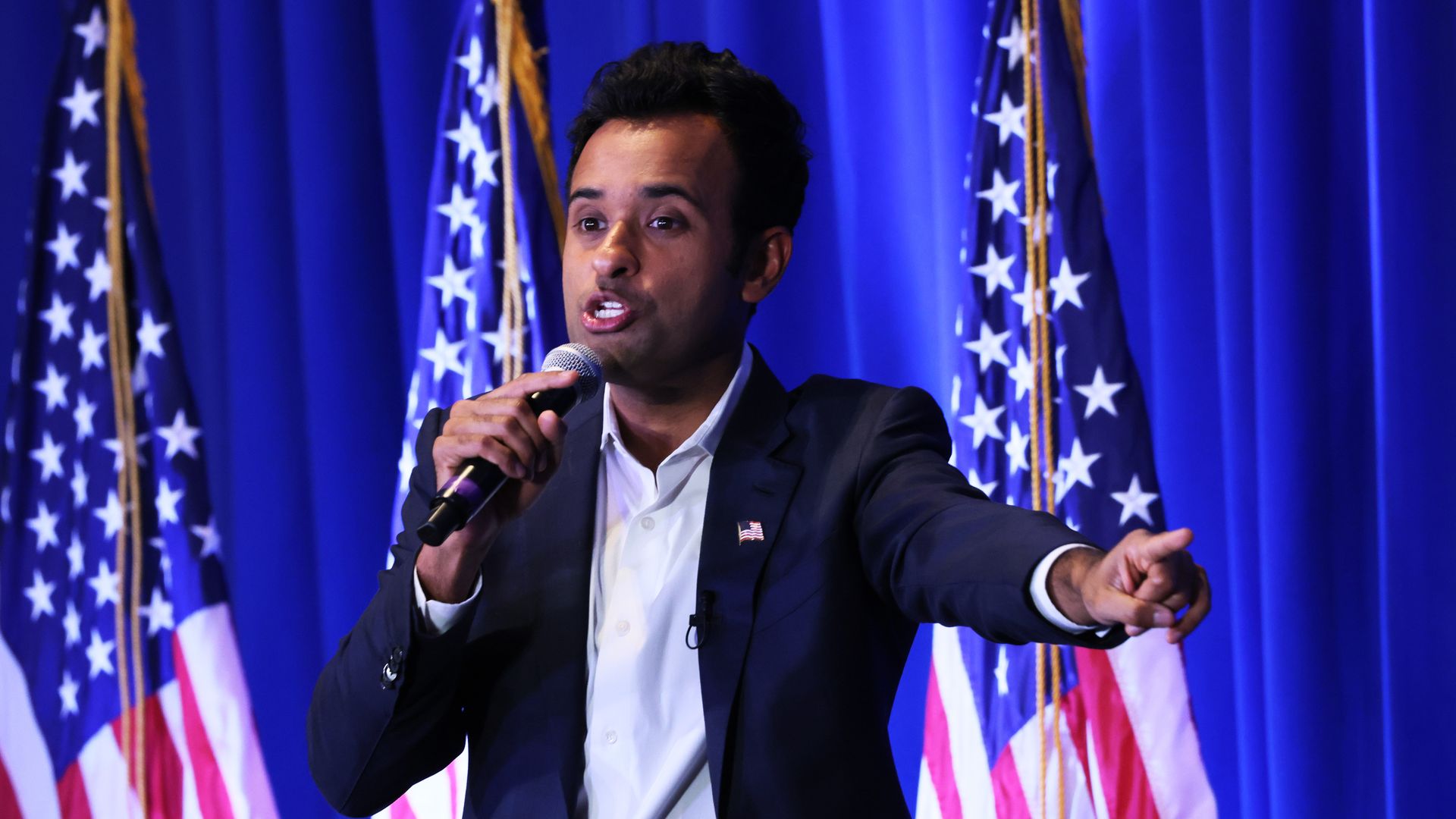 Entrepreneur Vivek Ramaswamy said Tuesday that he expects his campaign to deliver a "surprise result" during the Iowa caucuses in 2024.
Driving the news: "If not an outright victory, I think we have a good shot at an outright victory, something close to it," Ramaswamy told Axios during a sit-down interview. "A solid second or third in Iowa," he added.
A second or third-place finish in the first-in-the-nation caucuses, set to take place on Jan. 15, will "over-perform the expectation that we have going in," Ramaswamy added.
Between the lines: Ramaswamy, who experienced a bump in polls following the first GOP primary debate, averages over 5% support in the national polls, putting him at about fourth, according to FiveThirtyEight.
He also averages about 5% in early Iowa polls, according to FiveThirtyEight, which has him in fifth as of Oct. 24.
Zoom in: Ramaswamy, the youngest candidate in the GOP field, has sought to appeal to younger voters, including by joining TikTok in part in an effort to reach the crucial voting bloc.
"The reason I say that is the polls aren't capturing the people who come to our events ... disproportionately, we are drawing people who have never participated in a caucus," he said.
Flashback: Sen. Ted Cruz (R-Tex.) won the Republican Iowa caucuses in 2016 and former Pennsylvania Sen. Rick Santorum (R) won them in 2012 — both by thin margins — but neither ended up winning the GOP nomination.
"I think I'm ahead of where Rick Santorum was when he won the Iowa caucus," Ramaswamy said Tuesday.
"Now in his case, he was unprepared to go forward in future states like New Hampshire or otherwise," he said.
Go deeper