Trump open to Vivek Ramaswamy as vice president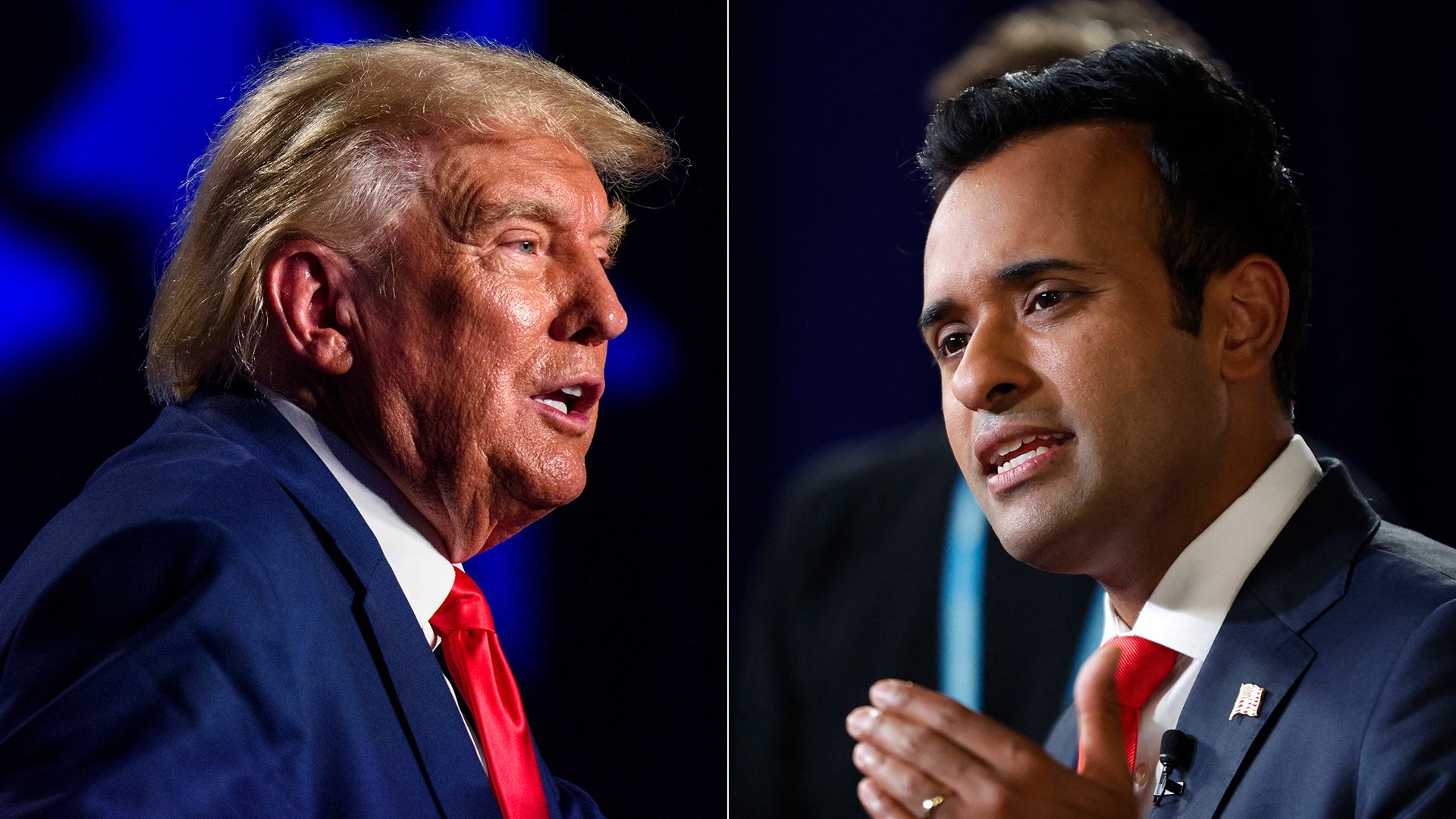 Former President Trump showered Vivek Ramaswamy with praise when asked in an interview if he'd considered the 38-year-old biotech entrepreneur for vice president.
Why it matters: It's the most Trump has weighed in on Ramaswamy's presidential candidacy, revealing his openness to a significantly younger and arguably more radical anti-Washington unknown.
Driving the news: Trump called Ramaswamy "smart" and "young" and "full of talent" when asked by conservative talk show host Glenn Beck what he thinks of a "Vice President Ramaswamy."
"He's a very, very, very intelligent person. He's got good energy, and he could be some form of something," Trump said of Ramaswamy. "I tell you, I think he'd be very good."
The exchange came less than a week after the first GOP debate, which Trump sat out but promised to watch for potential vice presidential picks.
The intrigue: Trump, in the same interview with Beck, seemed to acknowledge Ramaswamy's tendency to drive controversy, urging him to reign it in.
"He's starting to get out there a little bit. He's getting a little bit controversial," Trump said. "I got to tell him: 'Be a little bit careful. Some things you have to hold in just a little bit, right?'"
"If I'm a betting woman, I wouldn't expect Vivek to hold back much!" Ramaswamy spokesperson Tricia McLaughlin told Axios in response to Trump's suggestion.
The big picture: Over the course of six months, Ramaswamy went from a largely unknown long shot candidate polling at 1% to a serious upstart receiving incoming attacks from GOP contenders including former Vice President Pence, former U.N. ambassador Nikki Haley and former New Jersey Gov. Chris Christie.
Ramaswamy built out his brand by taking on any and all media interviews — including the combative ones — and frenetically blitzing across all corners of the early states of Iowa and New Hampshire to introduce himself to voters.
He has largely been in line with Trump on most policy issues like abolishing the Department of Education and launching military strikes against Mexico.
He's also proposed distinctive ideas like raising the voting age to 25.
Go deeper