12.8M people watch first Republican presidential debate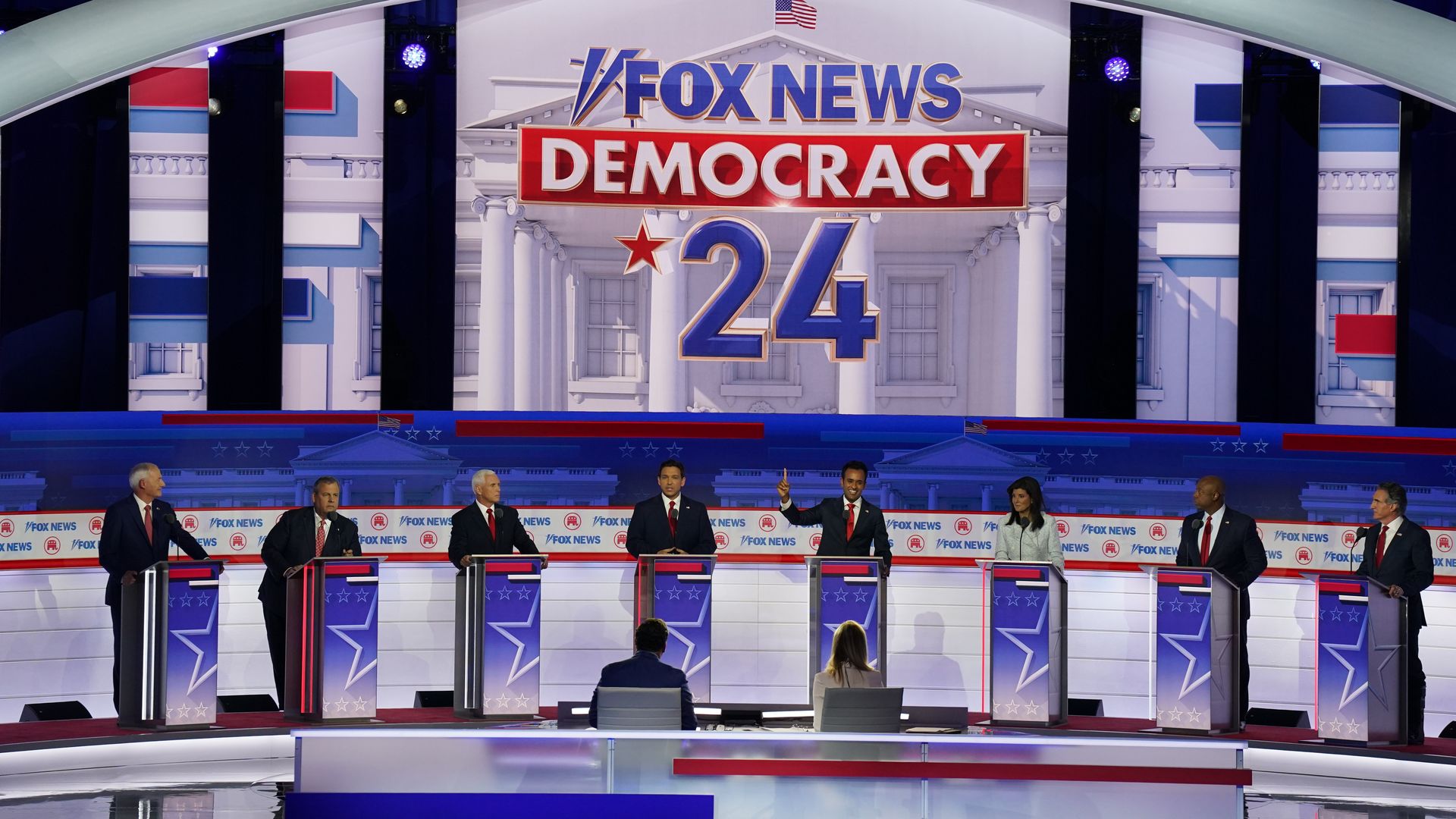 Nearly 13 million tuned in to the first Republican presidential primary debate that aired Wednesday night on Fox News and Fox Business network, according to Nielsen ratings.
Why it matters: The debate wasn't upstaged by former President Trump's pre-taped interview with Tucker Carlson, as some media onlookers predicted, but it still came shy of the viewership levels for the Democratic opening primary debate in 2019 and both of the Republican and Democratic primary debates in 2015.
The first Republican presidential primary debate in 2015 drew a whopping 24 million viewers. That unprecedented level of interest was driven by then-candidate Trump's first debate appearance.
Details: 11 million viewers watched the debate on Fox News Channel and 1.7 million watched it on Fox Business Network.
In addition to those tuning in on television, Fox News Digital "experienced a record day of engagement across key performance indicators," Fox News said in a statement.
Wednesday was Fox News Digital's highest day of minutes watched on its livestream this year.
The debate, moderated by Bret Baier and Martha MacCallum, drew 2.8 million viewers in the prized 25- to 54-year-old demographic.
Between the lines: Carlson's pre-taped interview with Trump on Twitter had drawn over 200 million "views," as of Thursday afternoon, but those numbers cannot be compared to television viewership figures.
In traditional television, a view is counted if a user watches a program for 60 consecutive seconds.
On its website, Twitter says "anyone who is logged into Twitter who views a Tweet counts as a view." There's no requirement for length of viewership.
The big picture: Trump didn't show up to the first debate, but he still won, Axios' Mike Allen notes.
What to watch: Subsequent primary debates tend to wane in viewership, barring any particularly newsworthy performances or events.
What's next: The second Republican presidential primary debate will be held on September 27th and will be broadcast on Fox Business Network, Univision and Rumble.
Go deeper: The GOP debate's energy moments
Go deeper