DeSantis preps for "dog-pile on Ron" at GOP debate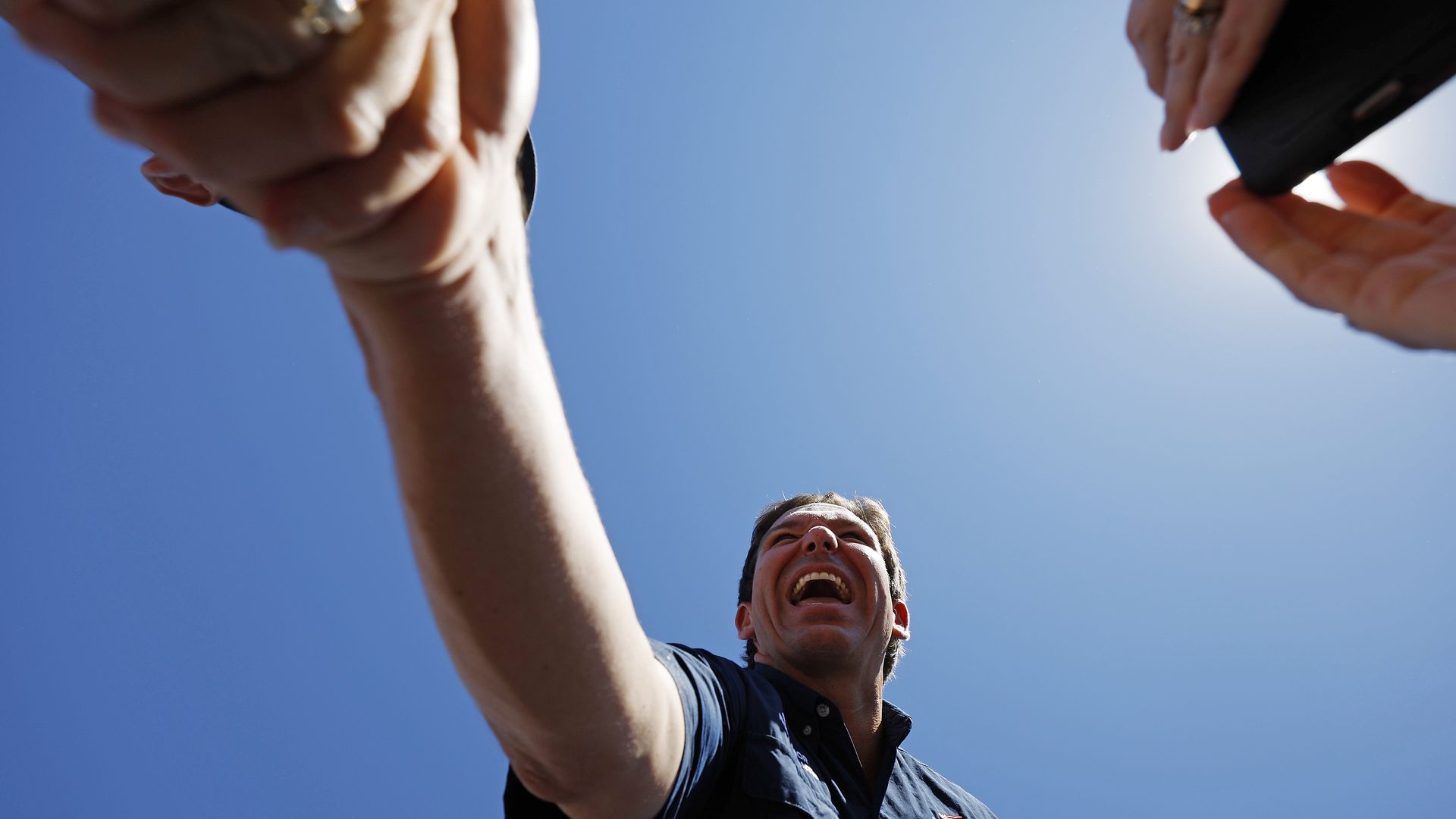 Donald Trump won't be at the GOP presidential debate Wednesday because he has a big lead. Ron DeSantis, Trump's chief rival, will be there — because he's trying to hold on to second place.
Why it matters: The debate is a crossroads for DeSantis. He's far behind Trump in GOP polls, and Republican megadonors who want a Trump alternative tell Axios they'll be watching to see whether DeSantis — or anyone else — has a hope of contending.
Zoom in: That's why the Florida governor's top advisers expect the theme of the night to be "dog-pile on Ron" for many of the eight other expected GOP candidates.
DeSantis' new campaign manager, James Uthmeier, sent a memo to donors and supporters this weekend saying that "the first debate is [other candidates'] biggest chance yet to grab headlines by attacking the governor, so we know they will try their best," Axios first reported.
The DeSantis campaign says he won't be looking to brawl with lesser-polling candidates or even focus on Trump — and instead will emphasize "his vision to beat Joe Biden, reverse American decline, and revive the American Dream."
But some lower-polling candidates — namely entrepreneur Vivek Ramaswamy and former New Jersey Gov. Chris Christie — have previewed attacks on DeSantis in recent days after DeSantis' super PAC urged the governor to attack them.
"We don't need another career politician beholden to the donor class sitting in the White House," Ramaswamy tweeted Sunday in a shot at DeSantis and his well-funded super PAC, Never Back Down.
"The choice for GOP primary voters: Do we want super PAC puppets? Or patriots who speak the TRUTH?" added Ramaswamy — who, unlike Christie, has not hit Trump as the former president has been indicted four times since April.
Christie said Friday that if DeSantis defends Trump at the debate, as the super PAC memo advised, then "he should do Donald Trump a favor and do our party a favor — come back to Tallahassee and endorse Donald Trump."
Other Republicans have suggested they will likely try to break through by attacking President Biden or the media, or talking about their records.
The slate of debaters will be finalized late Monday but is expected to also include former Vice President Mike Pence, former South Carolina Gov. Nikki Haley, South Carolina Sen. Tim Scott, North Dakota Gov. Doug Burgum, former Arkansas Gov. Asa Hutchinson, and businessman Perry Johnson.
The intrigue: Trump confirmed Sunday on Truth Social that he will "not be doing the debates," suggesting that he'll skip any debate the GOP holds.
His campaign will be in Milwaukee, however — and his presence will be felt on the stage, as his challengers seek to present themselves as alternatives without so much baggage.
Trump senior aides Chris LaCivita, Jason Miller and Steven Cheung along with surrogates all plan to be in Milwaukee, the New York Times reported.
Fox News' debate moderators have indicated they'll ask the other candidates about Trump, including his unprecedented felony indictments accusing him of leading a conspiracy to overturn the 2020 election and mishandling classified documents.
Zoom out: Even without Trump, the debate is set to be a spectacle.
Fox News will be using drones with state-of-the-art photography and videography that can be flown indoors and outdoors to capture the Fiserv Forum and the surrounding Deer District in Milwaukee.
Yes, but: Trump skipping the debate does have risks, according to recent polls.
Trump, who has asked crowds at his rallies whether he should attend, told one audience in July: "You people just want entertainment."
One fun thing: Co-moderator Martha MacCallum says she'll prep for the debate with some meditation and prayer along with an early run with a playlist that includes The Band, Jamestown Revival and the Killers.
After the debate, she tells Axios: "I'm looking forward to a cocktail at 10:15PM/CT, 11:15PM/ET on Wednesday night."
Fellow co-moderator Bret Baier said he'll also take a morning run and preps by limiting his coffee intake to "six cups or fewer."
Go deeper