Ramaswamy emerges as lightning rod at GOP debate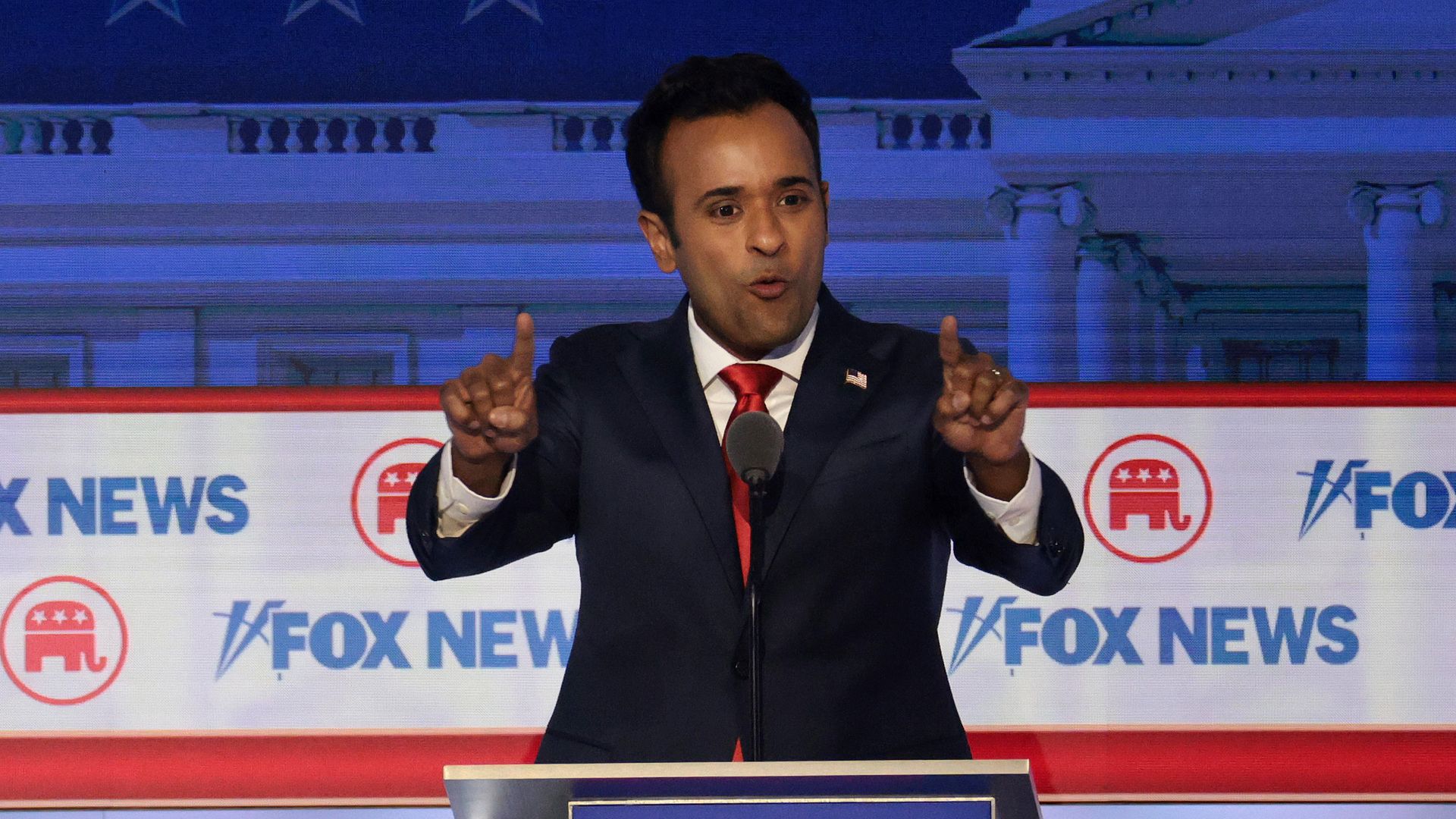 Raucous, uncivil and loud: Tonight's first GOP debate featured lots of sparring between four of the candidates, with entrepreneur Vivek Ramaswamy a central figure in just about every fight.
Why it matters: This debate often felt like a veepstakes. No one on stage was even close to former President Trump in the polls, and most candidates said they'd support him even if he's convicted of a crime.
In an interview with Tucker Carlson that went live five minutes before the debate, Trump bashed Fox News and said he didn't feel like being on stage to be "harassed by people that shouldn't even be running for president?"
With Trump not there, Ramaswamy emerged as a lightning rod.
He fought with former VP Mike Pence over whether it's morning in America or a "dark time" — and over whether he's got the experience to serve.
He went back and forth with former Gov. Chris Christie, with Ramaswamy saying Christie's campaign was motivated by vengeance against Trump — and Christie comparing Ramaswamy to Obama and saying he'd had enough of a guy "who sounds like ChatGPT."
He even had a snappy back-and-forth with former U.N. ambassador Nikki Haley over Ukraine and Israel.
Between the lines: Trump's legal troubles came up about halfway through the debate, introduced by Fox News moderator Bret Baier as "the elephant not in the room."
Christie, a vocal Trump critic, said: "Somebody's got to stop normalizing this conduct." He added that the "conduct is beneath the office of the president of the United States."
Trump weighed in after the debate, saying on Truth Social that Christie "was horrible" and claiming he never asked Mike Pence "to put me above the Constitution." 
Live blog updates for this event have ended.
Less than an hour after his interview with Tucker Carlson aired on X, former President Trump's team sent out an email from his official store declaring: "Trump Wins Debate Night" and offered a 20% discount for purchases on his online store in celebration.
"President Trump is miles ahead of any competition, commanding a truly historic lead. President Trump obviously doesn't need to be there..." the email read.
The email also claimed Trump reached a larger audience via his interview with Carlson than the Fox News debate.
— Written by Bec Falconer.
Former Vice President Mike Pence said that former President Trump asked him to put him over the Constitution on Jan. 6, 2021.
"I chose the Constitution and I always will," Pence said, eliciting boos from some audience members at the debate.
"Kamala Harris will have no right to overturn the election when we beat them in 2024," Pence said.
The big picture: Scott, DeSantis, Christie, Haley and Burgum all said on stage that the former vice president did the right thing on Jan. 6 by rejecting Trump's pressure to unilaterally overturn the results of the 2020 election.
— Written by Erin Doherty.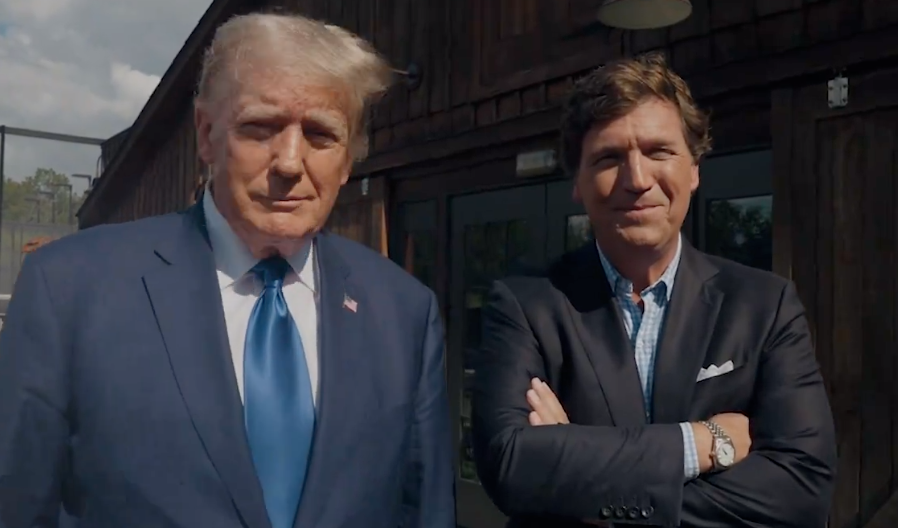 Trump reiterated why he skipped tonight's debate during a 46-minute interview with former Fox News host Tucker Carlson.
What he's saying: "Do I sit there for an hour or two hours ... and get harassed by people that shouldn't even be running for president?" Trump asked.
The former president said Fox News, which is airing the debate, "isn't particularly friendly to me, frankly."
"I'm going to have all these people screaming at me, shouting questions at me, all of which I love answering, I love doing. But it doesn't make sense to do them so I'm taking a pass," he said.
Trump went on to attack his Republican presidential election rivals, former Govs. Chris Christie (New Jersey) and Asa Hutchinson (Arkansas).
Christie, Trump said, is a "maniac."
"The guy left [office] with an 8% approval rating in New Jersey. Now he's running for president and he runs solely on the basis of 'let's get Trump.' he's like a savage. ... He's like a lunatic. And that's all he talks about."
Trump called Hutchinson "weak and pathetic."
"I've never understood the guy, I never knew him. He was the governor of Arkansas. Not a very popular guy. I don't know how ... such a great state that people are so incredible in that state and they love me and I love them. ... He's nasty always and has been."
— Written by Sareen Habeshian and Bec Falconer.
Former Vice President Mike Pence attacked former U.N. ambassador Nikki Haley for taking an insufficiently anti-abortion position during the Republican debate, saying that "consensus is the opposite of leadership."
Why it matters: Abortion has emerged as one of Republicans' most vulnerable electoral issues, and the debate offered a prime-time illustration of the candidates' differing philosophies on federal limitations.
Driving the news: Haley, the sole woman on the stage, said she is "unapologetically pro-life," but that "when it comes to a federal ban, let's be honest with the American people" that Congress doesn't have the necessary votes.
She instead called for agreement on things like banning late-term abortions, encouraging adoption, making contraception available, and not punishing women who get abortions.
Pence quickly criticized her position, saying that abortion is "not a states' only issue, it's a moral issue," and that "a 15-week ban is an idea whose time has come."
Haley snapped back, telling Pence not to "make women feel like they have to decide on this issue when you know we don't have 60 Senate votes."
The intrigue: Florida Gov. Ron DeSantis side-stepped feuding with the other candidates by instead criticizing Democrats for supporting late-term abortions — a position widely viewed as safer than calling for specific new restrictions on the procedure.
"We are not going to allow abortion all the way up until birth, and we will hold them accountable for their extremism," DeSantis said.
Sen. Tim Scott took a similar approach, declaring that "we cannot let states like California, New York and Illinois have abortions on demand up until the point of birth."
Scott added that the president should "advocate and fight for at the minimum a 15-week limit."
— Written by Caitlin Owens.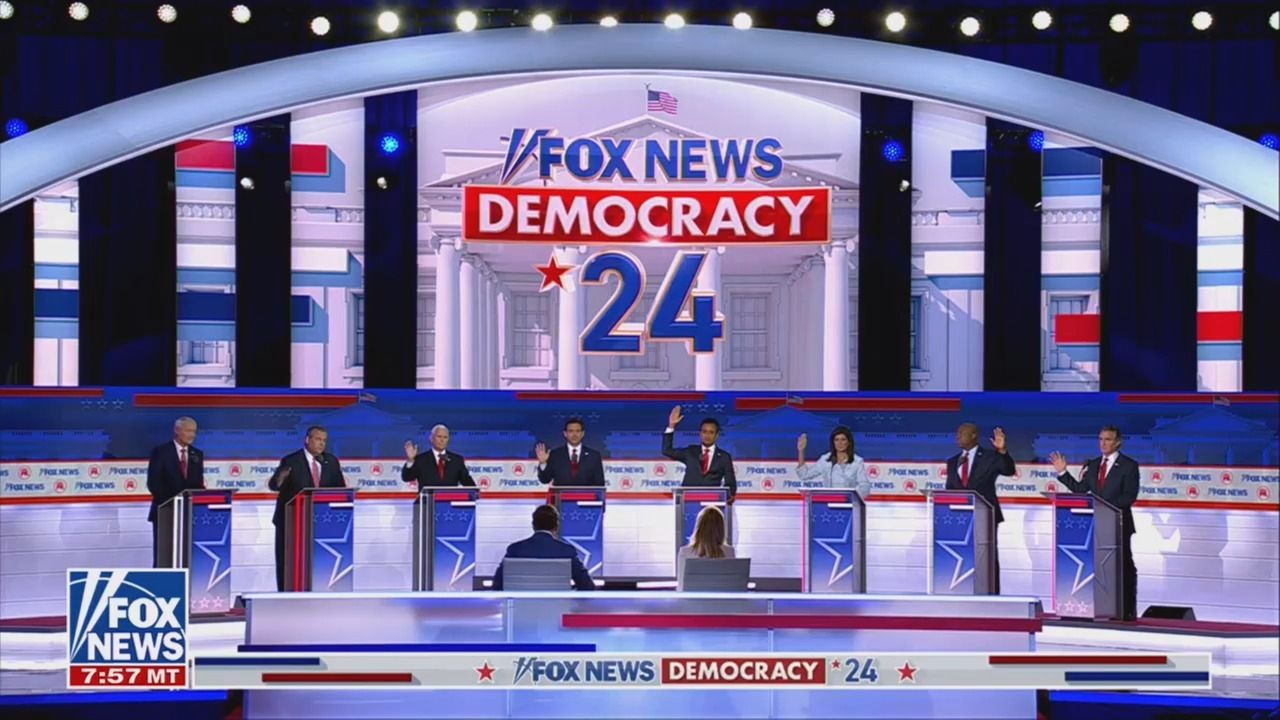 The second half of the debate started with a question about Trump's mounting legal troubles, or, as moderator Bret Baier called it, "the elephant not in the room."
Six of eight of the GOP candidates on stage raised their hand when asked if they would support Trump if he is the Republican nominee if he is convicted. Former Govs. Chris Christie and Asa Hutchinson did not raise their hands.
Christie, a vocal Trump critic, said: "Somebody's got to stop normalizing this conduct." He added that the "conduct is beneath the office of the president of the United States."
— Written by Erin Doherty.
Halfway through the debate, the Republican presidential candidates have largely avoided making direct attacks against the former president.
Why it matters: As the clear frontrunner, his presence was expected to loom large over the debate stage, but candidates, including outspoken Trump critic Chris Christie, have largely not taken direct swipes against him.
Between the lines: Nikki Haley took a hit at Republicans and Trump over supporting bigger spending.
"Trump added $8 trillion to our debt and our kids are never going to forgive us for this," she said.
Trump opted to not participate in the debate and instead sat for an interview with former Fox News host Tucker Carlson.
— Written by Erin Doherty.
Florida Gov. Ron DeSantis steamrolled the moderators' attempt to ask candidates to raise their hands if they believe human behavior is causing climate change.
"We're not school children, let's have the debate," DeSantis said. "I don't think that's the way to do it." None of the Republican candidates immediately raised their hand when asked the question.
— Written by Erin Doherty.
Mike Pence and Chris Christie picked fights early with businessman Vivek Ramaswamy, who has recently risen in the polls.
Pence called Ramaswamy a "rookie" and that the presidency is too important for "on-the-job training."
Christie said Ramaswamy sounded like "Chat GPT" and called him out for copying an old line from Barack Obama ("a skinny kid with a funny name")
Ramaswamy responded by asking "Do you want a Super PAC puppet or a patriot" and accusing his opponents of using pre-baked attack lines.
— Written by Alex Thompson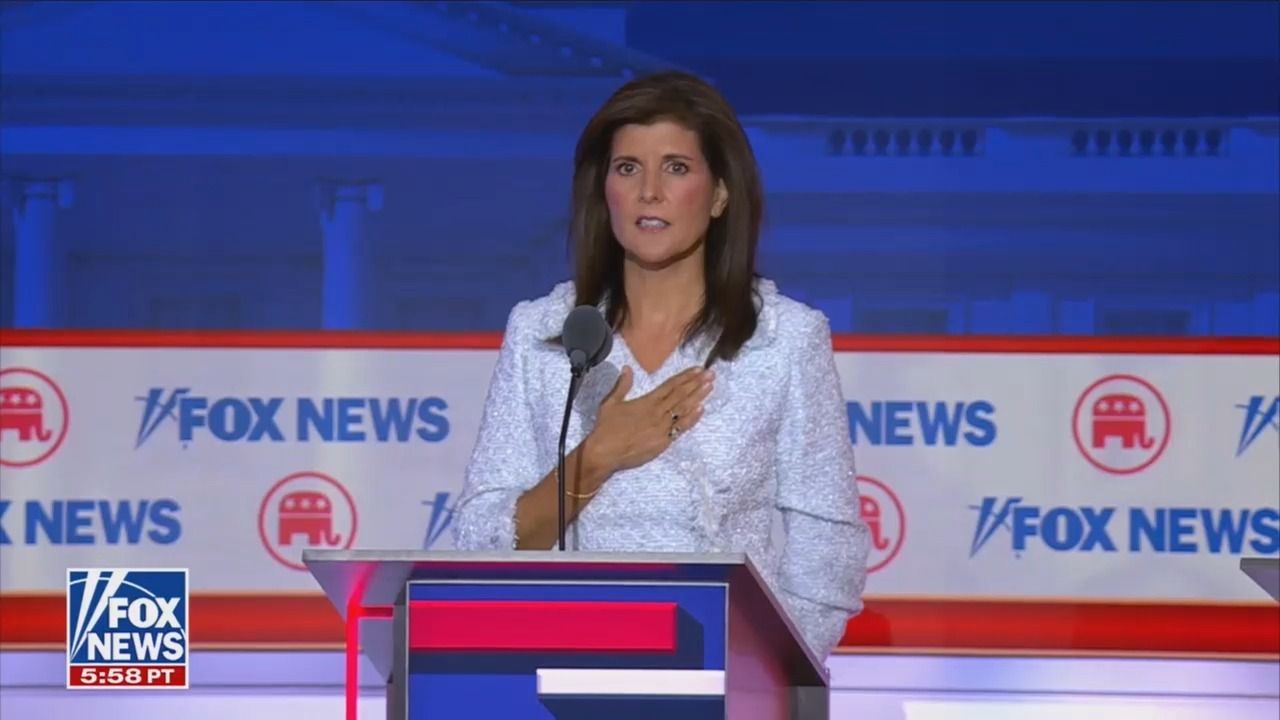 Former U.N. ambassador Nikki Haley swiped at multiple presidential competitors for the growth of the national debt, saying current and former members of Congress like Ron DeSantis, Tim Scott, Donald Trump and Mike Pence all contributed to the problem.
"The truth is that Biden did not do this to us," Haley said. "Our Republicans did this too."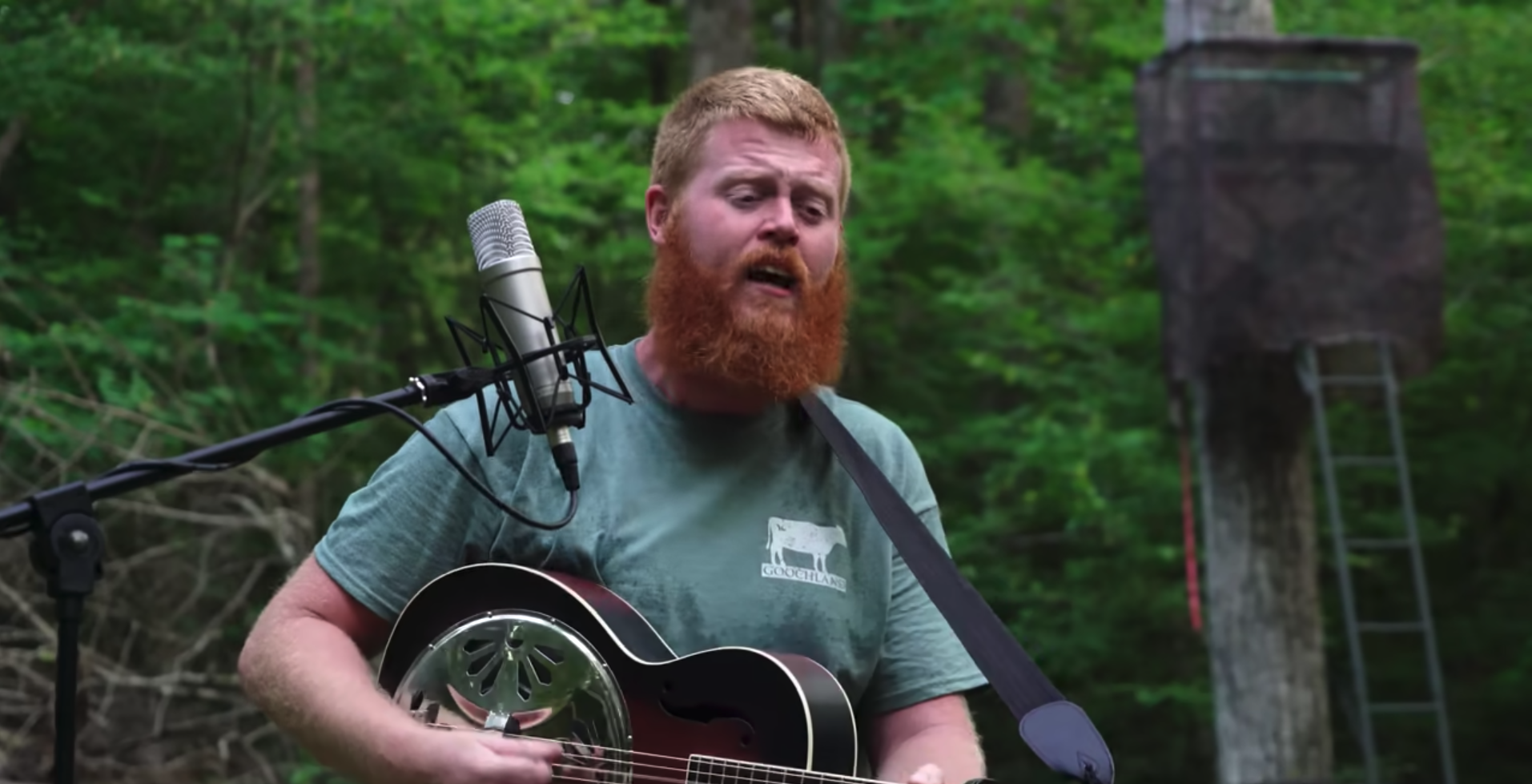 The first Republican primary debate question was based around the popular song, "Rich Men North of Richmond," and why it is striking such a nerve among Americans.
Details: The song, written by previously unknown Oliver Anthony, soared to the top of the music charts quickly after it was released. The song was boosted by conservative pundits and media figures like Jack Posobiec and Jason Whitlock, per the New York Times.
The first question about the song was directed toward Florida Gov. Ron DeSantis, who said that the song is striking a nerve because "our country is in decline. This decline is not inevitable. It's a choice!"
— Written by Erin Doherty.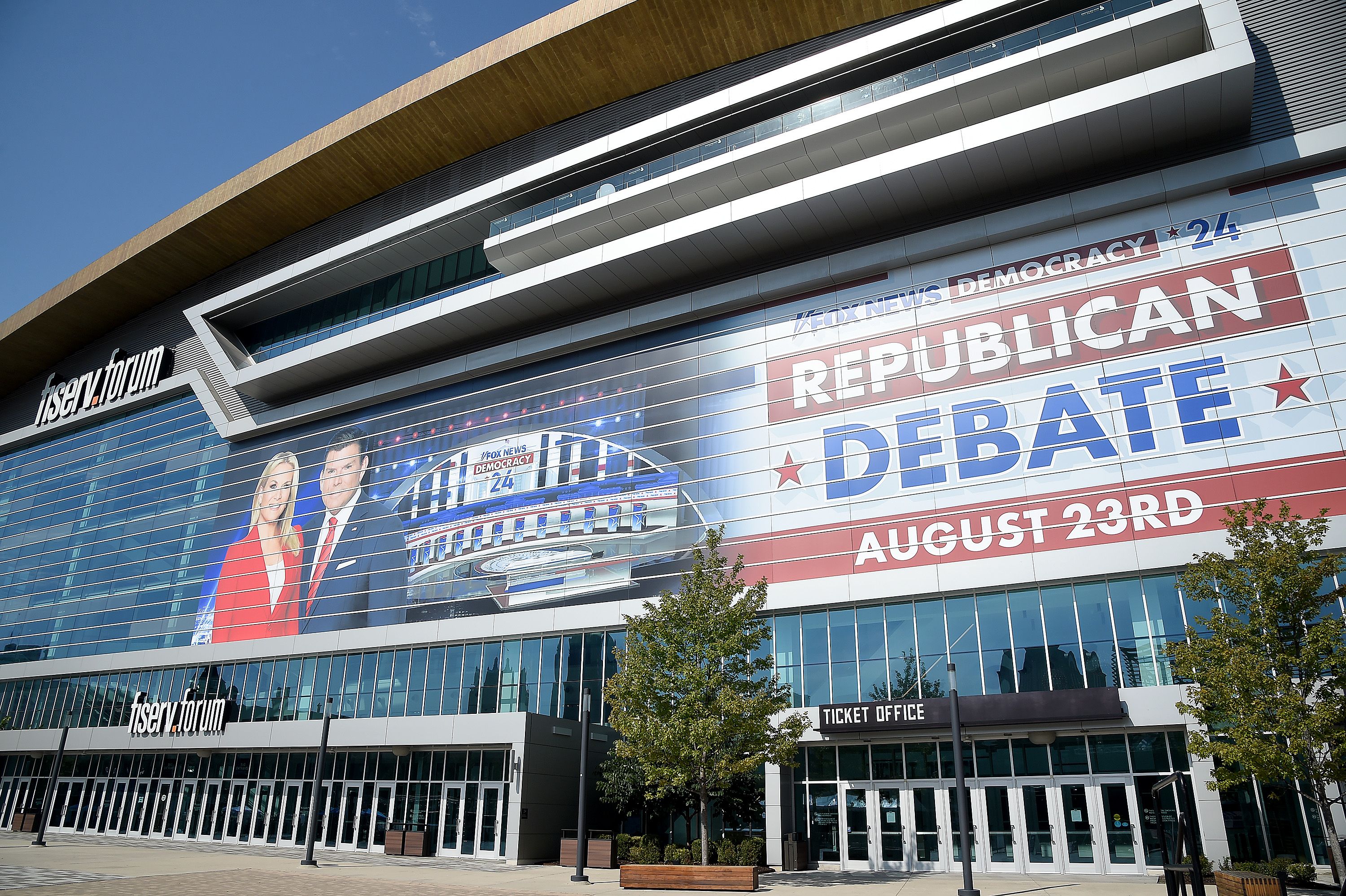 Longtime Fox News anchors Bret Baier and Martha MacCallum are set to moderate Wednesday's Republican primary debate.
Baier, 53, is the chief political anchor for Fox News and the host of "Special Report With Bret Baier," which airs weeknights at 6 pm ET. He joined Fox News in 1998, per his biography.
Baier moderated three Republican primary debates for the network in 2016 and he moderated five GOP debates during the 2012 cycle.
MacCallum, 59, who joined the network in 2004, is the anchor and executive editor of "The Story With Martha MacCallum," which airs at 3 pm ET during the week. During the 2016 presidential election, she co-moderated two Republican presidential primary debates, per Fox News.
Before joining Fox News, MacCallum worked at NBC News and CNBC.
— Written by Erin Doherty.
The last time a Republican maintained such a big margin in an open primary was George W. Bush in 1999, Axios' Erin Doherty reports.
Former President Trump averages more than 50% support in national primary polls, and it hasn't budged despite four criminal indictments.
During the 2000 cycle, Al Gore averaged about 58% in national polls before the primary, while George W. Bush averaged about 59% on the Republican side, per MSNBC's Steve Kornacki.
The bottom line: None of the Republicans on the stage tonight have a shot at the nomination unless something rocks the race.
Here are some questions that Fox News moderators Bret Baier and Martha MacCallum could use to create instantly memorable snapshots of the GOP field by asking the candidates on stage to raise their hands if they agree, Axios' Zachary Basu wrote earlier this month.
1. Should Trump step aside if he's convicted?
2. Would you sign a federal 15-week abortion ban if passed by Congress?
3. Should the House impeach Biden?
4. Should the U.S. force Ukraine to give up territory to reach a peace settlement with Russia?
5. Should the U.S. use lethal force at the border?
Flashback: In a similar moment in the last cycle, every Democratic candidate at a 2019 Democratic debate raised their hands that they'd support providing health care for undocumented immigrants.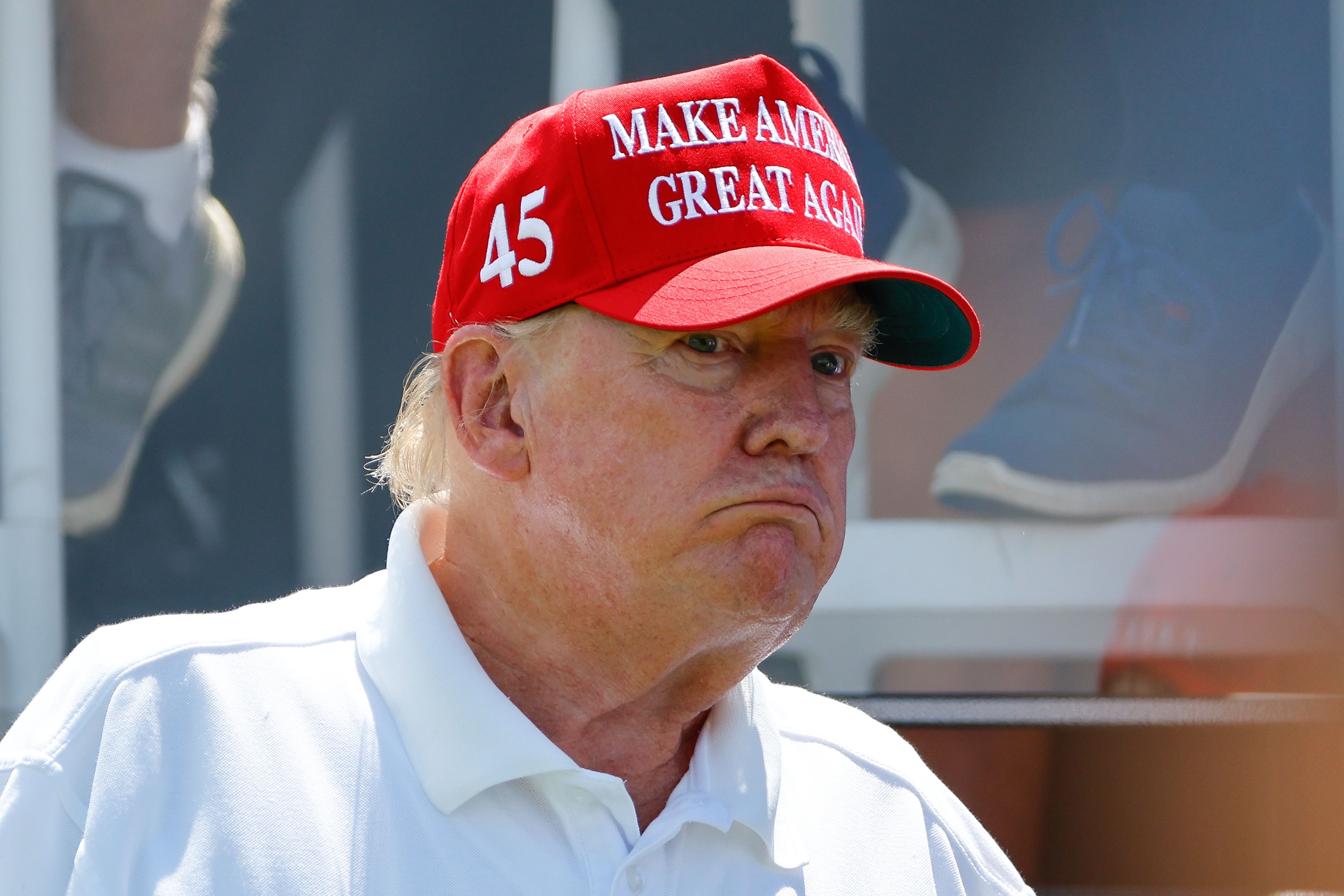 Many of Trump's GOP rivals have lambasted him for refusing to debate them.
Why it matters: Some of their criticism may result from the possibility that Trump's absence and his expected interview with ex-Fox News host Tucker Carlson could hurt the debate's rating, reducing their ability to reach Trump voters and potentially chip away at his wide lead.
The big picture: Here's what prominent Republican candidates have said about Trump not attending:
Florida Gov. Ron DeSantis hit Trump over his possible absence in July, saying that "nobody is entitled to this nomination" and that candidates "have got to earn the nomination."
Former New Jersey Gov. Chris Christie has repeatedly attempted to goad and shame Trump into debating, calling the former president "a coward" and daring him to defend his record on stage.
Former Vice President Mike Pence, Trump's former running mate, said he hoped to have the opportunity to debate his "differences" with his former boss in front of an audience.
Of note: Even Republican National Committee Chair (RNC) Ronna McDaniel called Trump's lack of attendance a "mistake" in July.
— Written by Jacob Knutson.
Longshot Republican presidential candidate Perry Johnson filed a complaint with the Federal Election Commission on Wednesday for not being allowed to participate in the first Republican primary debate, Axios' Erin Doherty writes.
Driving the news: Johnson alleged a "collusive effort to cherry-pick" candidates for the first debate by the Republican National Committee and Fox News, which is hosting the debate.
Larry Elder, another Republican candidate who did not qualify for the debate stage, also plans to file a complaint with the FEC against the RNC, he said in a video posted to the social media platform, X.
What they're saying: "The RNC worked over two years to deliver a transparent and fair primary process that will put our eventual nominee in the best position to beat [President] Biden," RNC spokesperson Keith Schipper said in a statement.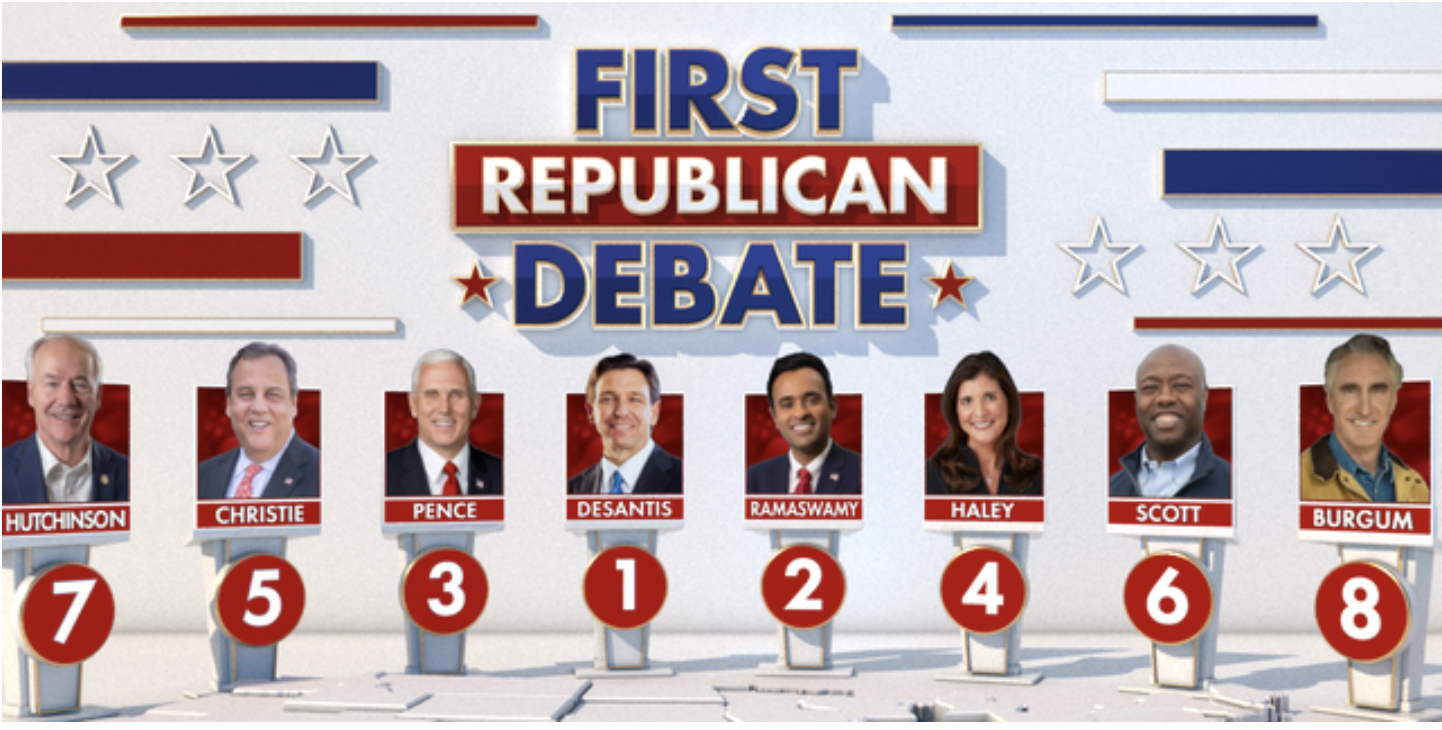 With former President Trump not on stage, Gov. Ron DeSantis and businessman Vivek Ramaswamy will occupy the center slots on tonight's podium, as they're in second and third in GOP primary polls.
They'll be flanked by:
Former VP Mike Pence (in fourth)
Former UN ambassador Nikki Haley (in fifth)
Former N.J. Gov. Chris Christie (in sixth)
Sen. Tim Scott (in seventh)
Former Arkansas Gov. Asa Hutchinson (in eighth)
North Dakota Gov. Doug Burgum (in ninth)
The Republican National Committee said in June that candidates will be placed on the stage in order of their polling, Fox News reports.
Loyalty is at the heart of former President Trump's absence at the first Republican presidential primary debate.
Why it matters: Though Trump claimed he declined to appear in this week's debate, he actually never qualified because he failed to pledge to support the future Republican nominee, whomever it may be.
The big picture: The Republican National Committee (RNC) required debaters to take the pledge to get on stage, and Trump, the front-runner in the crowded primary by a wide margin, has so far refused to sign it.
The eight other candidates who qualified for the debate stage have all signed or have said they will sign it, even if they — like former governors Chris Christie (New Jersey) and Asa Hutchinson (Arkansas) — initially took issue with the vow.
Meanwhile Trump, who during his administration repeatedly demanded loyalty from fellow Republicans, has not said whether he will support the nominee even if it's not him.
Between the lines: Trump's refusal to sign and his debate absence represents a major bind for the RNC, though it's also unclear whether he will boycott every primary debate or just the first few.
And at a time when many voters trust Trump more than they do their friends, family or religious leaders, if Trump somehow loses his grip on the nomination and withholds his support, some voters may refuse to lend theirs to an alternative, as well.
— Written by Jacob Knutson.
Florida Gov. Ron DeSantis' advisers expect the theme of the night to be "dog-pile on Ron" for many of the eight other expected GOP candidates, Axios' Alex Thompson reports.
The DeSantis campaign wants to avoid sparring with Republicans and focus on "his vision to beat Joe Biden, reverse American decline, and revive the American Dream."
But Vivek Ramaswamy and former New Jersey Gov. Chris Christie have previewed attacks on DeSantis in recent days after DeSantis' super PAC urged the governor to attack them.
"We don't need another career politician beholden to the donor class sitting in the White House," Ramaswamy tweeted Sunday in a shot at DeSantis and his well-funded super PAC, Never Back Down.
Christie said Friday that if DeSantis defends Trump at the debate, as the super PAC memo advised, then "he should do Donald Trump a favor and do our party a favor — come back to Tallahassee and endorse Donald Trump."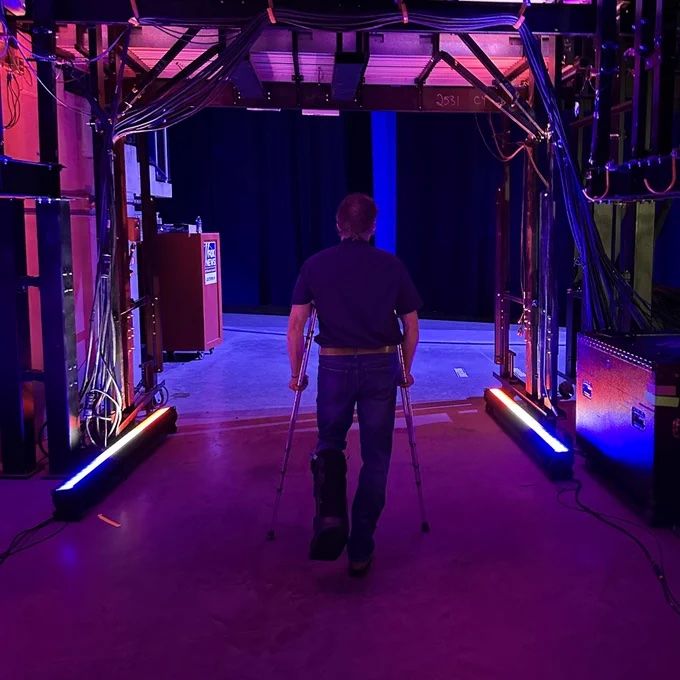 North Dakota Gov. Doug Burgum visited the ER last night after an injury sustained while playing pick-up basketball. Now he'll take the stage, perhaps in crutches.
"I'm in," he wrote on the social media platform X on Wednesday afternoon alongside a picture of himself with crutches.
"I've played lots of pick-up games in my day! This isn't the first time one has sent me to the ER."
"I got a high-grade tear on my Achilles tendon last night," he told a local Fox affiliate. The recommendation for that would be to be off your feet for a week or more, but we're not gonna let that get in the way."
Burgum will occupy the 8th podium slot.
Fox News has restricted access to the post-debate "spin room" — saying only staffers of candidates who are participating in the debate can be there, Axios' Alex Thompson writes.
Why it matters: It's the latest tussle in the long-running, love-hate relationship between Trump and Fox — a dynamic that has become increasingly tense as the Republican frontrunner has bashed the conservative network for not being sufficiently deferential.
Trump senior aides who had indicated they'd be in the spin room — where campaigns tout their candidate and rip their foes — now will be able to enter only if they're guests of media organizations, per the memo.
Eight Republican presidential primary candidates qualified for the Fox News debate by meeting certain fundraising and donor requirements and taking a pledge to support the future nominee, Axios' Erin Doherty reports.
The big picture: The Republican National Committee said on Monday the qualifiers are:
Why it matters: More important than who will be on stage is who will not: Trump, the leading candidate for the nomination, never qualified.
While he easily met the debate's fundraising and donor prerequisites, he refused to sign the pledge, disqualifying him.
Some qualifiers have harangued Trump for his refusal to appear, and others, including Pence, have said they hoped to have an opportunity to spar with him on stage.
Of note: Several other Republican primary candidates will also not appear, including:
— Written by Jacob Knutson
Go deeper