'Tis the season for holiday drinks at Starbucks, Dunkin' and more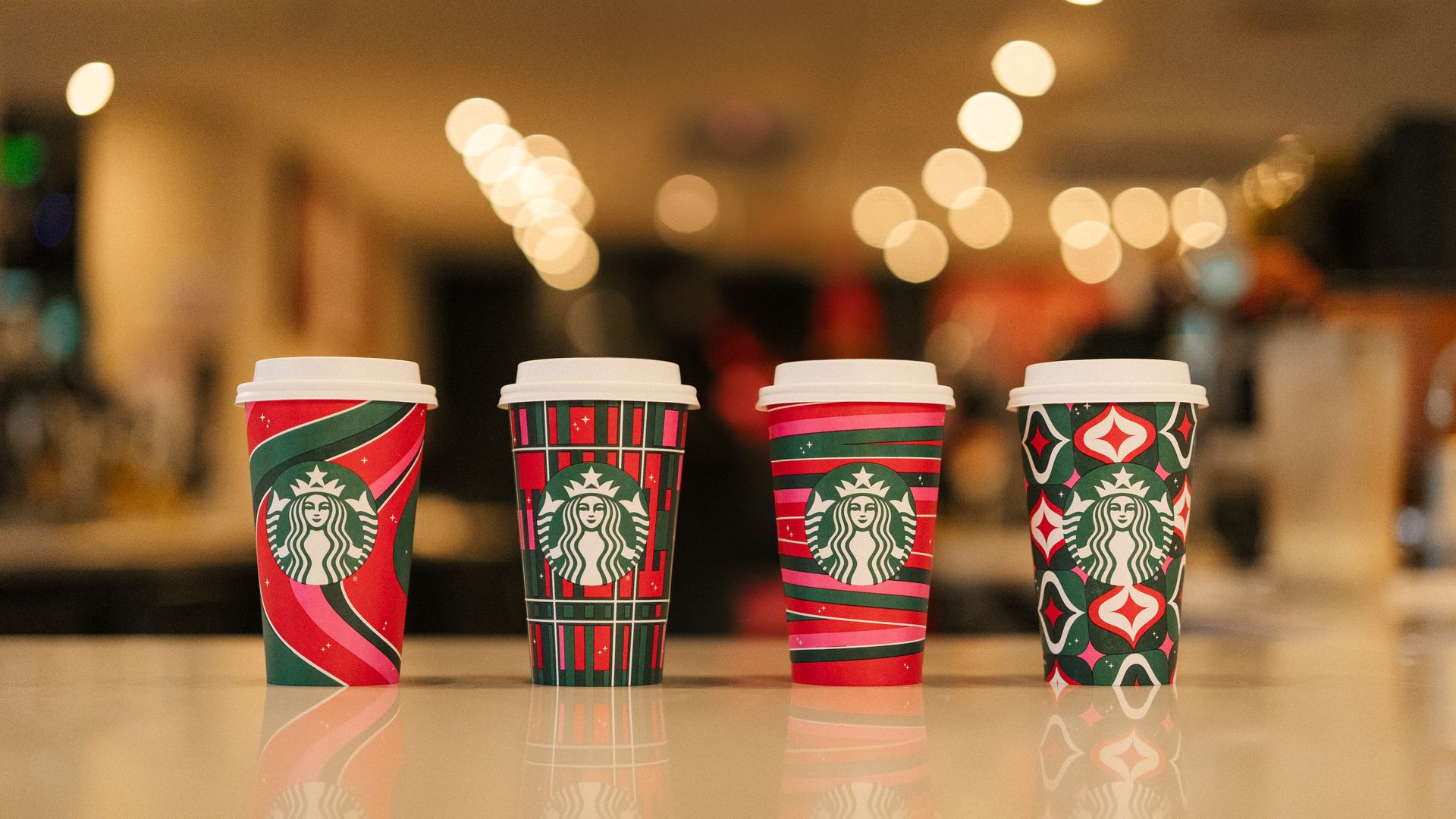 Starbucks and Dunkin' have shifted seasons and welcomed back peppermint, gingerbread and red cups.
Why it matters: With Halloween over, the coffee giants are capitalizing on holiday cheer to drive sales similar to the buzz created with the August launches of pumpkin spice drinks and pastries.
Last holiday season Starbucks drove record revenue with 10% comp growth, the company reported.
The big picture: November and December historically have been big months for Dunkin' and Starbucks, according to data Affinity Solutions shared with Axios.
Overall holiday sales for Starbucks peaked in December 2022, up 20% from the average month, per the consumer insights company.
"Many people increase their spending on gifts, festive treats, and special outings during this time, which includes visits to coffee shops like Starbucks," Affinity Solutions CEO Jonathan Silver told Axios.
Dunkin' holiday drinks back
What's happening: Dunkin's holiday menu debuted Wednesday, Nov. 1 with the return of the Cookie Butter Cold Brew that was first released last year.
The Peppermint Mocha Signature Latte and Toasted White Chocolate Signature Latte also are back.
Dunkin' has added the "Spiced Cookie Coffee," which features oatmilk and the company describes as "another delightful take on coffee and cookies."
Starbucks holiday menu 2023 release
Starbucks holiday drinks and seasonal food items return Thursday, Nov. 2 a day earlier than last year.
Details: Seasonal beverages include the returning Peppermint Mocha, Caramel Brulée Latte, Chestnut Praline Latte and the nondairy Iced Sugar Cookie Almondmilk Latte.
Two new gingerbread drinks — the Iced Gingerbread Oatmilk Chai and new Oleato Gingerbread Oatmilk Latte — join the lineup.
Many of the limited-time drinks are available hot, iced and as a Frappuccino blended beverage in U.S. Starbucks stores.
Starbucks fall drinks, including the pumpkin spice latte, will be available while supplies last, the company told Axios.
Yes, but: The Oleato latte, the first Oleato holiday beverage, is only available at Starbucks locations that serve the olive oil-infused beverages.
Meanwhile, the Cranberry Bliss Bar, Gingerbread Loaf, Peppermint Brownie Cake Pop, Snowman Cookie and Sugar Plum Cheese Danish also return.
Starbucks Red Cup Day 2023 and holiday cups
Starbucks' new seasonal menu features four new holiday hot cup designs and a new holiday cold cup.
These cups are known as "red cups" and considered part of the holiday tradition like the drinks.
Of note: Another annual tradition is the Red Cup Day but a date for this year's giveaway has not been announced.
Starbucks gave away free reusable holiday cups with the purchase of handcrafted holiday drinks on Nov. 17 last year, which was two weeks after the holiday menu launched.
Context: Visits to Starbucks on Red Cup Day 2022 were "well above the average for the previous five Thursdays," according to foot traffic analytics firm Placer.ai.
Red Cup Day 2022 outshined Starbucks 2022 Pumpkin Spice Latte launch with 49.2% more visits than the daily average that week, Placer.ai found.
Wendy's Peppermint Frosty to return Nov. 14
Wendy's will replace its fall Pumpkin Frosty with the Peppermint Frosty starting Nov. 14, the fast-food chain told Axios Wednesday.
It will be available for a limited time and joins the classic Chocolate Frosty on the menu.
Flashback: The Peppermint Frosty was first released last November.
Dutch Bros' holiday drinks 2023
Dutch Bros, a coffee chain with 800 locations in 16 states, brought back its holiday drinks Wednesday, per a company news release.
The seasonal drinks, which will be available through Dec. 31, include the Hazelnut Truffle Mocha, Merry Mischief Rebel, Snow Cap Freeze and the Candy Cane Trio.
Chick-fil-A peppermint milkshake
The Peppermint Chip Milkshake returns to Chick-fil-A locations nationwide for the 15th year starting Monday, Nov. 13, the chicken chain said in a news release.
The limited-time, seasonal shake will be joined by two new peppermint coffees — the Peppermint Iced Coffee and Frosted Peppermint Chip Coffee.
More from Axios:
Editor's note: This story was updated with additional information, including about products.
Go deeper