Starbucks unveils new stores in "triple shot reinvention" plan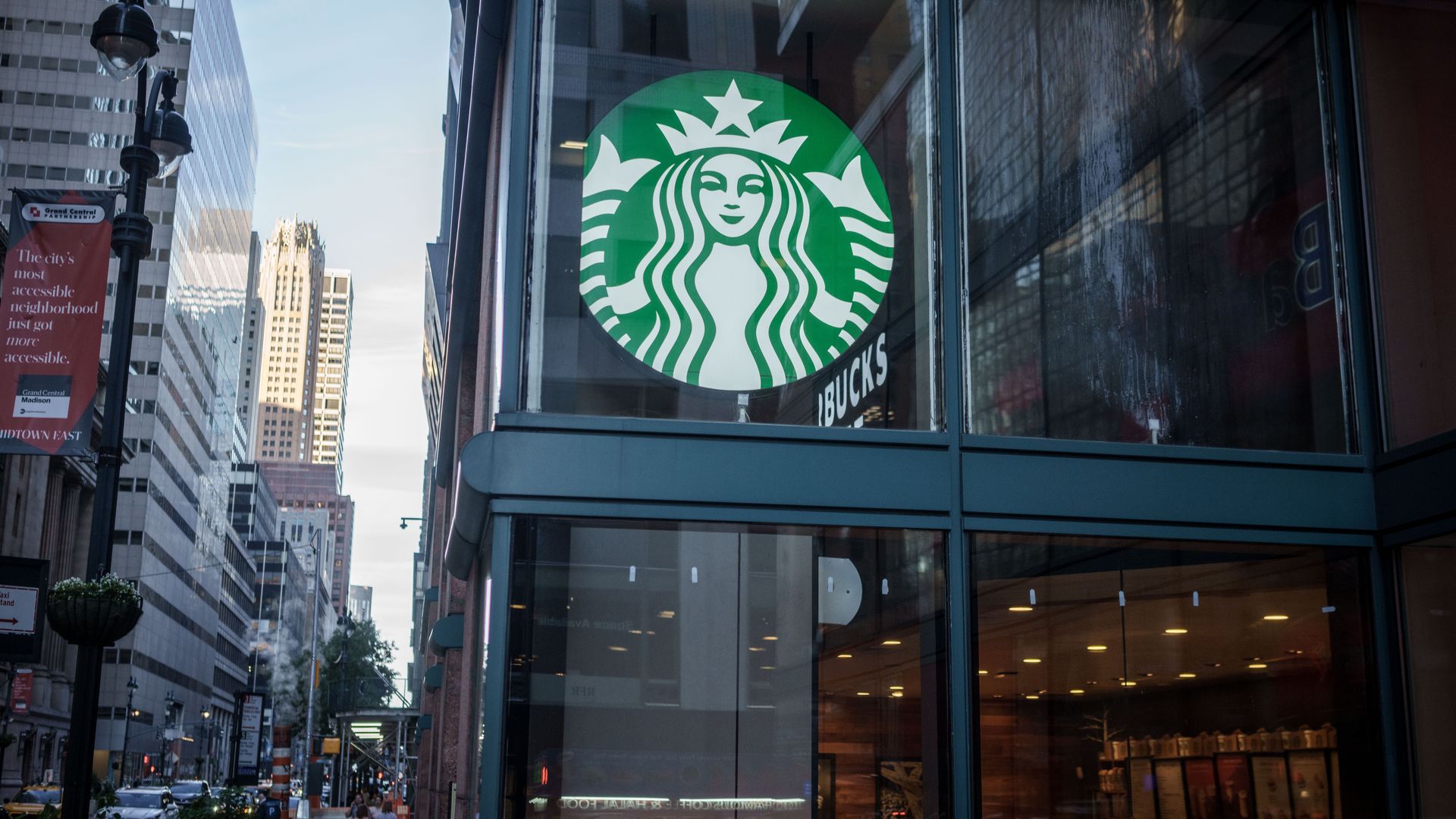 Starbucks plans to expand its global store footprint, double the number of rewards members and generate billions in savings, officials said Thursday.
Driving the news: Hours after the coffee giant released holiday drinks and reported an 8% comparable store sales increase, Starbucks unveiled its long-term growth strategy, "Triple Shot Reinvention with Two Pumps."
The company first shared its reinvention plan in September 2022.
CEO Laxman Narasimhan said in a statement that the "reinvention is moving ahead of schedule, fueling revenue growth, efficiency and margin expansion."
New Starbucks stores
By the numbers: Starbucks plans to open 17,000 stores to bring its global store count to 55,000 by 2030.
The U.S. store count is expected to reach 16,300 with a 4% net new store growth planned in the 2024 fiscal year and a long-term goal of 20,000 locations.
The company is also renovating 1,000 stores a year.
What they're saying: Sara Trilling, executive vice president and president of Starbucks North America, said the company is growing the portfolio with "purpose-defined stores" like drive-thru only or delivery-only.
"To capture that demand we will build more new stores — with new formats, in new cities and cities we're already in," Trilling said. "To be clear, Starbucks has not saturated the U.S. market."
Starbucks hourly pay increase
Details: By the end of the 2025 fiscal year Starbucks expects to "double hourly income" compared to 2020, Sara Kelly, executive vice president and chief partner officer, said.
The nearly 50% increase is coming through hours and higher wages, Kelly said.
Yes, but: Officials said they plan to "unlock efficiency" to generate $3 billion in savings over three years.
Starbucks Rewards growth
Between the lines: The company said it wants to double its Starbucks Rewards members by adding another 75 million loyalty members, who are more frequent customers.
It also plans on adding two new "Rewards Together" partnerships within the next six months similar to the partnership it started with Delta last year, Narasimhan said.
The partnerships are with a "leading financial institution and world-class hospitality company," Narasimhan said.
Starbucks working with Amazon, Apple and Microsoft
Meanwhile, Starbucks announced three tech collaborations and said it is with Microsoft, Apple and Amazon to "enhance the customer and partner experience."
The company said its Microsoft partnership "will extend through collaboration in its innovation lab to marry industry leading generative AI capabilities to take product development and personalization to the next level."
It's collaborating with Apple in its first Green Apron Innovation store "to experiment and refine technology to assist partners across the globe."
With Amazon One and its Just Walk Out technology, Starbucks said it is "reimagining the customer in-store experience."
More from Axios:
Go deeper