Starbucks unveils new olive-oil infused coffee drinks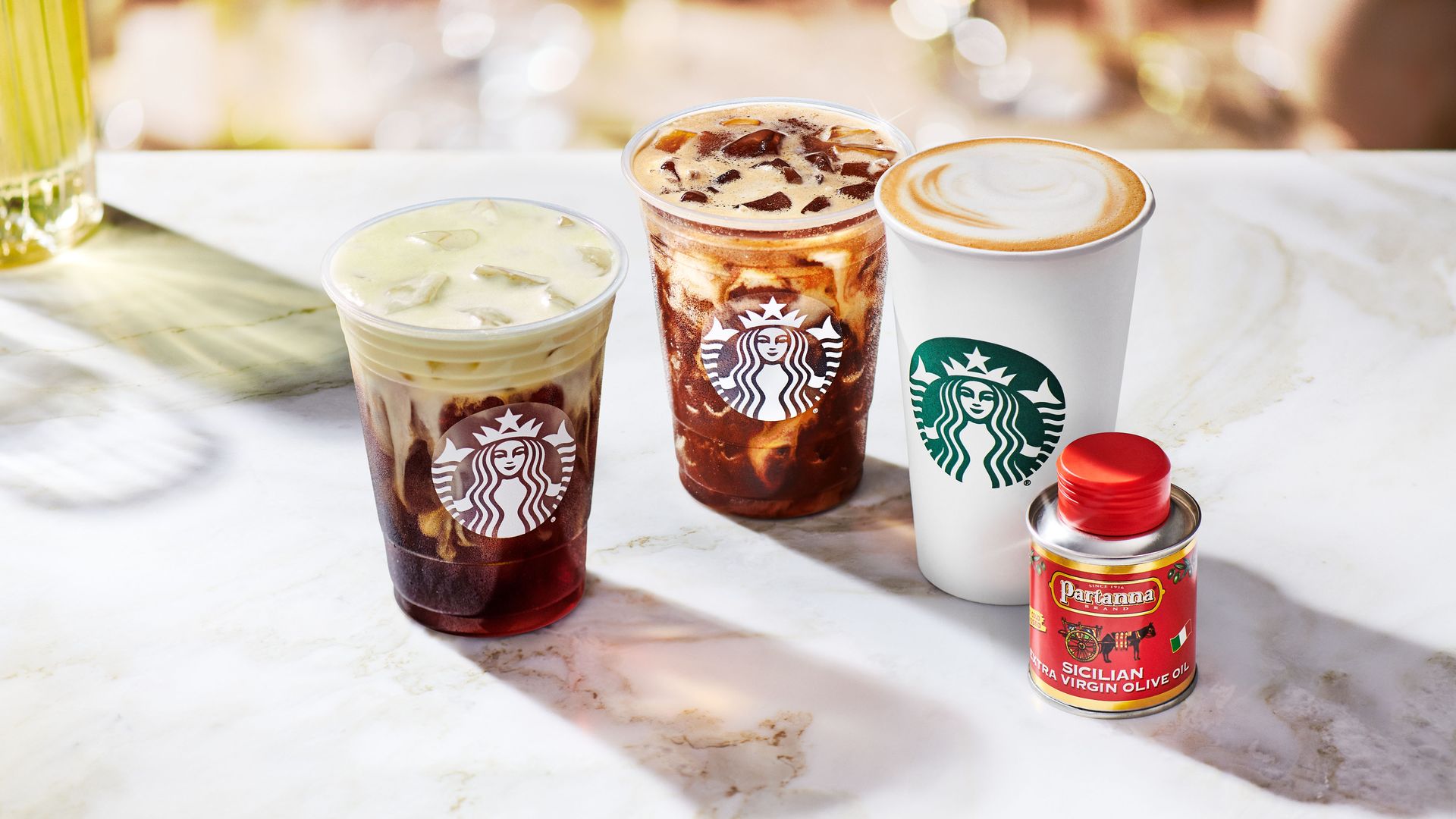 Starbucks announced Oleato — a new line of beverages infused with a spoonful of Partanna cold-pressed, extra virgin olive oil — is rolling out in Italy this week.
Driving the news: The Seattle-based coffee giant calls the addition of the unexpected ingredient a "transformational innovation."
Starbucks said the result of the olive oil and coffee combination is "velvety smooth, delicately sweet and lush coffee that uplifts each cup with an extraordinary new flavor and texture."
Interim CEO Howard Schultz hinted at the news earlier this month during the company's earnings call where he said he'd return to Milan "to introduce something that is much bigger than any new promotion or beverage."
Schultz called it a game-changer and "an enduring transformative new category and platform for the company, unlike anything I have ever experienced."
Meanwhile, most of the Oleato drinks are cold, which is no surprise as cold coffee has been a hot seller for Starbucks — with two out of three customers purchasing cold coffee, officials said during the company's Investor Day last year.
Starbucks Oleato drinks
What's happening: Starbucks said Oleato means "with oil." The drinks launching Wednesday in Starbucks Italy stores include Oleato Caffè Latte, Oleato Iced Shaken Espresso and Oleato Golden Foam Cold Brew.
The Starbucks Reserve Roastery Milan will also debut additional drinks including, Oleato Iced Cortado, Cold Brew, Oleato Deconstructed and Oleato Golden Foam Espresso Martini.
What's next: Starbucks said it will start to introduce the drinks elsewhere, starting with Southern California this spring.
Japan, the Middle East and the United Kingdom will carry the beverages later this year.
In select markets, customers will be able to add olive oil as a customization to some beverages.
Flashback: In January, Starbucks introduced a new Pistachio Cold Brew in its U.S. stores and upgraded its rewards program on Feb. 13.
More from Axios:
Go deeper