Shoplifting deterrents drive down sales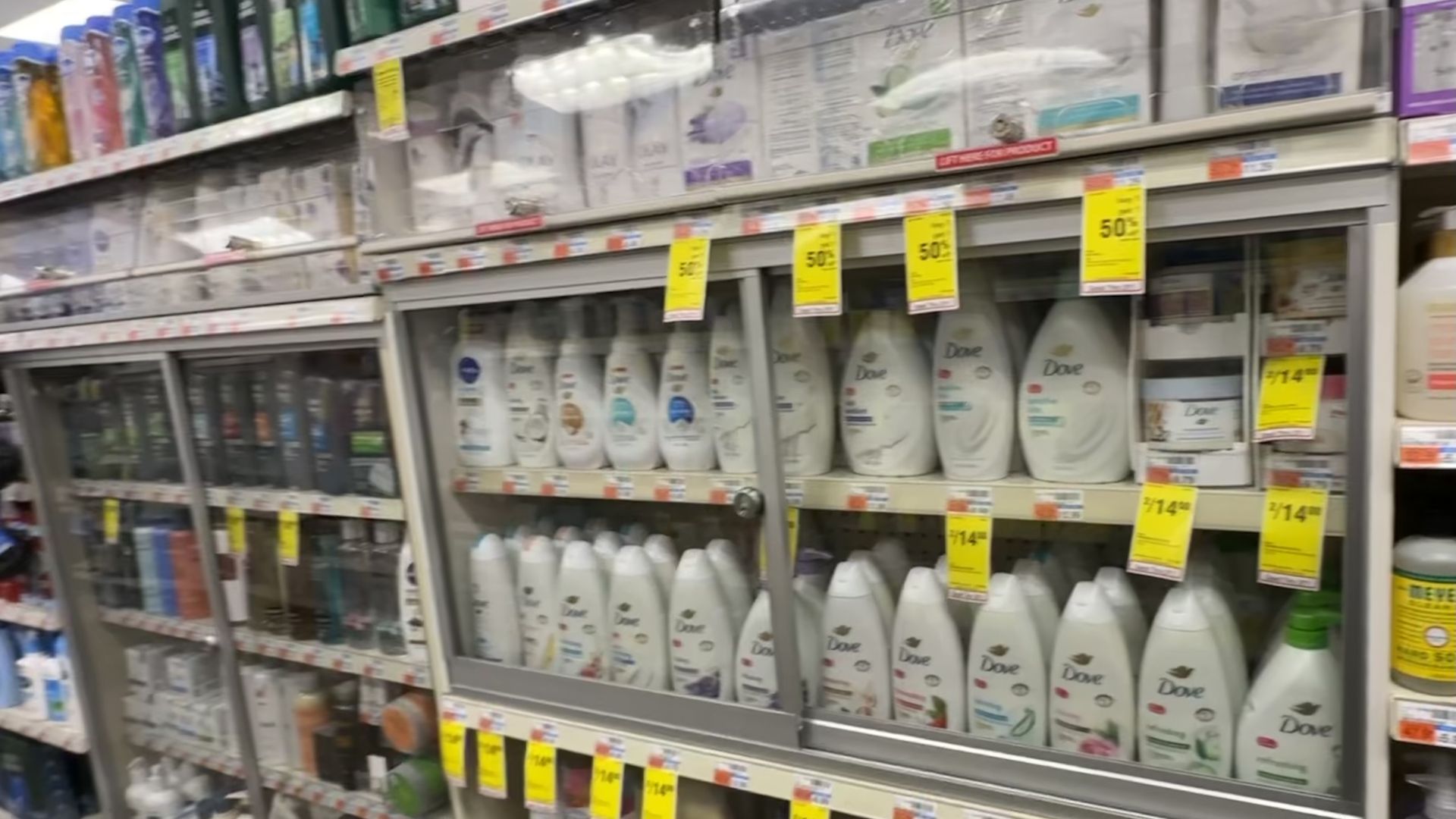 Efforts to combat a rise in retail theft mean everything from toothpaste to laundry detergent to baby formula is kept under lock and key. 
Driving the news: Locked cases may stop thieves, but they are also deterring honest shoppers from making in-store purchases and can cause sales to drop 15% to 25%, Joe Budano, CEO of anti-theft technology company Indyme, told Axios.
The inconvenience of locked cases — and having to find an employee to open them — end up driving customers to shop online, GlobalData retail analyst Neil Saunders said.
Stolen merchandise is also often sold on online marketplaces like Amazon, eBay and Facebook, Saunders said.
Razors, deodorant, body wash, technology items and alcohol are among the items locked up, but it can vary by store and region. Large metro areas where retail theft has been higher often have more inventory behind locked cases than rural areas.
The big picture: Retail theft is a nearly $100 billion problem, according to the National Retail Federation's 2022 National Retail Security Survey. 
Also known as shrink or shrinkage, it represented $94.5 billion in losses in 2021, up from $90.8 in 2020, NRF said. 
Organized retail crime — where gangs of thieves swarm stores for products they can resell online — has become increasingly brazen and also led to huge losses for companies.
Walmart CEO Doug McMillon told CNBC in December that stores could close and prices could increase because of theft. The retailer is closing five "underperforming" stores and two pick-up-only locations, Business Insider reported last week.
Between the lines: The dilemma for retailers is balancing the need to protect merchandise so it's available for honest customers versus interfering with a seamless experience, Lisa LaBruno, senior executive vice president at the Retail Industry Leaders Association, tells Axios.
The multibillion-dollar loss in products is on top of money spent on technology and staffing, LaBruno said. 
Budano estimates that 98% of people in stores are "legit customers" and 2% are some kind of offender.
"To protect yourself against 2% is bad math," said Budano, whose company created the "Freedom Case," a locked display consumers can open with their cell phones.
What's being stolen: Just about everything not bolted to the ground is targeted but many of the top items stolen are items that can be resold and easily concealed.
"I don't know that really anything is off the table," LaBruno said. "Large furniture might be because that's really tough to steal."
Pain and allergy medication, blades and razors, fragrances, cosmetics, alcohol, gift cards, power tools, printer cartridges, clothing, shoes, handbags and jewelry all were listed as top items stolen by organized retail crime in the NRF's 2022 security survey.
How stores are combating theft with technology
Retailers have been doing more than locking high-theft items behind panels and locked cases. They've been arming more merchandise with an arsenal of different alarmed security tags and devices.
Some stores have shelf sensors that can tell when a customer has been browsing for a suspiciously long time and some of the unlocked cases "ding" when opened. 
Stores have added "smart" shopping carts with wheels that lock if someone sneaks it past the cash register.
Merchandise including power tools and mobile phones are often unusable if stolen, a strategy known as "benefit denial." 
New laws target retail theft
Driving the news: U.S. Representatives Ken Buck (R-Colo.), Dina Titus (D-Nev.), Susie Lee (D-Nev.), and David Joyce (R-Ohio) recently introduced the Combating Organized Retail Crime Act of 2023 legislation to establish a coordinated federal response to the retail theft.
Senators Chuck Grassley (R-Iowa) and Catherine Cortez Masto (D-Nev.) have sponsored a companion bill that they said, "targets the rise in flash mob robberies and intricate retail theft schemes sweeping the nation."
Meanwhile, President Biden signed the Integrity, Notification, and Fairness in Online Retail Marketplaces for Consumers (INFORM Consumers) Act in late December, which takes effect in June. 
The law requires online marketplaces to verify the identities of high-volume third-party sellers. 
Top cities affected by organized retail crime
Many of the cities and metropolitan areas in the NRF's latest National Retail Security Survey have "previously been identified as the most problematic areas for ORC continue to be hotspots for this activity," the survey found. 
The top 10 cities based on 2021 data are:
Los Angeles
San Francisco/Oakland
New York
Houston
Miami
Chicago
Sacramento
Seattle
Atlanta
Dallas/Fort Worth
Editor's note: This story has been updated with additional information on Amazon and eBay's stance on the INFORM law.
More from Axios:
Go deeper