Deep split erupts between Democrats on Israel-Hamas war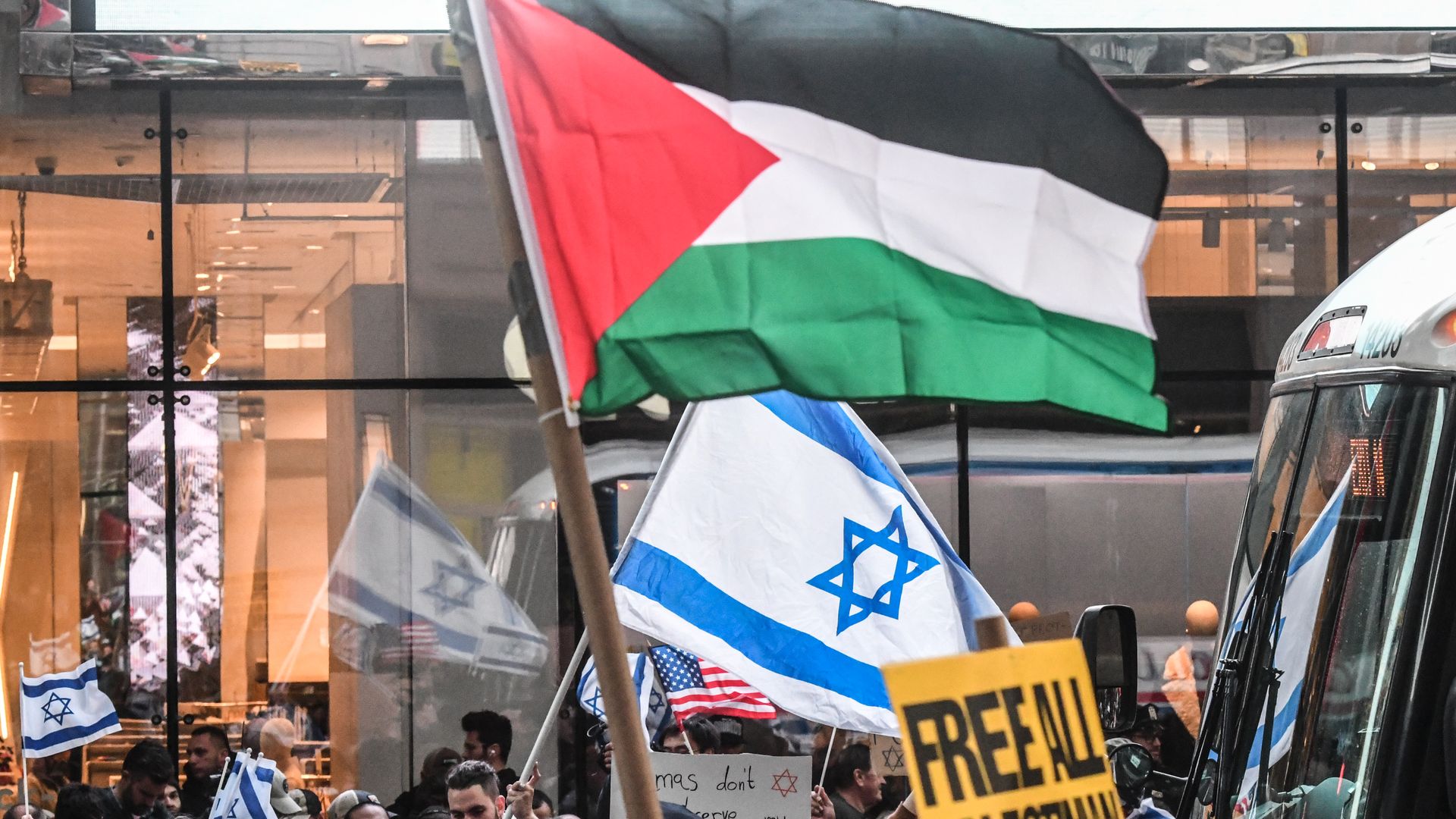 The growing and personal Democratic split over the Israel-Hamas war is about to spill onto the House floor, with leaders bracing for fights on Israel-related legislation between pro-Palestinian and pro-Israel members of Congress.
Why it matters: "Things could not possibly be any worse than they are right now," one House Democrat lamented.
Democratic aides and lawmakers told Axios that the upcoming votes on half dozen votes are exacerbating a tense situation.
A top aide to another Democrat said their office has been inundated with a "constant" battery of phone calls on the issue.
Several of these bills, despite having Democratic co-sponsors, are poised to split the party.
The liberal group J Street is pressing House Democrats to vote against a GOP-led resolution condemning "the support of Hamas, Hezbollah, and other terrorist organizations" on college campuses.
It also urges Democrats to vote against new sanctions on Iran and a resolution declaring it "not acceptable" for Iran to have nuclear weapons.
The big picture: President Biden's initial response to the Israel-Hamas war sparked some of the harshest criticism he's received from progressives and people of color in his party — and those lawmakers think the party's base is on their side.
Members of the Squad, the high-profile group of House progressives, accused the White House of empowering Israel to retaliate in a way that has put the lives of tens of thousands of Palestinians in Gaza at risk.
"I want [Biden] to know as a Palestinian American and also someone of Muslim faith, I'm not going to forget this," said Rep. Rashida Tlaib (D-Mich.), the first Palestinian-American woman in Congress, at a recent rally protesting the White House's response.
The White House did not immediately respond to a request for comment.
Zoom in: Nine House Democrats voted against a resolution last week that condemned Hamas and supported Israel, and another six voted "present."
The vote sparked intra-party public feuds.
Rep. Andre Carson (D-Ind.) called Rep. Josh Gottheimer a "punk" and "cowardly"after the New Jersey Democrat wrote on X that the Democrats who voted against the resolution supporting Israel and condemning Hamas were "despicable," CNN reports.
Rep. Summer Lee (D-Pa.) said "it's not us without a soul" after Rep. Debbie Wasserman Schultz (D-Fla.) suggested people who haven't condemned Hamas' slaughter of Israeli civilians "don't have a soul," the New York Times reports.
Between the lines: One area of Democratic unity is on a resolution, expected to get a vote this week, to censure Tlaib for her history of comments on Israel and her speech to a protest at the Capitol complex pressing for a ceasefire in Gaza.
Rep. Marjorie Taylor Greene's (R-Ga.) authorship of the censure resolution, which refers to the protest as an "insurrection," has turned off Democrats on both sides of the conference.
Zoom out: Some of the administration's harshest critics on the Israel-Hamas war could face pro-Israel primary challengers this cycle.
Lee already has a primary opponent, with potential challengers weighing runs against Reps. Ilhan Omar (D-Minn.) and Jamaal Bowman (D-N.Y.), the New York Times writes.
The bottom line: "It has been an incredibly clarifying and terrifying moment at the same time for many progressive Jews," Anti-Defamation League CEO Jonathan Greenblatt told the Wall Street Journal.
"They're calling me, tweeting, messaging, expressing shock and sadness that the people they marched with, the causes they marched for, have abandoned them in their hour of need."
"We have an administration and a Congress that fundamentally does not view Palestinians as whole human beings," said Waleed Shahid, an activist who has worked for Sen. Bernie Sanders (I-Vt.) and Rep. Alexandria Ocasio-Cortez (D-N.Y.)
"When you have that kind of uphill battle, you have to take your case to the court of public opinion and make them answer why that is."
Go deeper