Inside Israel's mission to attack Hamas, rescue hostages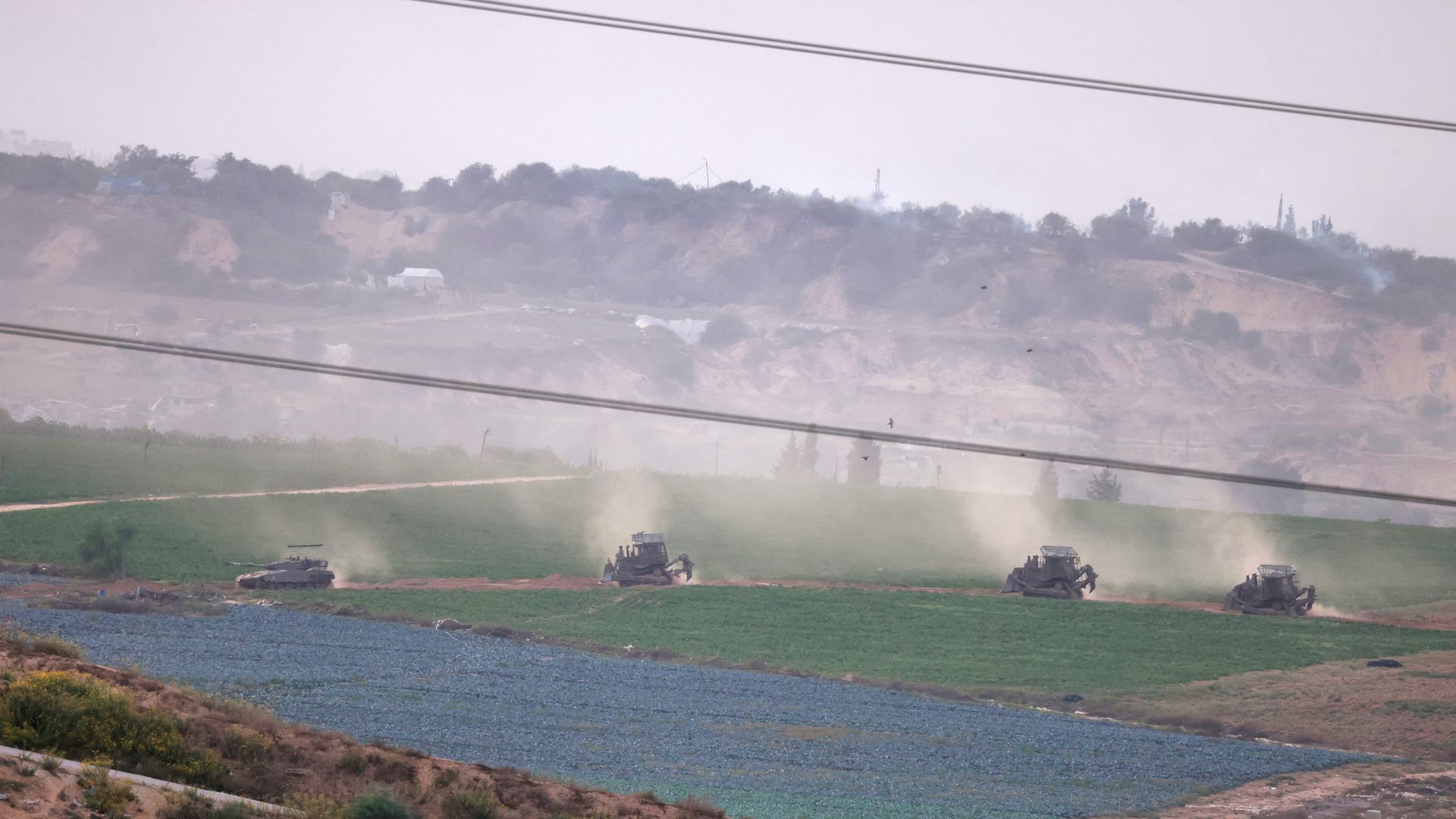 Israel's military has been secretive about its "expanded" ground operation in Gaza, but parts of its strategy have become clear in the hours since an Israeli soldier was rescued from a remote location where she'd been held by two Hamas militants.
Why it matters: As talks to free more than 230 hostages held at sites across Gaza continue, the Israel Defense Forces' mission now isn't just to "destroy Hamas military capabilities," as Israeli Prime Minister Benjamin Netanyahu said Oct. 7, the day Hamas attacked Israel.
The IDF's attack on Hamas also has become a hostage-rescue mission.
The goal is "straightforward: to bring home hostages and defeat Hamas," Netanyahu said after meeting with family members of some of the hostages Saturday.
State of play: The IDF won't call its operation in Gaza an invasion, but two Israeli sources tell Axios that at least two armored and infantry divisions — amounting to more than 20,000 Israeli troops — have entered the Gaza Strip since the operation began Friday.
The IDF also is using intelligence sources on the ground to try to locate and free hostages, the sources say.
Israeli officials were encouraged this weekend when an IDF special force and the Shin Bet intelligence agency rescued an Israeli soldier, Pvt. Uri Magidish, from a remote building where Hamas was holding her hostage.
Magidish was among dozens of Israeli soldiers who were among those kidnapped by Hamas in Israel and taken to Gaza on Oct. 7.
Most of the early firefights between the IDF and Hamas operatives were in open areas outside Gaza City — the enclave's largest urban center and a Hamas stronghold.
Israeli forces have pushed into the Strip, but haven't yet entered Gaza City.
The Israeli officials say the fighting will become dramatically more dangerous and difficult once Israeli forces enter the battered city, which remains under attack from Israeli airstrikes.
Israeli officials have acknowledged that the fight to "destroy" Hamas will be "long and difficult."
It also undoubtedly will result in the deaths of many Israeli soldiers and Palestinian civilians. The Gaza Ministry of Health says more than 8,300 people have been killed there since the war began.
The challenges: Urban warfare is often difficult and ugly but is expected to be especially so in Gaza because of Hamas' vast tunnel system.
The number of hostages further complicates how Israel conducts the operation.
At the same time, Israel is under growing pressure — including by the Biden administration — to protect Palestinian civilians who are facing the Israeli military's heavy bombardment and a worsening humanitarian crisis.
There's also the prospect of the war widening to another major front, particularly along the Israel-Lebanese border if Iran-backed Hezbollah fully joins the fight.
What's next: Netanyahu says Israel is currently in the "second phase" of the war — and it won't be "simple or easy."
It's not entirely clear what Israel intends to do if it achieves its goal of destroying Hamas.
Israeli Defense Minister Yoav Gallant previously said Israel wants to create "a new security regime in the Gaza Strip."
But Israel hasn't elaborated on what exactly that means — including who would govern the territory if Israel succeeds in dismantling Hamas.
Go deeper:
Go deeper