Biden's border wall approval raises concern for Dems' Latino support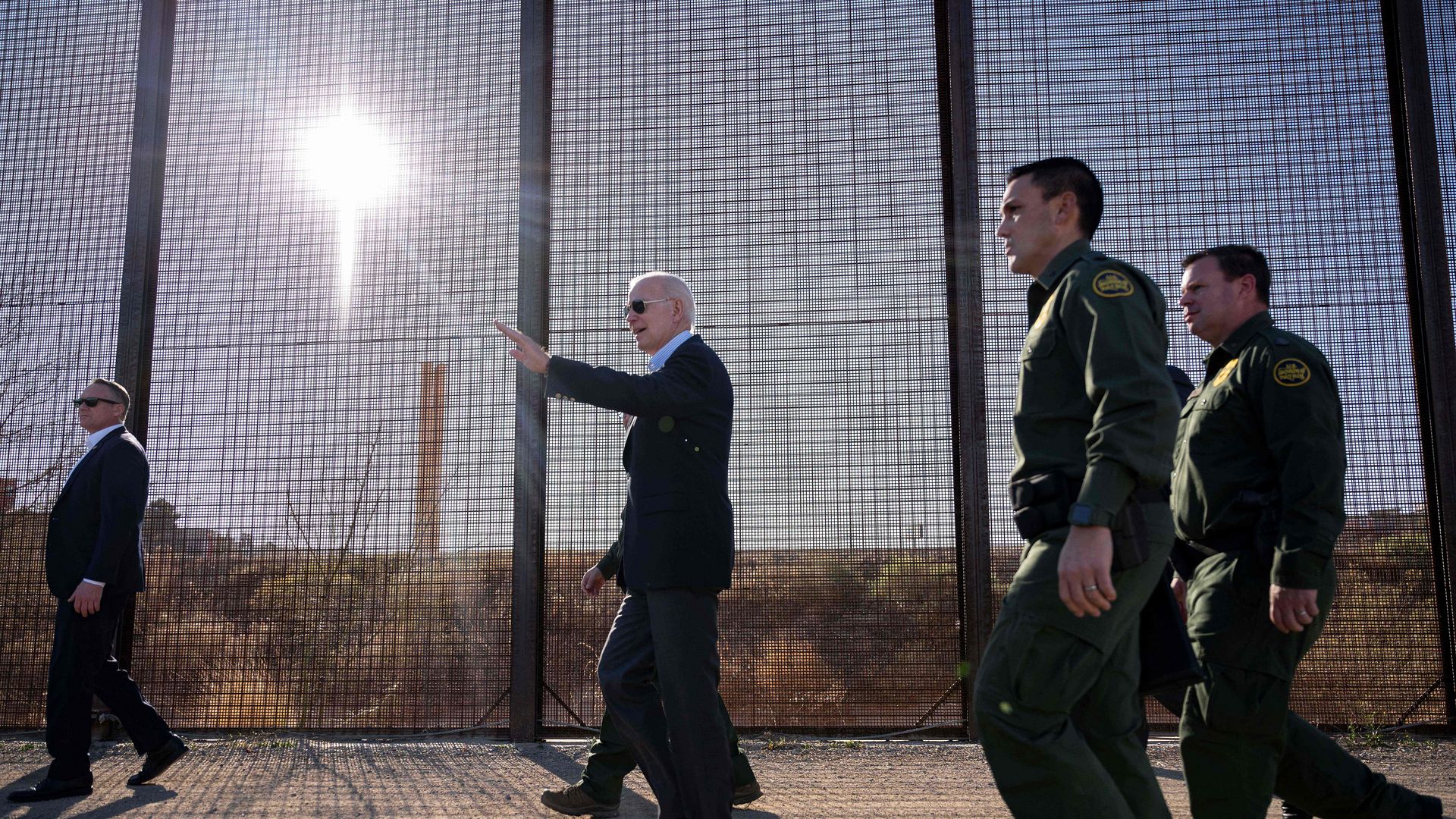 The Biden administration's new border wall approval and other Trump-like policies put in place could risk Democrats' standing with Latinos, experts say.
Why it matters: Latinos are important to Democrats' success in key states, but polls show they are slowly drifting away from the party.
The big picture: Biden is under increasing pressure due to historic migration levels from conservatives and liberals alike, who have criticized the administration over what they say is a failure to act on immigration.
So far, Biden has barred those who cross the border illegally without first seeking refuge in a country they traveled through from getting asylum and plans to use foreign aid to help another country's deportation efforts — both Trump-era policies or plans.
But administration officials say Biden's border policies are different from Trump's, pointing to the expansion of legal parole programs for asylum seekers,
The White House did not respond to Axios Latino's request for comment. But it has previously said it's engaged with leaders of cities and states where migrants and asylum seekers are arriving by the busload and has provided $1 billion in aid for their response to the influx.
What they're saying: Although Republicans have "made it impossible to move forward with any solution," Latinos' confidence in Democrats on immigration has been eroded, says Lanae Erickson, senior VP for social policy, education and politics at Third Way, a center-left think tank.
"I do not think that there are large swaths of Latino voters that are thinking Republicans have the answers on this, but increasingly, it looks like no one has the answers. So, if that's the case, then it makes it really hard to animate people to come out and vote," Erickson says.
Erickson adds Republicans will use the border, along with crime and homelessness, as part of their narrative against Democrats' ability to govern.
U.S. Rep. Henry Cuellar (D-Texas) says he constantly hears from constituents, especially lately, that the government should do more to make the border secure. Cuellar's district includes large portions of the border with Mexico.
"What I'm telling my Democratic leadership is, we can be strong in border security and still be respectful of immigrants' rights,'' Cuellar tells Axios Latino.
He says it's not that Hispanics will go "totally Republican" but that if Democrats don't deal with border security, some might be "willing to work and vote for a Republican."
"I worry that if Democrats, if we don't do the right thing, that we're gonna lose Hispanic voters."
State of play: Cuellar was among a number of Democrats in Congress last week to denounce the administration's waiving of laws to build a 17-mile border barrier in Starr County, Texas.
The Biden administration says it had to, by law, use allocated funding for that purpose.
Cuellar says the Biden administration should instead increase its use of expedited removals and work more closely with other countries to address the roots of migration.
Reality check: Polling shows the economy, not immigration, is the top issue among Latino voters — and the economy is looking up.
Latino Victory Fund executive director Sindy M. Benavides points to last week's jobs report, which defied expectations of an economic slowdown and "shows the fact that there is opportunity in this country and that there are still industries that are looking for workers."
"Offering work permits to immigrants who are in the U.S. is another way that the president really can get things done for workers and for our economy and for families," Benavides adds.
Republicans have their own plans for addressing illegal migration.
House Republicans in May passed a bill that would have increased deportations and detention while cutting off asylum access significantly, but the bill died in the Senate.
Late last month, Senate Republicans aimed to include language from that bill into the government funding stopgap bill, but it passed without it.
House GOP members are now considering electing to the speaker position Rep. Jim Jordan (R-Ohio), an immigration hardliner who in the past has been key to blocking comprehensive reform.
Democratic political strategist Kristian Ramos says Democrats need to "correct the narrative" on immigration.
"This to me is a failure of communication. We are a party that is for orderly, legal immigration into this country."
"I just think we are allowing the arsonists to set the fire and now withhold the water," Ramos adds.
Subscribe to Axios Latino to get vital news about Latinos and Latin America, delivered to your inbox on Tuesdays and Thursdays.
Go deeper