New midterms data shows Latinos helped Dems win key races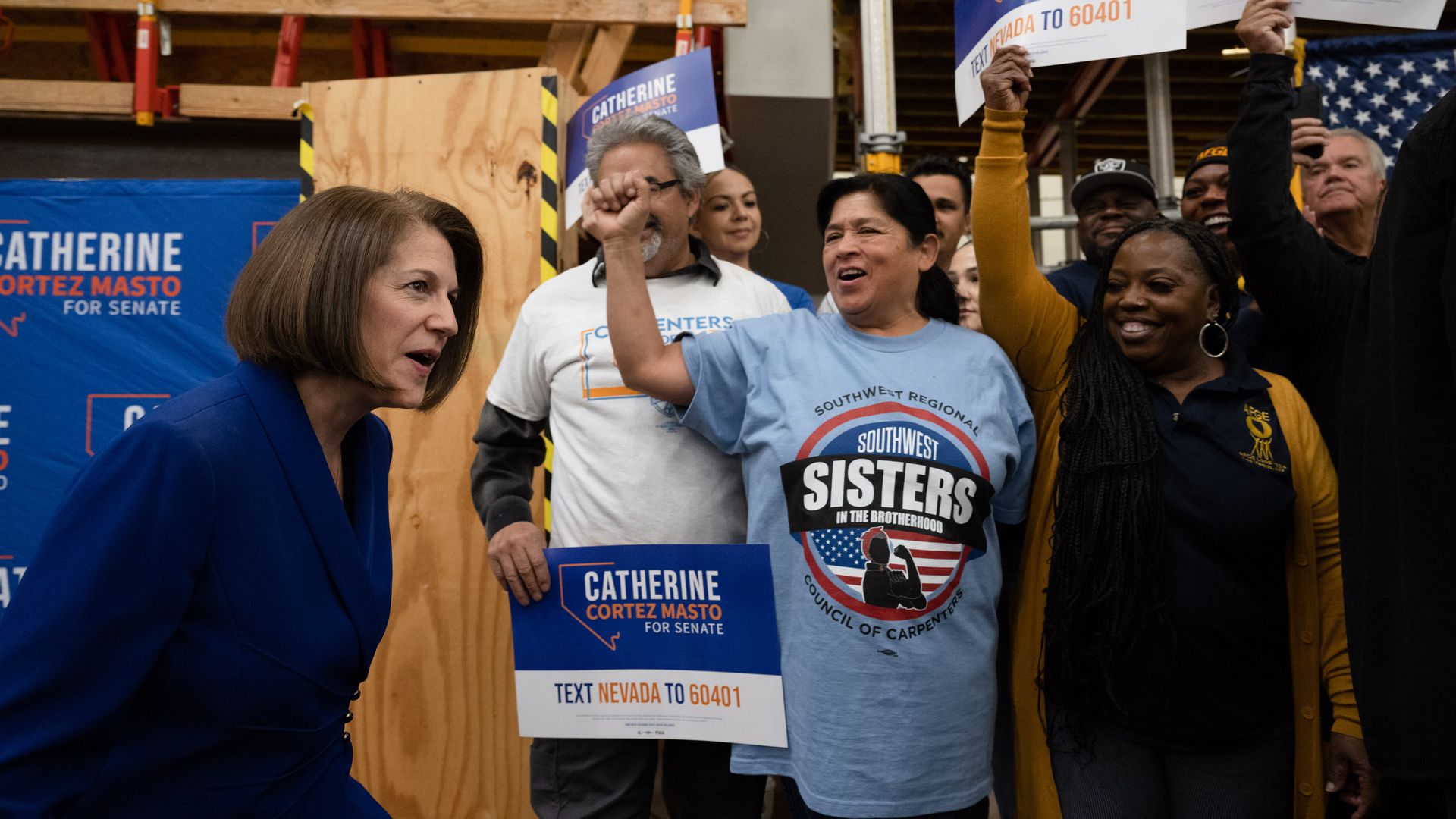 A new analysis of the 2022 midterms suggests Democrats kept just enough Latino voter support to win key state and federal races in Arizona, Nevada, and Texas while faltering in Florida.
Why it matters: Democrats have not lost as much ground with Latino voters as some predicted — at least for now, according to preliminary findings by the research firm Equis that were shared with Axios.
Democrats staved off significant GOP wins in Texas while holding ground in Arizona and Nevada.
Details: U.S. Sen. Mark Kelly (D-Ariz.) surpassed slightly the percentage of votes that President Biden got in 2020 in some Hispanic-majority districts, beating Trump-backed challenger Blake Masters (R), the analysis found. He performed as well as or slightly poorer than the president in other districts.
Hispanic voter support for Nevada Democrat Catherine Cortez Masto, the nation's only Latina U.S. senator, was slightly behind Biden in 2020, according to the analysis. But just enough Latinos voted for her, helping her win by a tight margin.
In South Texas, U.S. Rep. Mayra Flores (R) lost her bid for re-election after winning a special election in a traditionally Democratic seat, showing that the rightward shift in that region isn't settled.
Yes, but: Democrats have continually lost ground among Latino voters in Florida.
Gov. Ron DeSantis (R) has made major gains — he lost Miami-Dade County, the state's most Hispanic county — by 20 percentage points in 2018 but won by about 11 percentage points in November.
Early signs suggest that GOP gains in Florida were greatest among non-Cuban American, non-Puerto Rican Latino voters, the analysis found. But it's unclear why.
Democratic gubernatorial candidates in Arizona and Nevada had slightly less support than Biden in 2020. It wasn't a massive shift, but enough to help the GOP capture the Nevada governor's seat.
What they're saying: "Whereas in Florida the shifts among Latino voters could be measured in yards, elsewhere it was a matter of inches," said Carlos Odio, co-founder of Equis Labs.
Odio added that Democrats did just enough among Latino voters outside of Florida to win the races they needed to hold off a national red wave.
"I think the top line is that Latinos live in a perpetual persuasion window," Tory Gavito, president and CEO of left-leaning Way to Win, told Axios.
But, but, but: Latino voters saved Democrats in 2022 mainly because Republicans seem to be about "chaos, mobs, and MAGA," Gavito said.
Democrats will need to do a better job at explaining how their politics help Latinos, she added.
New Mexico Democratic political consultant Sisto Abeyta said he's still waiting for data on college-educated Latino voters and data in southern New Mexico, where Democrats flipped a GOP-held seat.
What's next: Odio said in the coming weeks Equis will examine voting data from New Mexico and California.
Subscribe to Axios Latino to get vital news about Latinos and Latin America, delivered to your inbox on Tuesdays and Thursdays.
Go deeper