Free COVID tests from government available again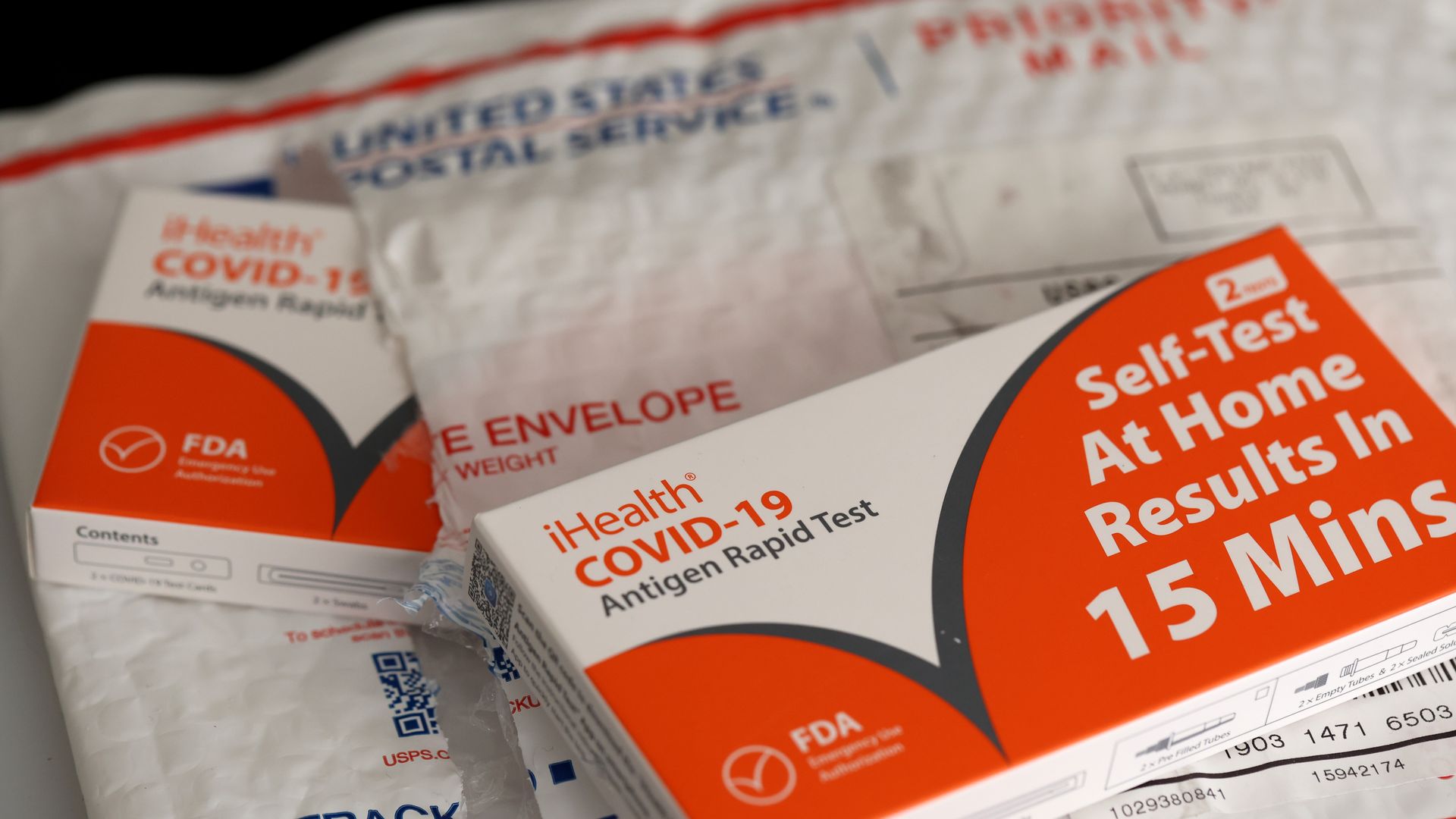 Starting today, Americans can order four free COVID-19 tests from the government with the reopening of the Biden administration's at-home testing program.
Why it matters: The program's relaunch comes as COVID hospitalizations have continued creeping up, passing 20,000 for the first time since March this month, according to data from the Centers for Disease Control and Prevention.
The CDC's COVID data tracker found 2.7% of all deaths in the U.S. were linked to COVID-19 for the week of Sept. 10-16, which is a 12.5% increase from the week before.
The big picture: Since the expiration of the public health emergency in May, many insurers stopped covering the cost of COVID tests. The government's program has been unavailable since June 1.
The Biden administration said it's previously provided more than 755 million at-home tests through its partnership with USPS.
COVID test kits from USPS: How to order
What's happening: The U.S. Department of Health and Human Services announced the reopening of the COVID test program and an investment of $600 million across 12 domestic COVID-19 test manufacturers by the Biden administration.
Starting Monday, Sept. 25, households can order four free tests through COVIDTests.gov, which directs people to a U.S. Postal Service site.
The tests are available at no cost and ship for free. Shipping will begin the week of Oct. 2, per USPS.
For those who can't order through the website, there's also a government hotline, 1-800-232-0233 or TTY 1-888-720-7489.
Flashback: The at-home COVID test program first launched in January 2022 and initially allowed for four free tests per residential address, regardless of how many lived in a household.
COVID tests' extended expiration date
Of note: The tests that will be mailed will detect the currently circulating COVID-19 variants, HHS said, and are "intended for use through the end of 2023."
They will come with instructions on how people can verify extended test expiration dates.
The Food & Drug Administration has extended the expiration dates for several over-the-counter COVID tests, adding several months to the "use by" date.
A full list of approved COVID-19 tests and their revised expiration dates is posted on the FDA website.
More from Axios:
Go deeper