Pulling the plug on the COVID public health emergency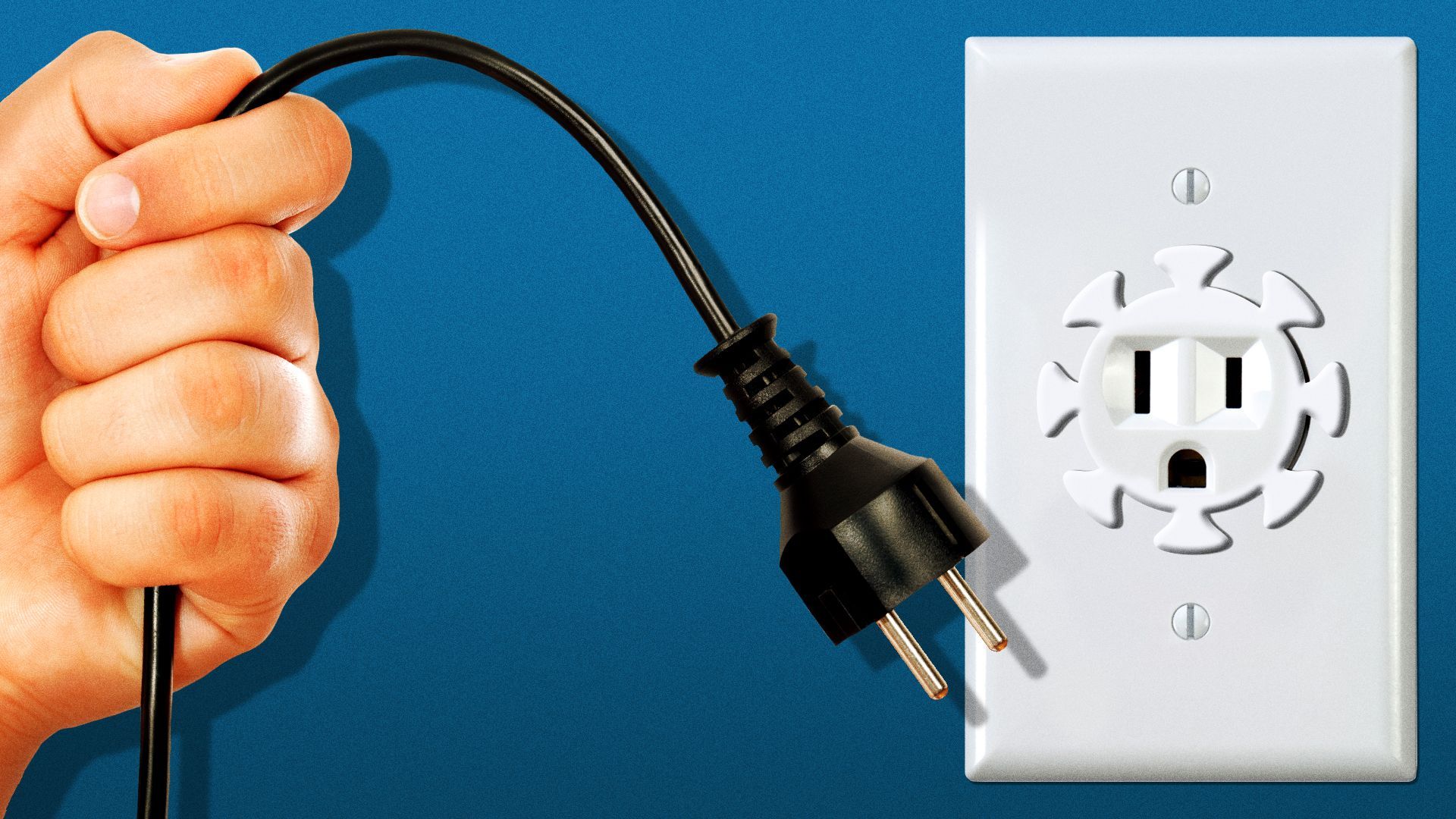 A number of health care changes that both providers and patients have grown used to during the pandemic will disappear on Thursday as the COVID public health emergency ends.
Why it matters: Congress has stepped in already and extended a number of COVID-era flexibilities. But the end of others could hurt access to health care, make it more costly, and stymie some of the positive innovations that emerged from the pandemic, providers say.
"There's not a lot of great stuff that happened during the [public health emergency], but what it did do is it actually truly was an impetus for us to develop programs for access for patients," Edmund Fernandez, medical director of telehealth for Advocate Aurora Health, told Axios.
Here's a look at what will stop:
End of free COVID tests, treatments
Home or lab COVID tests may not be free anymore, depending where you get your health coverage.
The requirement for private insurance to cover over-the-counter and laboratory COVID tests without cost-sharing will end — although the Department of Health and Human Services says it's encouraging them to keep covering the tests.
And Medicare beneficiaries won't be able to get free over-the-counter tests anymore, although they'll still be covered without cost-sharing on lab tests that have been ordered by a provider.
People on Medicaid have a reprieve. HHS says they'll still have coverage without cost-sharing until Sept. 30, 2024. After that, it will be up to the states.
COVID-19 vaccines will continue to be covered without cost-sharing for those on Medicare and Medicaid, and most of those with private insurance although there maybe be some exceptions on private plans.
What to watch: This raises the concern of whether Americans will continue to take COVID precautions without the extra help, Anand Parekh, chief medical advisor at the Bipartisan Policy Center, told Axios.
"It's OK to be done with the pandemic. It's not OK to forget about the tools that were developed during the pandemic to keep us safe," Parekh said.
"If you're symptomatic and sick, make sure you test, wear high-quality masks, know where to get treatments, and follow respiratory etiquette."
Yes, but: There's a concern the market for tests will dissipate, especially if consumers don't want to spend money on tests.
From April to September 2022, 3.5 million Medicare beneficiaries received more than 30 million at-home COVID tests, an analysis from McDermott+Consulting shows. But an April 2023 survey found that 7 out of 10 seniors will stop using at-home tests when Medicare stops covering them.
"The bigger question will be, are these tests even available come fall and winter?" Amy Kelbick, health policy director at McDermott+Consulting, told Axios.
No more Apple FaceTime with your doc
Many telehealth flexibilities allowed during the emergency were extended through the end of the year, and in some cases through 2024.
For instance, there are no geographic restrictions for originating sites for non-behavioral/mental telehealth services through the end of next year.
Yes, but: Some flexibilities are going to disappear.
For instance, a change that allowed Medicare-covered providers to use applications like Apple FaceTime, Facebook Messenger video chat and WhatsApp — through a temporary relaxation of the federal privacy law known as the Health Insurance Portability and Accountability Act — will end.
In addition, health care providers will no longer be able to prescribe controlled substances via telemedicine without an in-person interaction. However, the Drug Enforcement Administration is expected to initiate rulemaking that would extend these flexibilities under certain circumstances, per HHS.
Less flexibility for providers
Among the most obvious financial hits for health systems that are coming is the loss of an emergency 20% pay bump for all inpatient COVID-19 patients, per accounting firm Ernst & Young.
But there are other changes hidden with the end of regulatory waivers — like making it harder for hospitals to use telehealth to treat patients at different hospitals.
What they're saying: "When there were COVID surges, we'd have such a decreased staffing problem and it was very difficult to manage this," said Fernandez of Advocate Aurora Health.
During the emergency, Advocate Aurora created a telehealth program pilot program — using telehealth carts that could be wheeled into patient rooms — that allowed hospitalists and specialists like neurologists or endocrinologists to remotely do daily rounds with patients across multiple hospitals.
With the return of frequency limitations, telehealth for inpatients will now be limited to use once every three days rather than on a daily basis, which will raise costs for the health system, he said.
"It's decreasing our ability to provide access we developed through the program for hospitals that don't have great coverage for specialty care," he said.
No more specialty drug delivery
Another example that could impact patients is the end of a waiver to the Stark Law — also known as the Physician Self-Referral Law — that could take away providers' ability to ship specialty drugs directly to patients, Ted Okon, executive director of the Community Oncology Alliance, told Axios.
Even before the pandemic, but particularly during the pandemic, oncologists often used couriers to deliver certain specialty cancer drugs to their patients, Okon said.
That is particularly important to cancer patients in some rural areas who might otherwise have to travel several hours each way every month to pick up their medications, or to patients in urban areas with poor access to transportation, Okon said.
Zoom in: Despite sending letters to HHS and CMS, the Community Oncology Alliance has been unable to gain assurances that specialty drug delivery will be allowed to continue after Thursday, Okon said.
"It's a convenience to patients and, in some cases, it's a necessity," Okon said. "It's just inexcusable on an important issue like this for CMS to not come out and not say anything at all."
CMS did not immediately respond to a request for comment from Axios about this issue.
Go deeper