Capitol physician under scrutiny after McConnell health episodes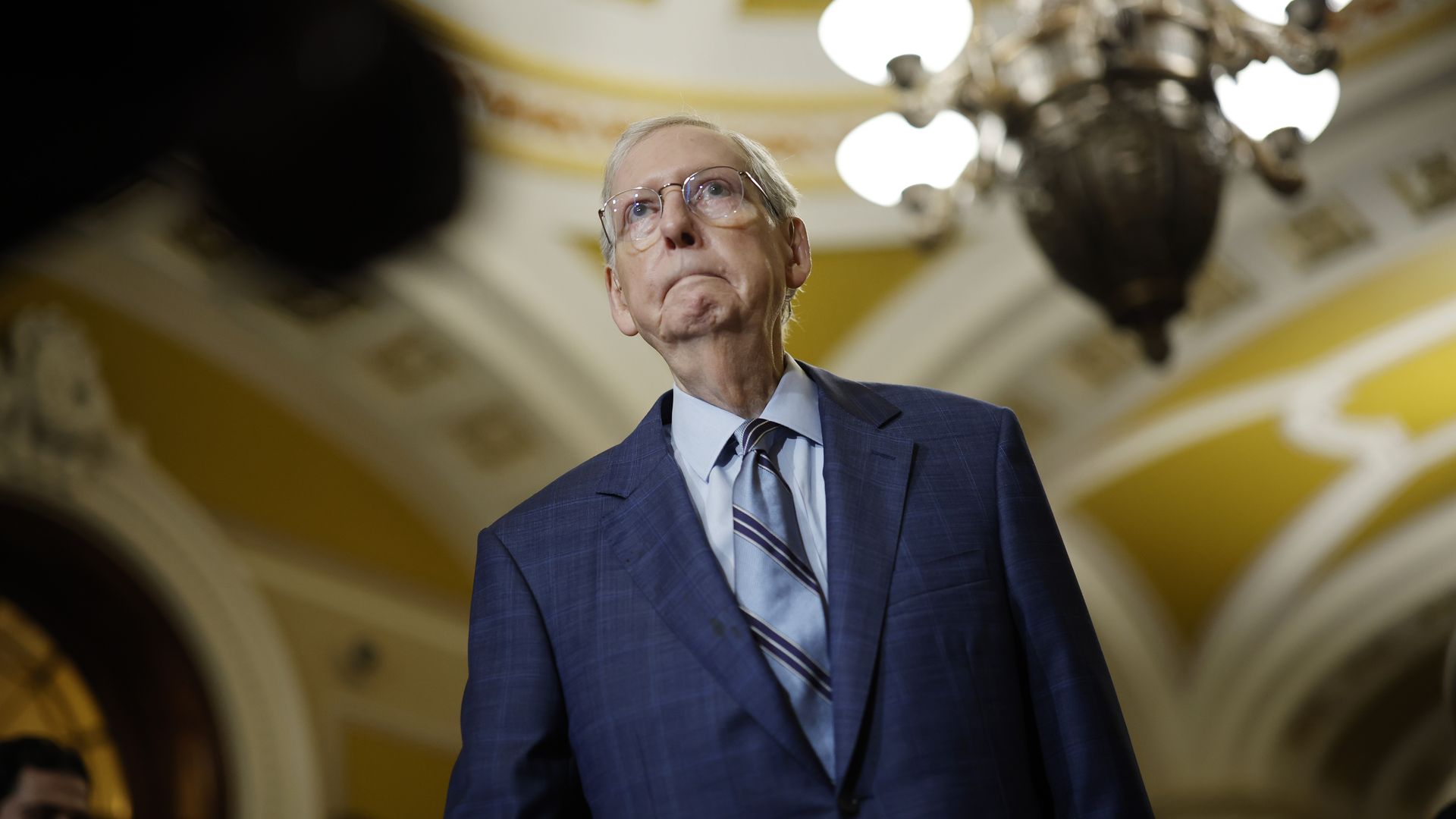 Capitol physician Dr. Brian Monahan's positive updates on Senate Minority Leader Mitch McConnell's health have drawn scrutiny and contradicted other doctors' reported impressions of the top Republican's condition.
Why it matters: Monahan's role as a medical doctor for Congress has gained more attention as McConnell has remained committed to staying in office following multiple health episodes this year.
The New York Times and CBS News reported this week on the nuances of Monahan's job.
Dr. Arthur Caplan, a medical ethicist at N.Y.U. Langone, compared the "problem of dual loyalty" inherent to the role to that of a doctor on a professional sports teams, The Times reported.
"You know the coaches and the owners want the athletes out there playing, but you also want to look out for their health," Caplan told the newspaper.
Catch up quick: Monahan ruled out a seizure disorder, stroke, TIA or movement disorder such as Parkinson's disease as causes of McConnell's second incident of publicly freezing during a press conference over the summer.
He attributed the event to dehydration and concussion recovery, and said McConnell was "medically clear" to continue work.
McConnell, the oldest serving party leader in Senate history, has since said that he'd finish his term, while Americans have expressed reservations about his ability to do his job.
He separately recovered from a concussion after a serious fall earlier this year.
Driving the news: Sen. Rand Paul (R-Ky.), an ophthalmologist, has previously questioned Monahan's diagnosis, saying he should be forthcoming about McConnell's health problems.
"What I can tell you is that having vacant spells of 30 seconds or more where you're unresponsive is not a sign or a symptom of dehydration," Paul said.
"Everybody's seen the clips," Paul previously said. "It's not a valid medical diagnosis for people to say that's dehydration."
Sen. Roger Marshall (R-Ks.), an obstetrician-gynecologist, though, said he did not believe Monahan would document a diagnosis he believed to be untrue.
"I do think at some points in time, he has to play politics, and I appreciate how tough that is, that he does want to be as neutral as possible," he said.
Rep. Jamie Raskin (D-Md.), who used Monahan as his primary care physician during cancer treatment, praised the Capitol doctor's adherence to the "doct0r-patient relationship," per The Times.
"If patients want to use the authority of the Capitol physician to lower the pressure on some medical situation, it has to be done through that letter," Raskin said, per The Times, referencing Monahan's statements on McConnell's health.
Of note: Neurologists not involved in McConnell's medical care see the senator's episodes as potential small seizures, The Times reported in early September.
Monahan's note did not thoroughly explain his abrupt stops, the doctors said. To them, "the spells appeared most consistent with focal seizures, which are electrical surges in one region of the brain," per The Times.
Details: Monahan's job includes serving all 535 members of Congress, Supreme Court justices, staff aides and Capitol tourists.
The office's taxpayer-funded budget was appropriated $4 million by Congress this year, per CBS. The office has nearly 50 employees.
Monahan, a Navy doctor, was appointed to the Capitol role by former President Obama in 2009. Lawmakers praise his discretion.
Between the lines: Monahan hasn't always been spared political fracas.
Flashback: The role of Capitol physician was created in 1928 after a House member died from overworking and two others collapsed.
"In 1928 alone, incumbent members of the Senate and House were dying at the appalling rate of almost 20 per year," according to the Senate.
The office of the physician is located near the midpoint of the Capitol's west-front corridor.
Axios reached out to Monahan's office for comment.
Go deeper: McConnell faces internal GOP scrutiny over health status
Go deeper