McConnell says he won't retire from Senate before 2026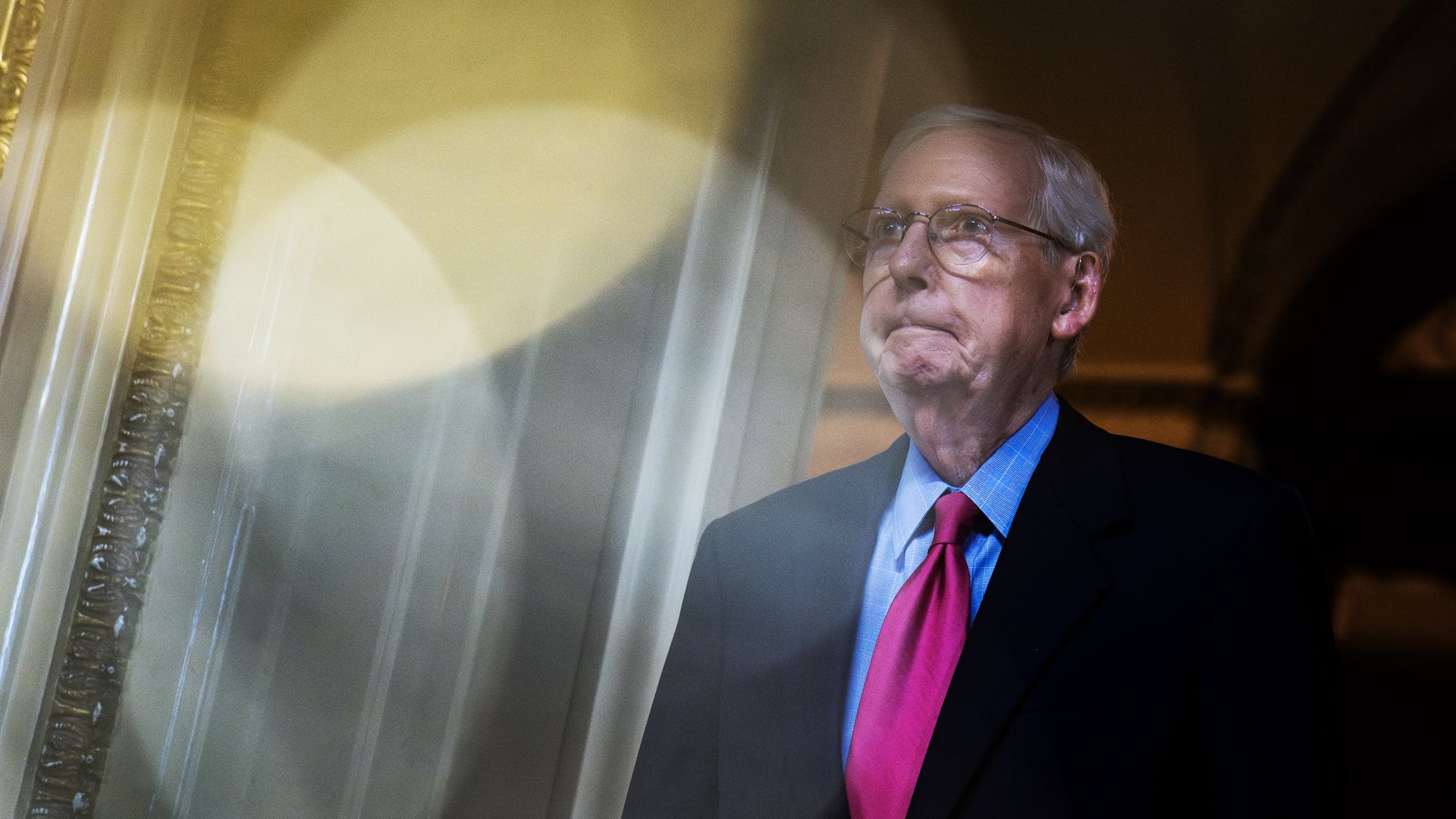 Senate Minority Leader Mitch McConnell (R-Ky.) said Wednesday he has no plans to retire before his Senate term expires or step down prematurely as leader.
Why it matters: The announcement comes despite recent public concerns about the 81-year-old senator's health following two televised freeze-ups at press conferences this summer.
Driving the news: "I have no announcements to make on that subject," McConnell said during a Senate Republican leadership press conference on Wednesday when asked if he plans to retire soon.
"I'm going to finish my term as leader and I'm going to finish my Senate term," he said.
Senate Republicans aren't slated to vote again for leader until after the 2024 election, while McConnell's Senate term will last until 2027 – when he will be 84.
At the press conference, McConnell – who had a concussion after a fall in March – repeatedly dodged questions asking for specifics about his health.
He referred to letters from Dr. Brian Monahan, the Capitol's attending physician, clearing him to continue working and ruling out a stroke, seizure or movement disorder as possible causes of his freeze-ups.
"I think Dr. Monahan covered the subject fully ... I don't have anything to add to it," he said.
The latest: McConnell gave an overview of his health at the Senate GOP lunch on Wednesday to try to clear up any concerns from colleagues.
"I think everybody left feeling very good about where he's at," Sen. John Thune (R-S.D.), McConnell's deputy, told reporters.
Sen. Rick Scott (R-Fla.), who unsuccessfully challenged McConnell for leader last year, said he did a "good job" at the lunch.
Yes, but: Some conservative senators who openly questioned McConnell's health on Wednesday left sounding less than satisfied.
Sen. Josh Hawley (R-Mo.) told reporters McConnell said "not much" at the meeting and didn't face any questions from his colleagues.
"I don't have any reaction," said Sen. Rand Paul (R-Ky.) coming out of the lunch.
Go deeper