McConnell faces internal GOP scrutiny over health status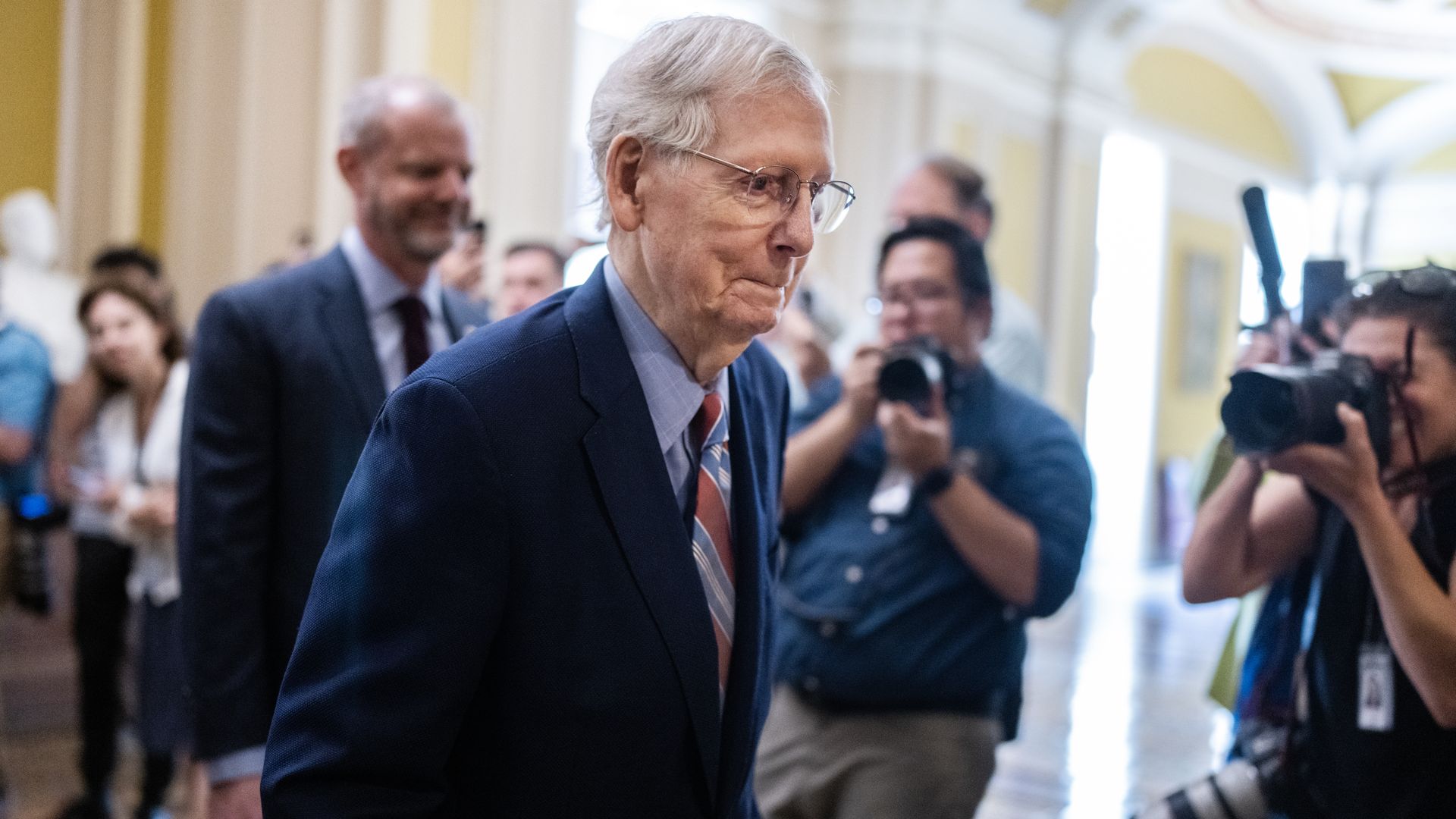 Senate Minority Leader Mitch McConnell (R-Ky.) is facing heat from fellow Republicans over his health status in the wake of several public freeze-ups.
Why it matters: McConnell's allies are closing ranks, but the dissent from some Senate conservatives presents a rare public display of party disunity in a body known for its discretion and gentility.
Driving the news: Sen. Rand Paul (R-Ky.), an ophthalmologist, questioned Capitol physician Dr. Brian P. Monahan's diagnosis of McConnell, telling reporters, "Everybody's seen the clips. It's not a valid medical diagnosis for people to say that's dehydration."
"I think it'd be better to be forthcoming about what's going on with health problems," Paul said.
Sen. Josh Hawley (R-Mo.), noting GOP criticism of President Biden's health, said he is "concerned about the president's health, I'm concerned about the minority leader's health. You can't have it both ways."
"I've just been home for a month, I was asked all over the state, I mean all over the state, about the minority leader," Hawley said. "And this was before the most recent episode, and then absolutely after it."
The latest: Monahan said Tuesday that tests and consultations ruled out a stroke, seizure or movement disorder as possible causes of McConnell's latest freeze-up at a press conference last month.
Monahan said last week that the 81-year-old was "medically clear" to maintain his work schedule and that "[o]ccasional lightheadedness is not uncommon in concussion recovery and can also be expected as a result of dehydration."
McConnell previously froze up at a press conference at the Capitol in July, with aides chalking up both incidents to lightheadedness.
Both incidents occurred after McConnell's recovery from a concussion following a fall at a fundraising dinner in March.
The other side: McConnell's allies leapt to his defense as the Senate returned on Tuesday, suggesting that Wednesday's closed-door GOP conference meeting will provide him an opportunity to address his colleagues' concerns.
"We'll have [a meeting] tomorrow at lunch where I imagine this will be discussed. I know Sen. McConnell wants to be more transparent about this," said Sen. John Cornyn (R-Texas), one of McConnell's would-be successors.
Cornyn and Sen. John Thune (R-S.D.), McConnell's deputy, both affirmed their backing of the GOP leader. "He has my full support and he'll have the support of the conference," said Thune.
Conservative Sen. Ted Cruz (R-Texas) said he is "sure we'll have discussions, because all of us are concerned about him."
What he's saying: "One particular moment of my time back home has received its fair share of attention in the press over the past week," McConnell said in a speech on the Senate floor. "But I assure you August was a busy and productive month for me and my staff back in the Commonwealth."
The GOP leader told reporters he plans to perform his usual role leading the post-lunch leadership press conference on Wednesday.
Zoom in: Hawley, one of 10 senators who voted against McConnell's reelection as leader last year, said 2024 is "a big election ... I hope we'll be able to be laser focused on retaking the Senate and we won't have a lot of distractions."
"Candidate quality really matters. Leader quality really matters," he said. "Like I said, I spent a lot of my recess talking about this."
Sen. Tommy Tuberville (R-Ala.) raised a similar point, noting that "next year is gonna be tough for anyone, but if you're the leader, it's double."
Go deeper