Clarence Thomas discloses flights on GOP megadonor's private jet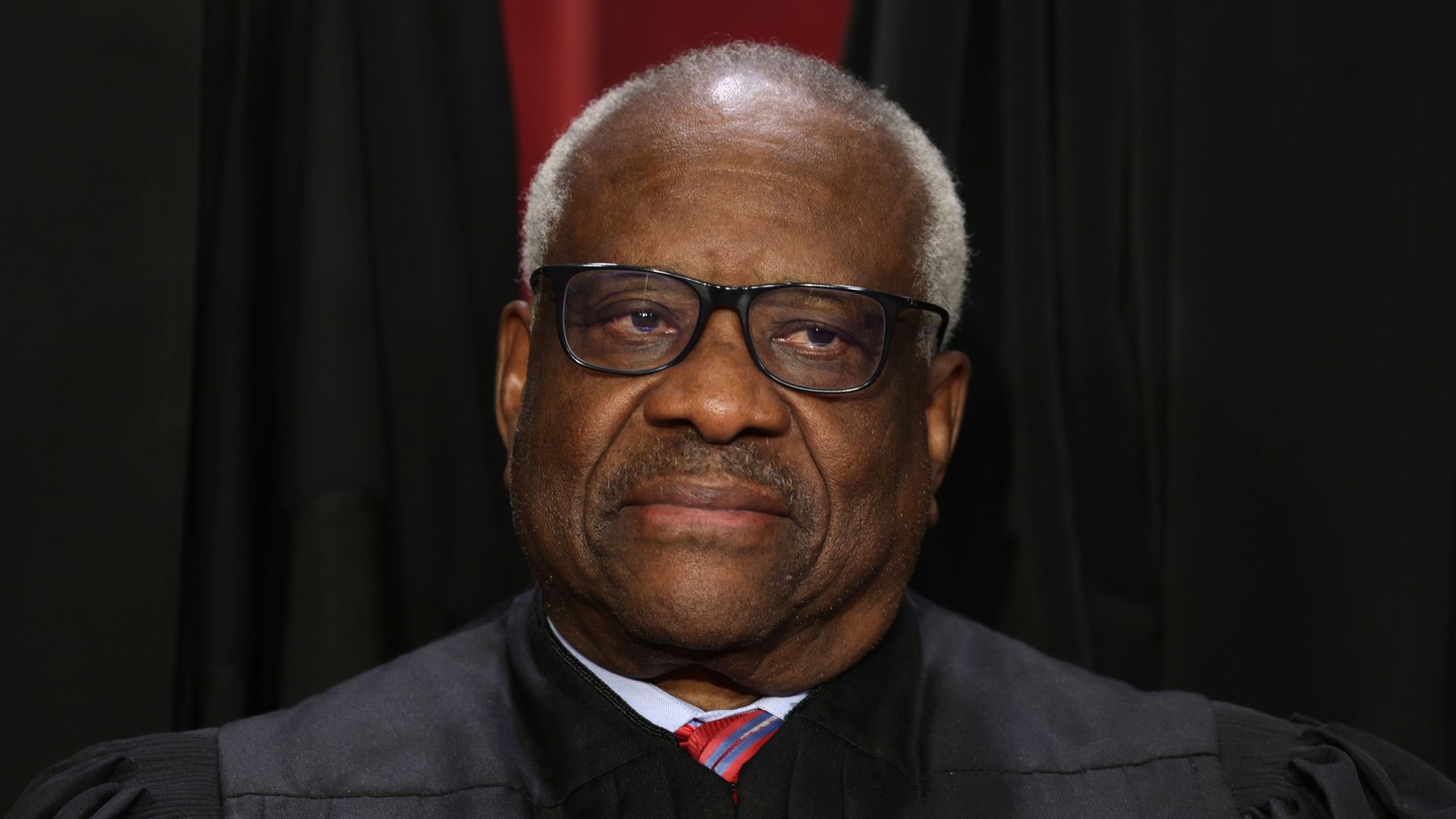 Supreme Court Justice Clarence Thomas reported three reimbursements for travel and meals from Dallas billionaire Harlan Crow in 2022, according to his newly released annual financial disclosure.
Why it matters: Thomas faced scrutiny earlier this year for reported ethical breaches and omissions from his past financial disclosures, which were also linked to Crow.
The big picture: Thomas' financial disclosure form revealed that in February, May and July of last year, Thomas received reimbursements from Crow covering transportation, meals, and lodging. The report did not disclose estimated dollar figures for the reimbursements.
Thomas also received a reimbursement from the Hatch Center for transportation, meals, and lodging.
The report also notes that due to "increased security risk" after the leaked draft opinion in Dobbs v. Jackson, Thomas' "May flights were by private plane for official travel as filer's security detail recommended noncommercial travel whenever possible."
Details: The report also included new information that Thomas said was "inadvertently omitted" from his prior financial disclosure reports.
That included personal bank accounts, a life insurance policy belonging to Ginni Thomas, and a real estate transaction with Crow.
In 2014, Crow purchased three properties in Savannah, Georgia, that had belonged to Thomas' family. The justice had allegedly failed to properly disclose the sale at the time, a previous ProPublica investigation revealed.
Thomas' disclosure stated that he had "inadvertently failed to realize that the 'sales transaction' for the final disposition of the three properties triggered a new reportable transaction in 2014, even though this sale resulted in a capital loss."
What they're saying: Elliot Berke, an attorney for Thomas who helped prepare the report, released a statement Thursday saying Thomas "has always strived for full transparency and adherence to the law."
Berke also took aim at "left wing 'watchdog' groups" that he said have been "attacking Justice Thomas for alleged ethical violations."
"Justice Thomas's critics allege that he failed to report gifts from wealthy friends. Untrue. He has never accepted a gift from anyone with business before the Court," Berke said.
Flashback: Thomas made headlines this year for allegedly failing to properly disclose luxury trips received from Crow over two decades, as well as the property he sold to Crow.
Crow also made tuition payments on behalf of Thomas' grandnephew, a subsequent ProPublica report revealed.
Thomas pushed back in April on criticism of his conduct, saying he has "always sought to comply with the disclosure guidelines."
Meanwhile, Justice Samuel Alito defended going on an Alaska fishing trip with Republican megadonor Paul Singer, who later had cases before the Supreme Court.
It also emerged earlier this year that Justice Neil Gorsuch and two partners sold a vacation property to the head of a major law firm that often has business before the court.
State of play: The slew of revelations fueled fresh calls from some Democrats for a new code of ethics for the Supreme Court.
In June, Thomas and Alito Jr. were granted 90-day extensions for their 2022 financial disclosures. Both filed them Thursday and met the extended deadline.
Earlier this month a group of leading House Democrats called for the Justice Department to open an investigation into Justice Thomas, Axios' Andrew Solender writes.
Editor's note: This story was updated with additional information.
Go deeper