GOP megadonor made tuition payments for Thomas' grandnephew, report says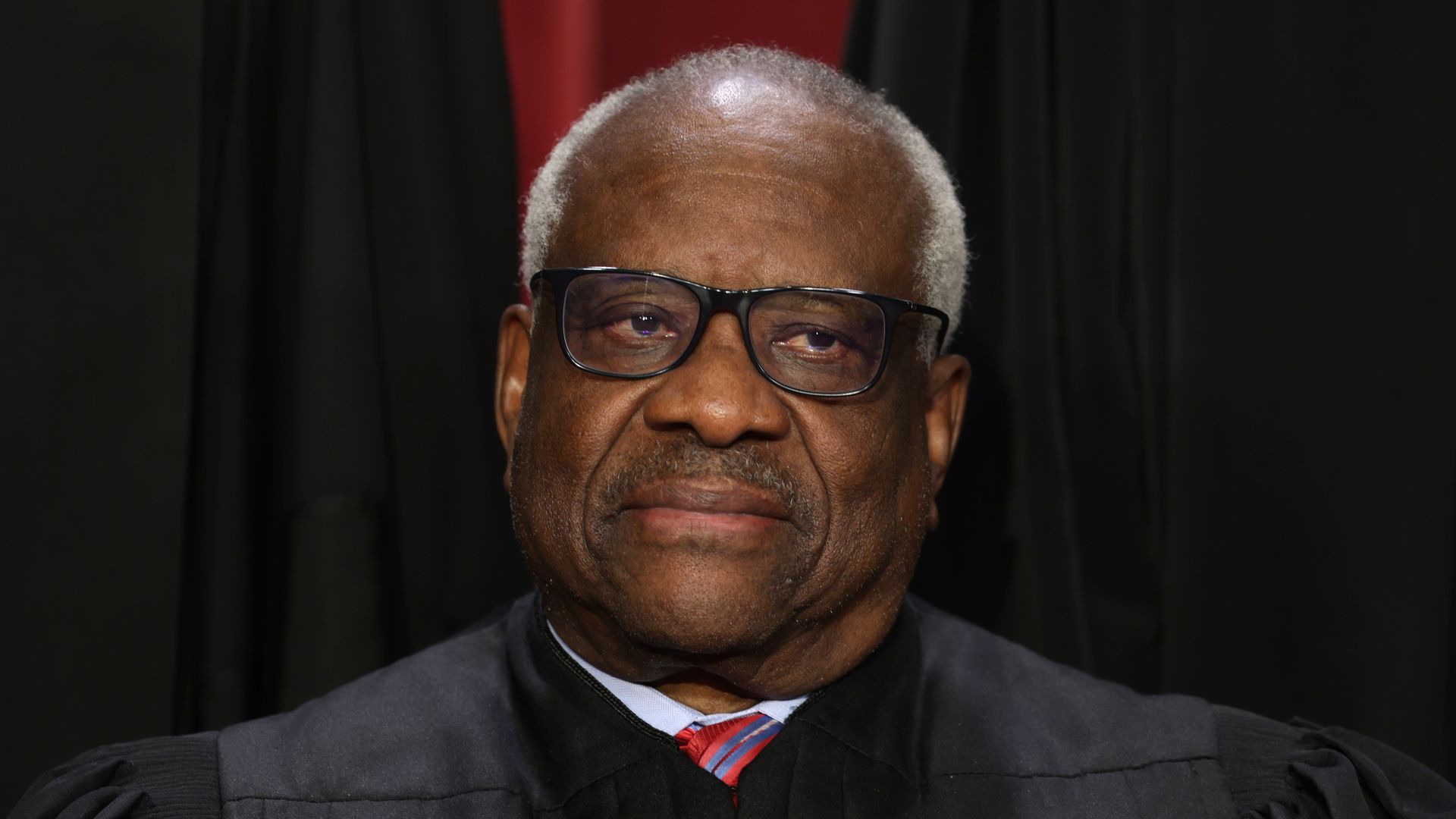 Republican megadonor Harlan Crow made private school tuition payments for the grandnephew of Justice Clarence Thomas, according to a ProPublica investigation published Thursday.
Why it matters: A series of stories about Thomas' close relationship with Crow have heightened scrutiny of the Supreme Court justice and has prompted several lawmakers demand the court create or adopt sweeping ethics reforms.
Driving the news: Mark Paoletta, a lawyer and friend of Thomas, lambasted the report in a statement Thursday, calling the story "another attempt to manufacture a scandal about Justice Thomas."
Paoletta said Crow had himself offered to make the tuition payments for Martin's first year at Randolph Macron and first year at Hidden Lake, which went directly to the schools.
Those tuition payments didn't constitute a reportable gift because ethics guidelines only require disclosure for a "dependent child," which is defined as a "son, daughter, stepson or stepdaughter," he added.
"This malicious story shows nothing except for the fact that the Thomases and the Crows are kind, generous, and loving people who tried to help this young man," Paoletta concluded.
Catch up quick: Mark Martin, Thomas' grandnephew, had lived with Thomas and his wife since he was six. As a teenager he was sent to Hidden Lake Academy, a private boarding school in Georgia.
Tuition at Hidden Lake cost more than $6,000 per month, but a bank statement from July 2009 showed that Crow's company had paid the bill.
While it's unclear how much of Martin's total school tuition was paid for by Crow, a former Hidden Lake school administrator told ProPublica that Crow had footed the bill the entire time he was at the Georgia boarding school, which was about a year.
The administrator added that Crow had said he also paid for tuition at Randolph-Macon Academy, a boarding school in Virginia Martin attended before and after going to Hidden Lake.
"If he paid for all four years at the two schools, the price tag could have exceeded $150,000, according to public records of tuition rates at the schools," ProPublica wrote.
Worth noting: Thomas did not disclose the tuition payments from Crow, though he had disclosed another friend's $5,000 payment towards Martin's education in 2002.
In a statement to ProPublica, Crow's office stressed that the megadonor and his wife had long been passionate about "quality education and giving back to those less fortunate, especially at-risk youth."
Crow's office said that neither Thomas nor his wife Ginni had asked Crow to pay for tuition at the boarding schools but did not answer a question about how much he had paid in total.
"It's disappointing that those with partisan political interests would try to turn helping at-risk youth with tuition assistance into something nefarious or political," the office's statement added.
Martin told ProPublica he hadn't been aware of Crow's tuition payments but denied that Crow might have had ulterior motives.
"I think his intentions behind everything is just a friend and just a good person," Martin said.
The Supreme Court did not respond to Axios' request for comment.
State of play: Bombshell revelations from ProPublica last month unveiled that Thomas had accepted luxury tips and travel from Crow for over two decades, which Thomas had failed to disclose.
Thomas defended his failure to disclose the trips, saying he had always sought to comply with disclosure guidelines but that he had been told that "this sort of personal hospitality from close personal friends, who did not have business before the Court, was not reportable."
Later in April, ProPublica revealed that Thomas had failed to disclose that he had sold properties in Savannah, Georgia to Crow.
Go deeper