Judge sets Trump trial for March 4 in election interference case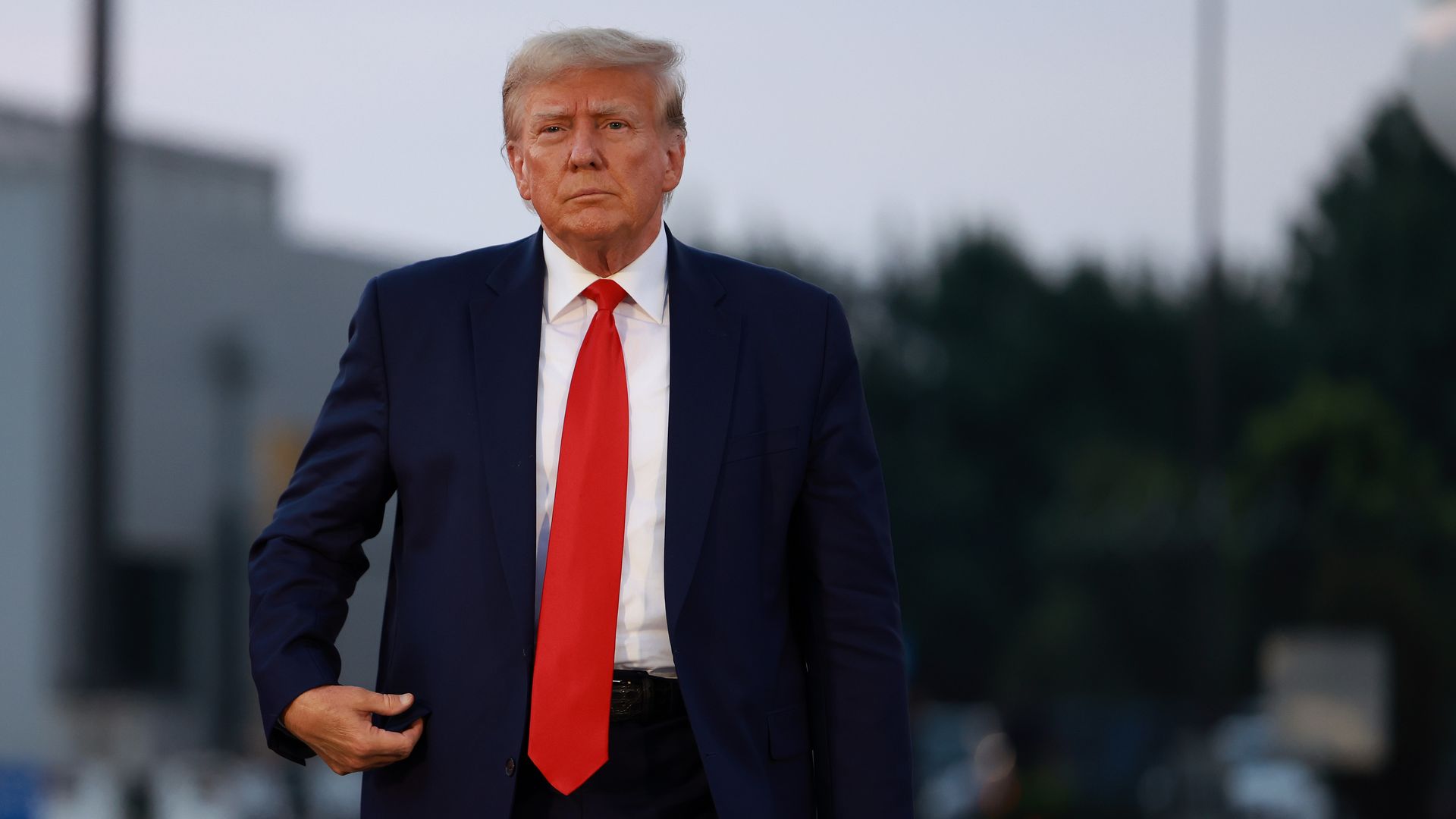 Former President Trump's trial for his alleged efforts to overturn the 2020 election is set to start on March 4, 2024, the federal judge overseeing the case said in a court hearing Monday.
Why it matters: The new date for the trial in Washington falls squarely in the middle of the 2024 presidential primary season — a day before Super Tuesday, when more than a dozen states will hold contests.
The big picture: If the schedule holds it will be one of the clearest instance of the current GOP front-runner's campaign colliding with his court dates as he faces charges on four felony indictments.
Trump now is faced with the prospect of four criminal trials over seven months, starting in October.
In Atlanta, Fulton County DA Fani Willis has proposed an Oct. 23 start date to try Trump on charges that he led 18 others in a conspiracy to overturn the 2020 election results in Georgia.
Besides the March 4 trial date in Washington, Trump also faces a March 25 trial date in the New York case involving hush money he allegedly paid to a porn star, and a possible May 20 trial date in Florida on charges involving his handling of classified documents.
Zoom in: In Washington, prosecutors working under special counsel Jack Smith argued for a start date of Jan. 2, 2024, citing the "public's strong interest in a speedy trial."
Trump's lawyers countered with a proposed start date of April 2026.
U.S. District Judge Tanya S. Chutkan rejected both dates during Monday's hearing, saying "neither" was acceptable.
In setting March 4 as Trump's trial date, Chutkan said it would give his legal team adequate time to prepare for trial while still satisfying the public interest for a speedy trial.
Trump attorney John Lauro, growing heated at times, pushed back. "This is an enormous, overwhelming task," he said, citing the mass of documents involved in the case.
"Never in the history of the United States have we seen a case of this magnitude go to trial in four months," he said of prosecutors' initial proposal for a January trial, adding a similar objection when Chutkan set the trial date in March.
Chutkan and said the former president's team has "known this was coming."
Trump wrote on his Truth Social on Monday that he will appeal the trial date.
Zoom out: Prosecutors for Smith said that the pile of documents supporting the charges is up to 12.8 million pages and that the process of discovery is now "substantially complete."
More than half the pages came from entities associated with Trump directly, including his tweets and materials associated with his political action committee and National Archives records, among others.
Senior assistant special counsel Molly Gaston said the discovery material includes an annotated version of the 45-page indictment that accuses Trump of four felony counts — "essentially a roadmap to our case."
The bottom line: "Setting a trial date does not depend and should not depend on the defendant's personal and professional obligations," Chutkan said.
"Mr. Trump, like any defendant, will have to make the trial date work regardless of his schedule."
In addition to the criminal trials, Trump also faces three civil trials before Election Day in November 2024.
Go deeper:
Editor's note: This article has been corrected to reflect that Trump was indicted on Aug. 1 (not in July).
This story has been updated with new details throughout.
Go deeper