What's next for Wagner after presumed death of boss Yevgeny Prigozhin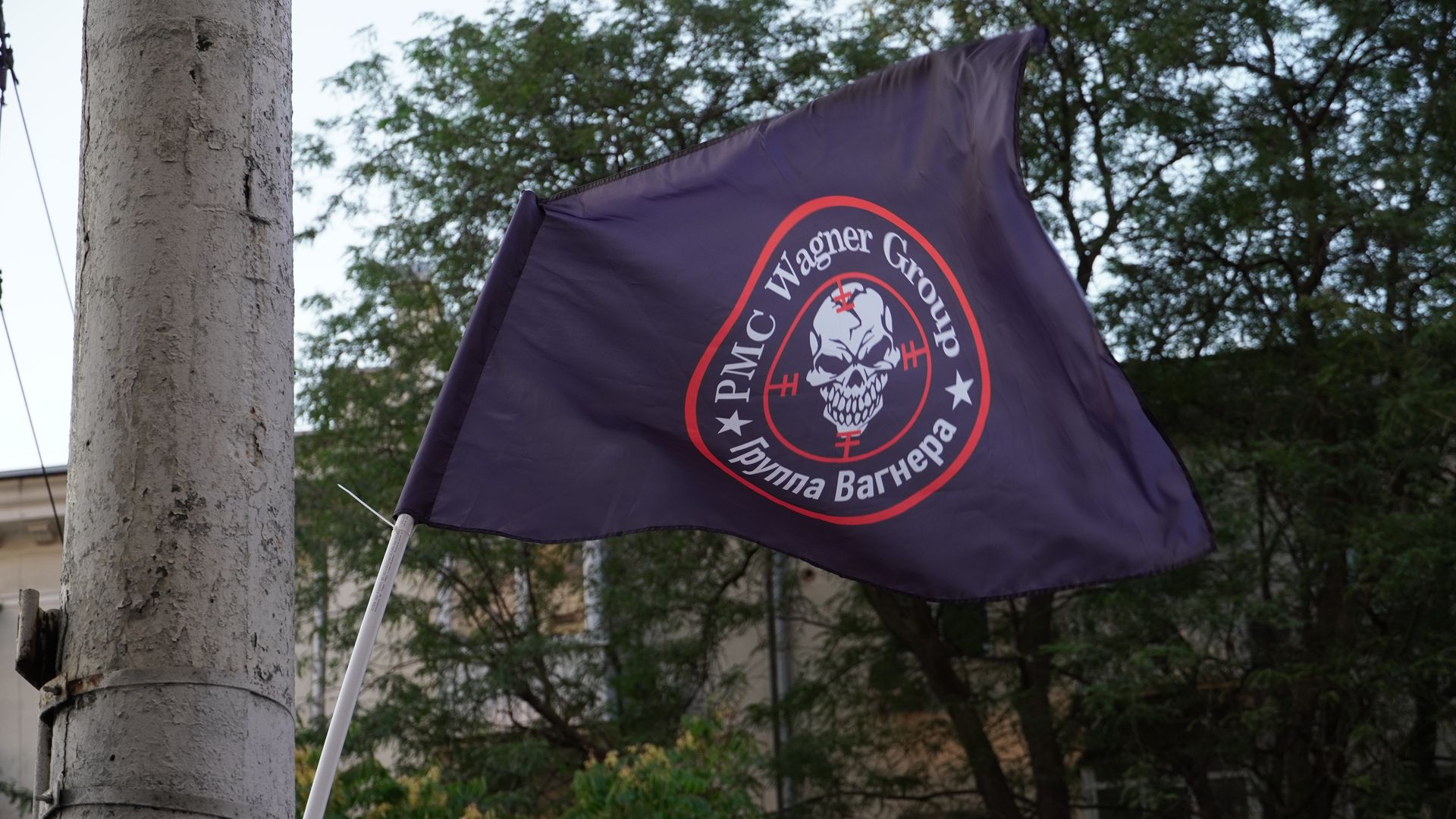 The apparent deaths of Russian mercenary boss Yevgeny Prigozhin and other high-ranking officials of the Wagner Private Military Company in a plane crash this week leaves the Kremlin-funded group's future in question.
Why it matters: Without its founder and other top commanders, it is difficult to predict how Wagner will operate going forward, but it is likely that the group is the weakest it has ever been since first emerging nearly a decade ago, analysts told Axios.
The deaths of Prigozhin and other Wagner officials will likely prevent the group from reversing its decline, which accelerated after the mercenary boss led a short-lived rebellion in June, said Kateryna Stepanenko, a Russia analyst at the Institute for the Study of War.
"We're not going to see Wagner in the same capacity that we have seen before," Stepanenko told Axios.
Driving the news: Russian President Vladimir Putin acknowledged the plane crash for the first time on Thursday, calling Prigozhin a man with a "complicated fate" and saying that he "made some serious mistakes in life."
The Pentagon said it believes Prigozhin was "likely killed" but did not explain how it came to that conclusion. It also rejected claims of a surface-to-air missile taking down the Wagner-linked plane.
Nine other people are believed to have been on board the crashed plane, including Dmitry Utkin, a Wagner commander and Prigozhin's right-hand man, and Valery Chekalov, the group's presumed logistics and security head.
The Kremlin on Friday denied any involvement.
Catch up quickly: The mercenary company has been designated by the U.S. as a transnational criminal organization and by many other countries as a terrorist group.
Wagner emerged in 2014 during Russia's occupation of Ukraine's Crimea region, and has since expanded its operations to northern Africa and the Middle East, where its mercenaries have for years protected and projected Russia's power globally, all the while racking up numerous accusations of war crimes, including killing, torturing, looting and raping civilians.
When Russia's invasion of Ukraine began, the group became a key player in some of the war's bloodiest battles, including in the city of Bakhmut.
What they're saying: The Kremlin and the Russian Ministry of Defense will either bring Wagner "fully to heel" or completely dismantle it, said Eugene Finkel, an associate professor of international affairs at Johns Hopkins University.
One of the main remaining questions is who will take over Wagner-linked companies and Prigozhin's extensive business empire, which included mines, oil and gas operations and other ventures across at least 15 countries, Finkel told Axios.
"I don't think we ... know yet," Finkel said. "It might be the Ministry of Defense. It might be some people in the quote-unquote 'business community.'"
Putin signed a decree on Friday that requires all paramilitary troops to swear an oath to Russia's national flag.
Flashback: Wagner's degradation likely began during the ongoing battle for the now-destroyed city of Bakhmut, where Prigozhin had said the group lost more than 20,000 fighters, Stepanenko told Axios.
A long-brewing rival between Prigozhin and top defense officials Valery Gerasimov and Sergei Shoigu publicly boiled over during the fighting, with the Wagner boss repeatedly claiming that the ministry was deliberately withholding support from his fighters.
Around the time the mercenary group claimed victory in Bakhmut and withdrew in June, the Russian Defense Ministry attempted to unify volunteer and private forces fighting on the front line in Ukraine under its control — a move Prigozhin rejected.
The mercenary boss then launched his rebellious march toward Moscow, during which Wagner units reportedly shot down seven Russian aircraft and killed 13 pilots.
In the aftermath, Prigozhin agreed to leave Russia for Belarus in exchange for charges against him being dropped and certain security guarantees, though he was repeatedly seen back in Russia after the deal was finalized.
Wagner fighters, including those who participated in the mutiny, were given the choice of signing contracts with the Russian Defense Ministry or going to neighboring Belarus, where the company relocated.
Though it once had around 50,000 fighters participating in Russia's invasion of Ukraine, the group has had little to no involvement since the rebellion, the Pentagon said last month.
The big picture: Stepanenko said she has not seen evidence of surviving Wagner commanders, who have held significant sway within the company, making plans to establish new leadership.
There have been indications, including recent satellite imagery, that suggest Wagner has at least started to plan a withdrawal from Belarus, Stepanenko said, though these were also seen before Prigozhin's death.
Belarusian President Alexander Lukashenko said on Friday that the company would continue to be based in Belarus.
Finkel said he does not believe another mutiny is likely.
What to watch: Samuel Ramani of the Royal United Services Institute wrote on social media that he believes it's likely, at least for the time being, that Wagner's operations in African countries will be under the control of the Russian Defense Ministry.
In the long run, Ramani said other competing Russian militia groups that operate more closely with the Defense Ministry, like Redut, will likely attempt to hire ex-Wagner personnel and could eventually take over some of its operations.
Go deeper