How Dallas-Fort Worth became America's boomtown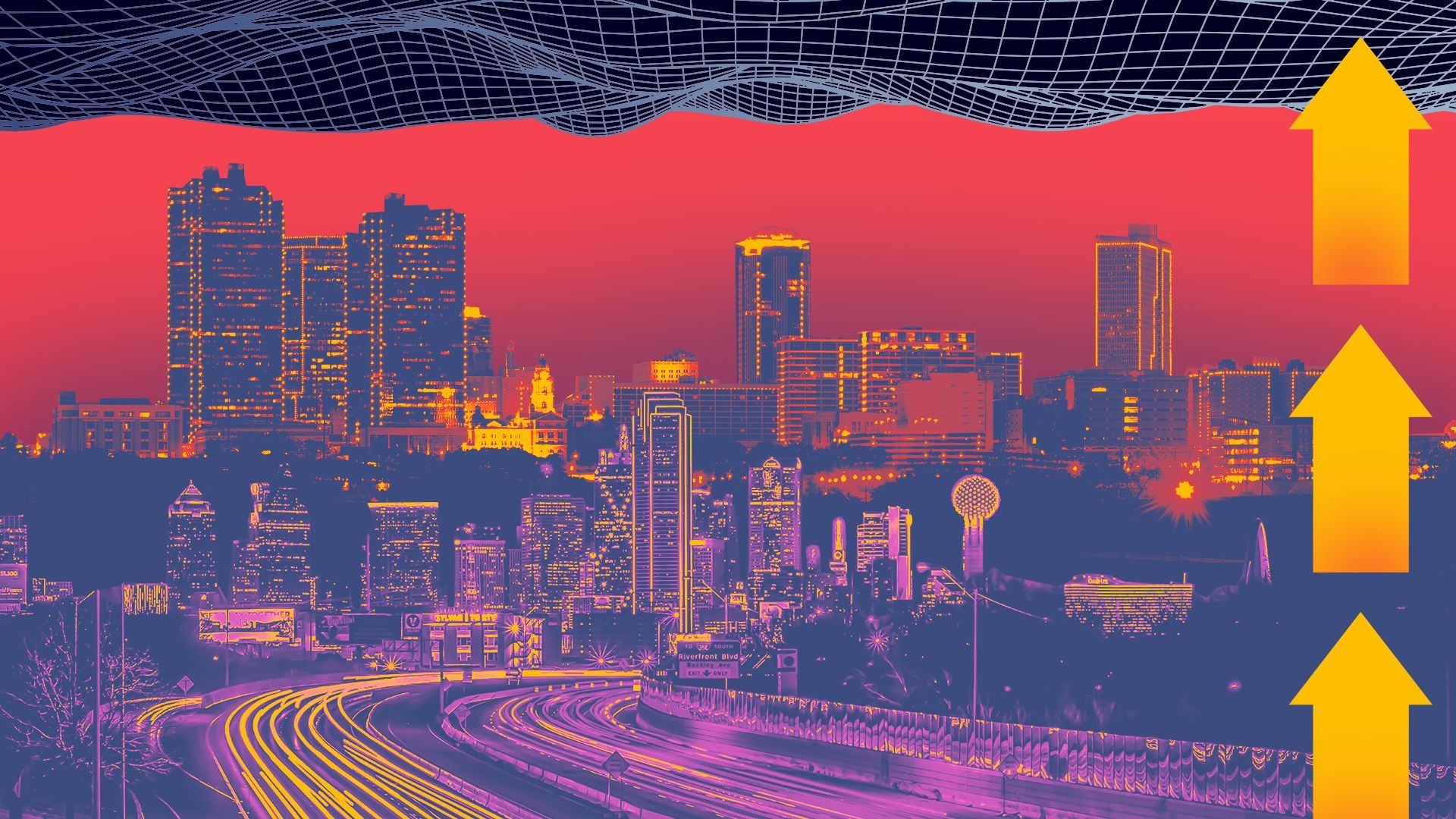 Imagine San Diego, San Jose, New Orleans, Pittsburgh and Boise all rolled up into the same metropolitan area.
Zoom in: That would give you a sense of just how many people now live in the Dallas-Fort Worth area's major cities, which aside from the titular pair also include Arlington, Plano and Garland.
The big picture: Dallas-Fort Worth is one of the country's fastest growing metropolitan areas.
Zoom out: Texas is one of six states benefiting from a massive southward wealth migration, which is pulling the U.S. economic center away from the Northeast.
Driving the news: Business expansion and relocations are fueling the Dallas region's growth, putting it on track to overtake the Chicago area and become the third-most-populous metro within the decade.
The area is thriving because of its major airport, highway and rail access and central location.
It is also home to a number of major universities, producing a high-skilled and diverse workforce.
Plus, a lack of natural barriers like waterways and mountains means plenty of room to expand.
The intrigue: Dallas remains the area's anchor, but its power is slipping as outlying cities boom.
Still, Dallas is critical to the broader region's success, says Mike Rosa, senior vice president of economic development for the Dallas Regional Chamber.
"It is important that the core city, the branded city, is healthy and vibrant and has a positive ring to it. That helps a Frisco. That helps a Plano," Rosa tells Axios.
By the numbers: 265 businesses have either relocated or expanded to Dallas-Fort Worth since 2020. Dallas accounted for 59 of those moves.
Among the biggest: Caterpillar, which last year relocated its headquarters from suburban Chicago to Irving.
Irving, a suburb near DFW Airport, has seen more than 20 business expansions and relocations in the past three years.
Meanwhile, Fort Worth added 19,000 residents between July 2021 and July 2022, more than any other single U.S. city.
The city's population hovered just below 957,000 last year, and it drew more than 40 business relocations and expansions.
Late last year, Fort Worth-based Bell Textron was awarded a U.S. Army contract worth up to $1.3 billion to build new long-range assault aircraft.
What they're saying: Fort Worth has long been more blue collar than Dallas, with more emphasis on manufacturing and transportation businesses than finance and real estate.
The city attracts new companies because of its identity, says Robert Sturns, director of economic development for the city of Fort Worth.
"We have a definable character. We're Cowtown," Sturns tells Axios. "That's not something we shy away from."
What's next: Dallas-Fort Worth is on track to be the only U.S. metropolitan area to house two cities with populations over 1 million in the next five years, as people and companies seek profit, opportunity and room to grow.
Go deeper