By the numbers: Trump's Jan. 6 indictment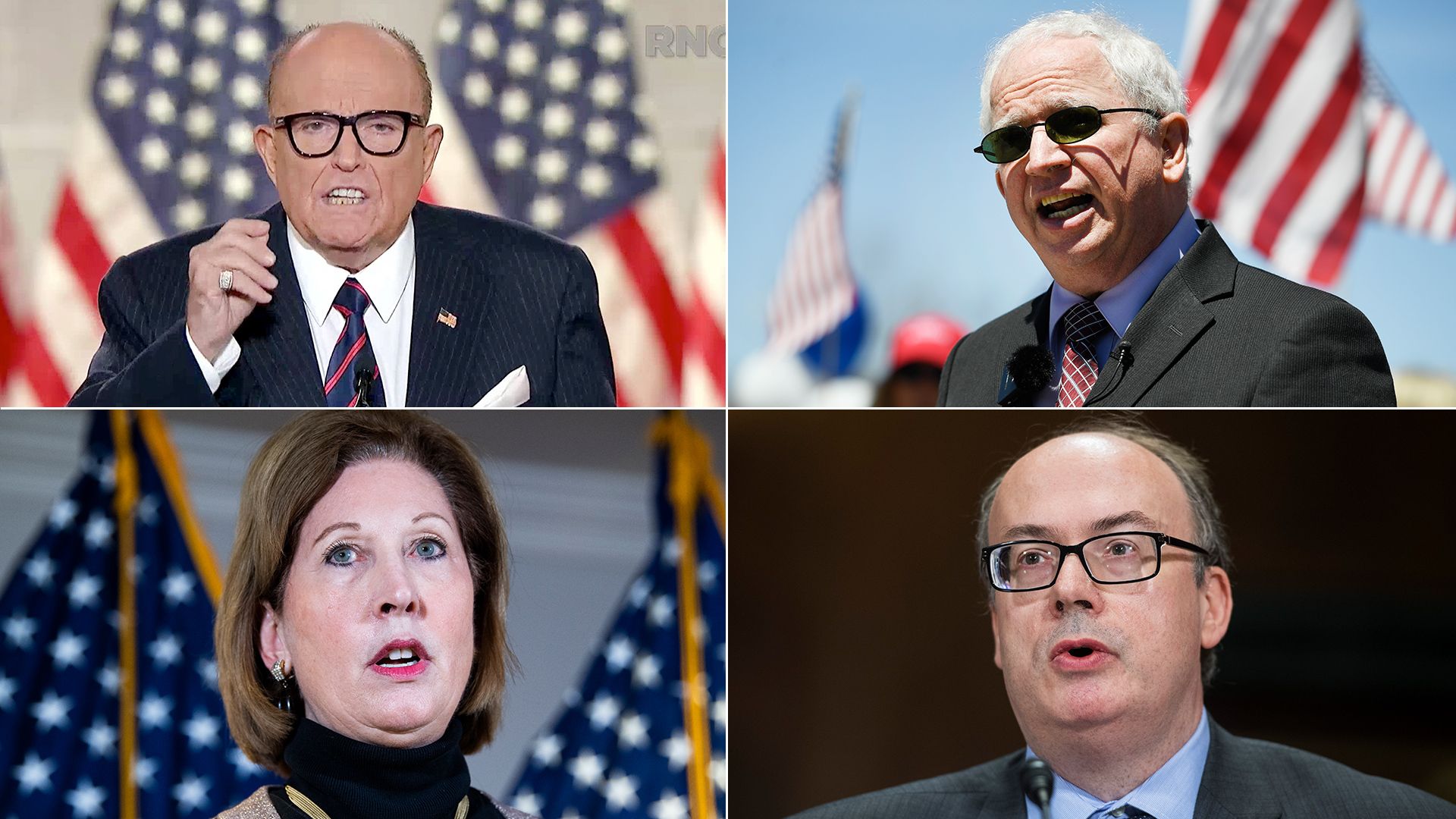 Former President Trump's four-count indictment on Tuesday as part of special counsel Jack Smith's criminal investigation into the Jan. 6 attack adds yet another challenge to Trump's growing stack of legal woes.
Why it matters: This is Trump's third indictment and comes as he strives to clinch the GOP presidential nomination for 2024.
The big picture: The latest indictment charged Trump with conspiracy to defraud the U.S., conspiracy to obstruct an official proceeding, an attempt to obstruct an official proceeding and conspiracy against rights.
Prosecutors had been investigating Trump's efforts to undermine President Biden's 2020 election victory, and the Jan. 6 Capitol riot.
Trump's 2024 campaign on Tuesday called the indictment "fake charges" and compared it to the actions of past "authoritarian, dictatorial regimes," sparking a rebuke from the Anti-Defamation League.
The five-part plan
The indictment alleged that Trump and six unidentified co-conspirators followed a five-part plan in order to retain power in the wake of losing the 2020 election.
The indictment stated that Trump and his co-conspirators knowingly made false claims of election fraud to influence state legislators and election officials to subvert the results of the 2020 election.
They also organized false slates of electors in seven states.
They tried to use the Justice Department to "conduct sham election crime investigations."
Trump and his co-conspirators also tried to induce former Vice President Mike Pence to reject the election results.
They sought to exploit the violence taking place on Jan. 6 to get members of Congress to delay certification.
The three conspiracies
The charges unveiled in the latest indictment include three criminal conspiracy counts related to Trump's efforts to stay in power.
A conspiracy to defraud the U.S. by "using dishonesty, fraud, and deceit to impair, obstruct, and defeat" the federal government's role in the electoral process.
A conspiracy to "obstruct and impede" the congressional proceeding on Jan. 6, in which the election's results are counted and certified.
A "conspiracy against the right to vote and to have one's vote counted."
The six Trump co-conspirators
The indictment noted that Trump "enlisted co-conspirators to assist him in his criminal efforts" to overturn the results of the 2020 election.
Former Trump lawyer Rudy Giuliani was identified by several media outlets as matching the description of "Co-conspirator 1," who the indictment said was an attorney who "spread knowingly false claims."
Robert J. Costello, a lawyer for Giuliani, told the New York Times that it "appears that Mayor Giuliani is alleged to be co-conspirator No. 1."
Former Trump lawyer John Eastman was identified as another potential co-conspirator, with his attorney confirming to multiple news outlets that his client appeared to be "co-conspirator No. 2."
Media outlets also identified lawyer Sidney Powell, former Justice Department official Jeffrey Clark, and attorney Kenneth Chesebro as potential co-conspirators.
The sixth co-conspirator is yet to be identified, though the indictment referred to them as a "political consultant" who worked to implement the plan to submit fake elector slates.
Seven lawmakers
The indictment also details Trump and his allies' efforts to reach out to seven members of Congress during and after the Jan. 6 riot.
The indictment alleges that co-conspirator No. 1. made at least seven calls to senators and one call to a House member.
Co-conspirator number six allegedly tried to confirm the phone numbers of six senators after Trump directed co-conspirator 1 to "call and attempt to enlist in further delaying the certification."
Seven states
The indictment alleged that Trump and his co-conspirators sought to organize fraudulent slates of electors in seven states: Arizona, Georgia, Michigan, Nevada, New Mexico, Pennsylvania and Wisconsin.
The indictment further alleged that "some fraudulent electors were tricked into participating based on the understanding that their votes would be used only" if Trump was successful in "outcome-determinative lawsuits" in their states.
21 election lies
The indictment details a plethora of lies told by Trump as part of his bid to stay in power.
The 21 lies listed in the 45-page indictment, CNN reported, include Trump's claims that the 2020 election had been mired in fraud and specific claims about fraudulent actions in different states.
They also included Trump's claims that Pence had the power to throw out electoral votes and false claims about the reliability of voting machines.
Go deeper