Schiff censure opens the floodgates for Democrats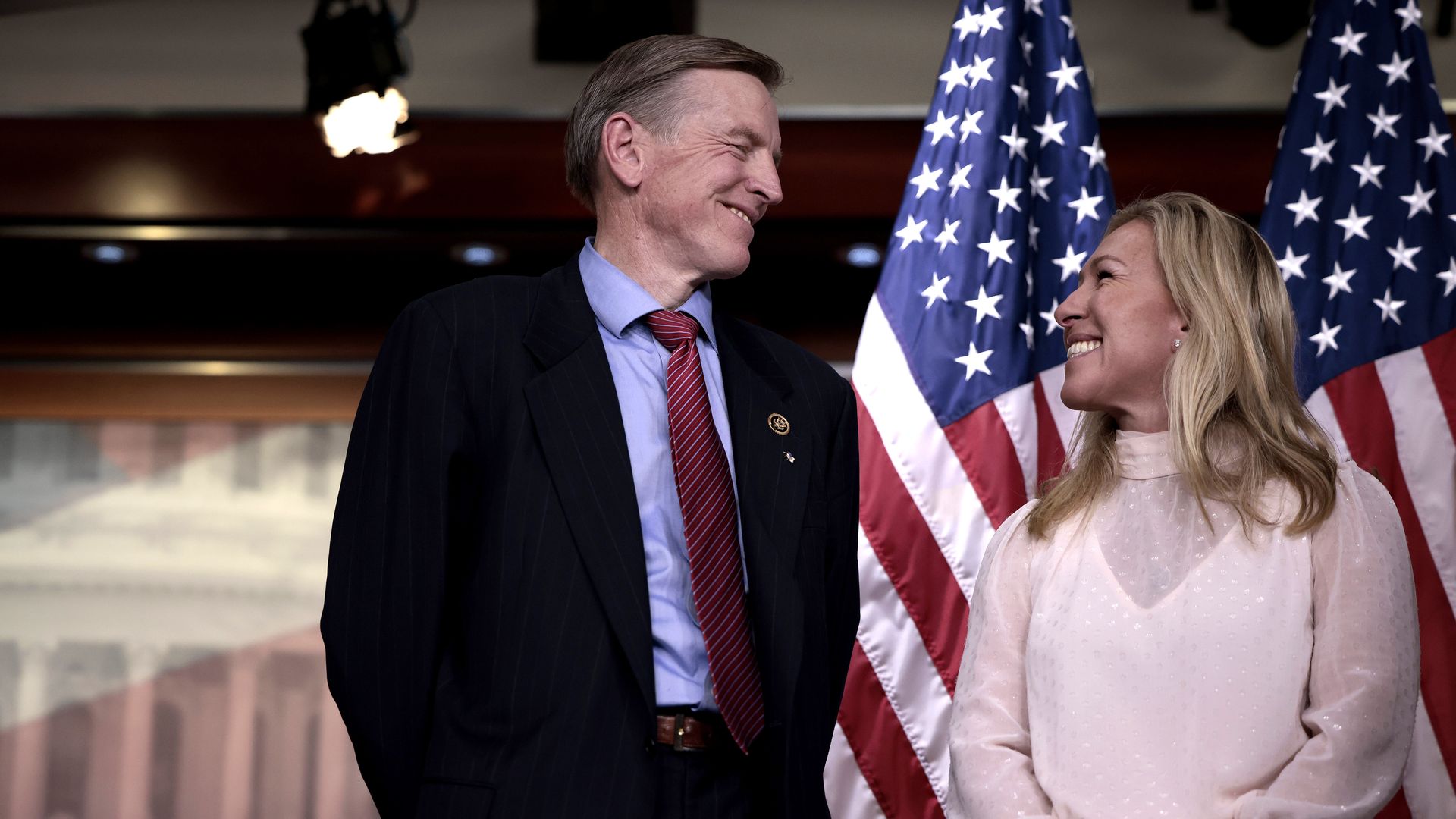 Censure is quickly becoming a favored tool for lawmakers in both parties to punish their top adversaries in Congress.
What's happening: Democrats are pushing censure resolutions against three of the most controversial House Republicans, after the GOP voted to censure Trump antagonist Rep. Adam Schiff (D-Calif.) last month.
"It's tit for tat," one Democratic aide acknowledged.
Driving the news: Rep. Robert Garcia (D-Calif.) last week introduced a resolution to censure Rep. George Santos (R-N.Y.) over his numerous fabrications on the 2022 campaign trail.
Rep. Becca Balint (D-Vt.) followed suit on Tuesday with an eight-page censure resolution against Rep. Marjorie Taylor Greene (R-Ga.), citing incendiary comments she has made over the last five years.
Democrats are also preparing a measure going after Rep. Paul Gosar (R-Ariz.) for linking to a website that has repeatedly denied the Holocaust in his weekly newsletter, Axios reported.
Rep. Andy Ogles (R-Tenn.), meanwhile, plans to move forward with a censure resolution against progressive Rep. Pramila Jayapal (D-Wash.) for her since-withdrawn comments calling Israel a "racist state."
Context: A censure serves as a formal condemnation by the House — and is essentially the highest form of punishment the chamber can mete out to its members for violations of House rules aside from expulsion.
"We don't have a lot of tools" to punish colleagues besides censure, Balint told Axios. "The people decide who their elected officials are ... that is our system, as it should be. But we do not need to normalize the behavior."
Zoom in: Balint said Democratic leadership is "looped in" and "supportive" of her resolution, but that the timing of when it will be brought up remains unclear.
Balint signaled that at least one motivation is to again put Republicans on the record on Greene's many controversial statements: "I am shocked by the number of people within [the Republican] conference who claim they are principled people, and they do not stand up to her."
The other side: Greene responded to news of Balint's censure measure by tweeting: "Geez fundraising must be really bad."
The big picture: This latest back-and-forth is part of a years-long upward trend in impeachment, censure, contempt resolutions and general partisan warfare in the House, Axios' Stef Kight previously reported.
After the Democrat-led House voted to remove Green and Gosar from committees in 2021 — with Gosar also being censured — House Speaker Kevin McCarthy (R-Calif.) promised retribution.
When Republicans took power, they removed Schiff and Rep. Eric Swalwell (D-Calif.) from the House Intelligence Committee and Rep. Ilhan Omar (D-Minn.) from the Foreign Affairs Committee.
What we're watching: Of the censure resolutions Democrats are pushing, the one against Santos has the best shot.
A half-dozen House Republicans have said they would vote to censure the serial liar, who has been indicted and is facing a House Ethics investigation — likely enough to pass in an otherwise party-line vote.
But Democrats have not yet indicated if and when they plan to force a vote on the measure.
Go deeper