Jayapal's Israel comments spark internal backlash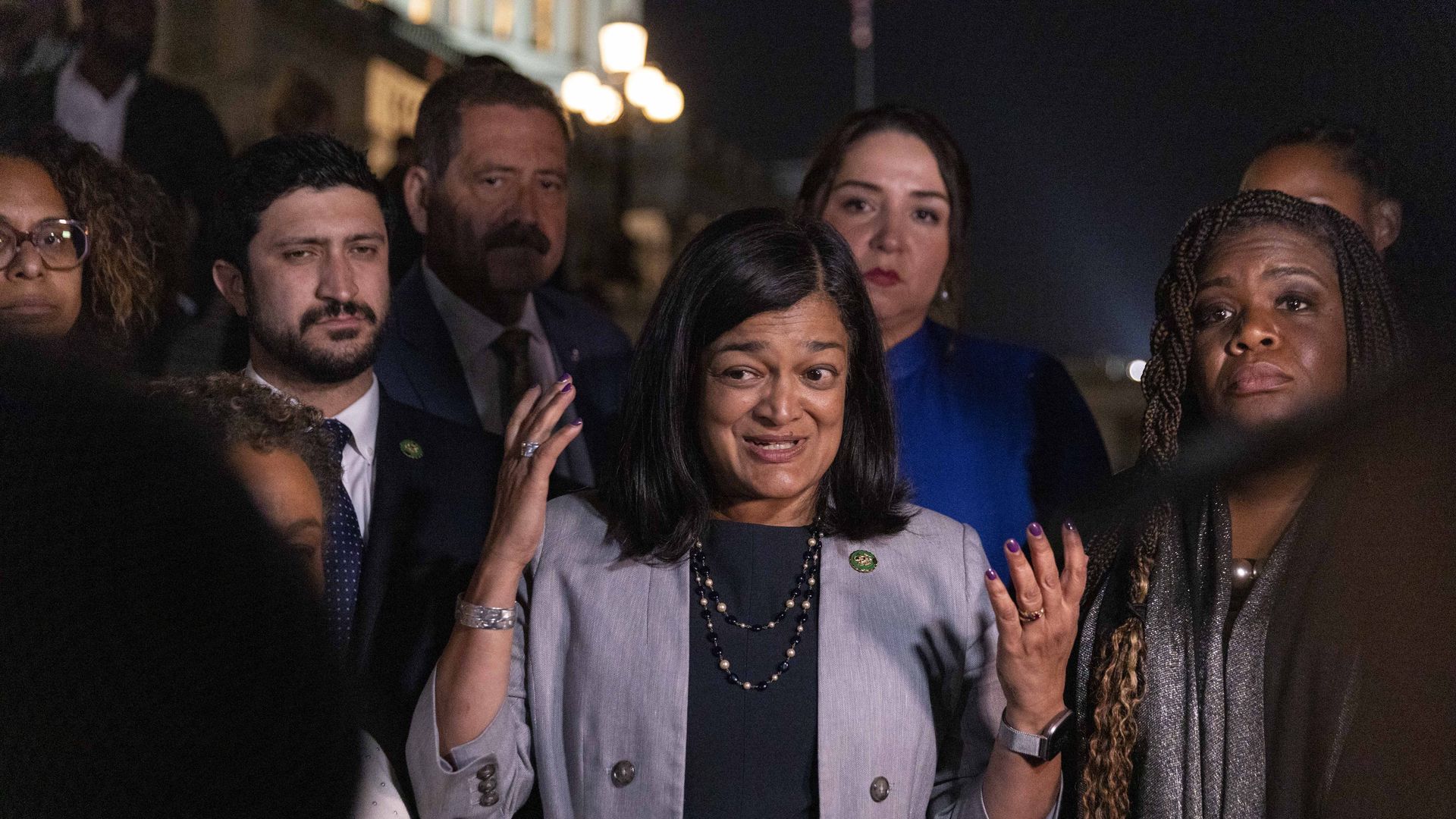 A group of Jewish House Democrats is circulating a letter denouncing Rep. Pramila Jayapal's (D-Wash.) since-withdrawn comments calling Israel a "racist state," Axios has learned.
Why it matters: It's the latest example of Democrats' bitter divide on Israel bubbling up in recent days as several progressives prepare to boycott the Israeli president's speech to Congress on Wednesday.
Driving the news: After pro-Palestine demonstrators disrupted a panel discussion that included Jayapal at the progressive Netroots Nation conference on Saturday, the Congressional Progressive Caucus chair responded by playing up her anti-Israel bona fides.
"I want you to know that we have been fighting to make it clear that Israel is a racist state, that the Palestinian people deserve self-determination and autonomy, that the dream of a two-state solution is slipping away from us," she told the protesters.
The latest: Jayapal walked back the comments on Sunday in a statement, saying: "Words do matter and so it is important that I clarify my statement. I do not believe the idea of Israel as a nation is racist."
Instead, Jayapal said she believes Prime Minister Benjamin Netanyahu's "extreme right-wing government has engaged in discriminatory and outright racist policies."
The other side: The draft letter, a copy of which was obtained by Axios, calls Jayapal's comments "unacceptable," adding, "[W]e appreciate her retraction."
"Israel is the legitimate homeland of the Jewish people and efforts to delegitimize and demonize it are not only dangerous and antisemitic, but they also undermine America's national security," it continues.
"We will never allow anti-Zionist voices that embolden antisemitism to hijack the Democratic Party and country."
Zoom in: The letter was authored by Reps. Josh Gottheimer (D-N.J.), Debbie Wasserman Schultz (D-Fla.), Greg Landsman (D-Ohio), Brad Schneider (D-Ill.), Dean Phillips (D-Minn.), Jared Moskowitz (D-Fla.) and Kathy Manning (D-N.C.), Axios is told.
All seven lawmakers are Jewish and are moderates or swing district members. The letter is still being circulated for signatures.
Asked for comment, a spokesperson for Jayapal referred Axios to her statement on Sunday walking back her comments.
House Minority Leader Hakeem Jeffries (D-N.Y.), Whip Katherine Clark (D-Mass.) and Democratic Caucus Chair Pete Aguilar (D-Calif.) also put out a statement on Sunday, saying: "Israel is not a racist state."
"Certainly, there are individual members of the current Israeli governing coalition with whom we strongly disagree," they said. "Government officials come and go. The special relationship between the United States and Israel will endure."
What we're watching: The dustup comes as several high-profile progressives say they plan to boycott Israeli President Isaac Herzog's address to a joint session of Congress later this week.
These include Reps. Ilhan Omar (D-Minn.), Jamaal Bowman (D-N.Y.) and Alexandria Ocasio-Cortez (D-N.Y.).
Asked by CNN if she is attending the speech, Jayapal reportedly said, "I don't think I am. I haven't fully decided," adding: "I think this is not a good time for that to happen."
Yes, but: Not every progressive is sitting out the speech.
"I am [going]," Rep. Ro Khanna (D-Calif.) told Axios, saying of Herzog: "I met him when I was in Israel, and he's actually much more moderate, liberal."
Editor's note: This article has been updated to include comment from Reps. Jeffries, Clark and Aguilar.
Go deeper