House Democrats prepare George Santos censure vote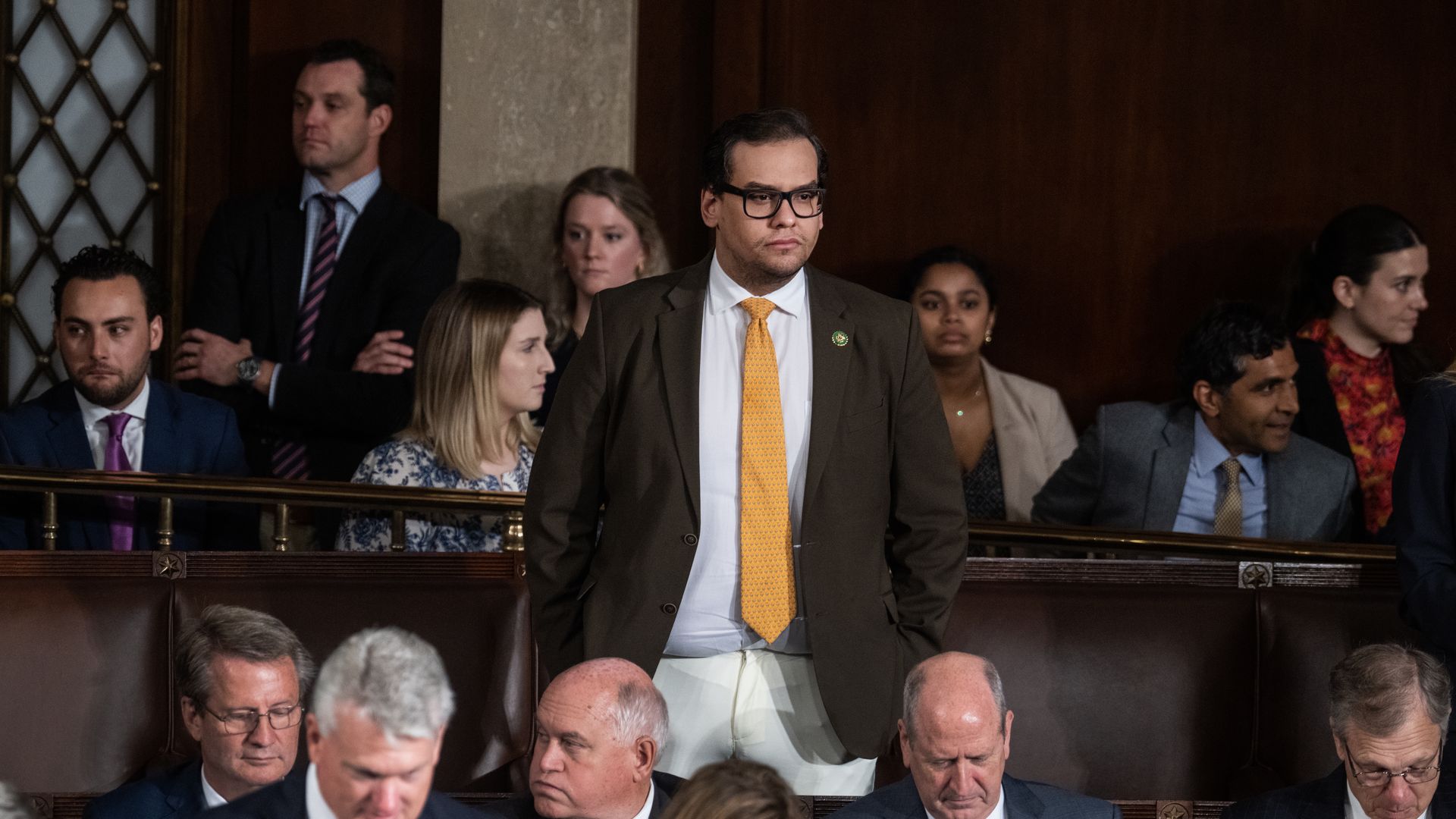 House Democrats are preparing to force a vote on censuring embattled Rep. George Santos (R-N.Y.) this month, Axios has learned.
Why it matters: The effort, first reported by the New York Times, would again force vulnerable New York Republicans to take a tough vote on penalizing a colleague they have called on to step down.
It also comes on the heels of the Republican-controlled House voting to censure Rep. Adam Schiff (D-N.Y.).
Driving the news: Rep. Ritchie Torres (D-N.Y.) is introducing the resolution on Monday, his office said.
The plan is to force a vote before the August recess unless the Ethics Committee, which is investigating Santos, acts first, according to a Democratic aide familiar with the matter.
The resolution cites Santos' many fabrications on the 2022 campaign trail, as well as his fellow Republicans' calls for him to resign.
What they're saying: Torres told Axios in a statement that lawmakers who have condemned Santos or said he should resign "should have no issue in voting to formally censure him for defrauding the people of the United States and disgracing our institution."
A censure is a symbolic public denouncement by the House against a member for conduct that stops short of meriting expulsion.
Under House rules, any lawmaker can force a vote on a censure resolution.
The other side: "Democrats … have completely lost focus on the work they should be doing," Santos said in a statement.
"My record proves that my office is hard at work, serving constituents and crafting keen legislation."
By the numbers: House Republicans have a 10-seat majority, meaning it would only take a handful of Republicans voting for the resolution for it to pass.
Around a dozen House Republicans have called for Santos to step down or be expelled.
Asked if he would support the resolution, Rep. Mike Lawler (R-N.Y.) told Axios, "Yep."
"I will vote yes," Rep. Nick LaLota (R-N.Y.), Santos' fellow Long Islander, told Axios.
Rep. Anthony D'Esposito (R-N.Y.) told Axios: "I was the first to call for his resignation. I've said on the floor that he is a stain to our institution and I'd vote to censure."
The backdrop: Democrats forced a vote on a resolution to expel Santos in May, but Republicans effectively killed it by voting to refer it to the Ethics Committee.
New York Republicans blasted the vote as political and said the panel's investigation should be allowed to play out, with Rep. Nick LaLota (R-N.Y.) saying he was expecting a "result" by July 16.
The panel has not given any specific indication of when it plans to complete its probe or release preliminary findings.
What we're watching: Even if Republican leadership comes to Santos' rescue by suppressing the resolution, he faces an Ethics investigation and the Justice Department is prosecuting him on more than a dozen criminal charges.
Go deeper