Some House Republicans support censuring George Santos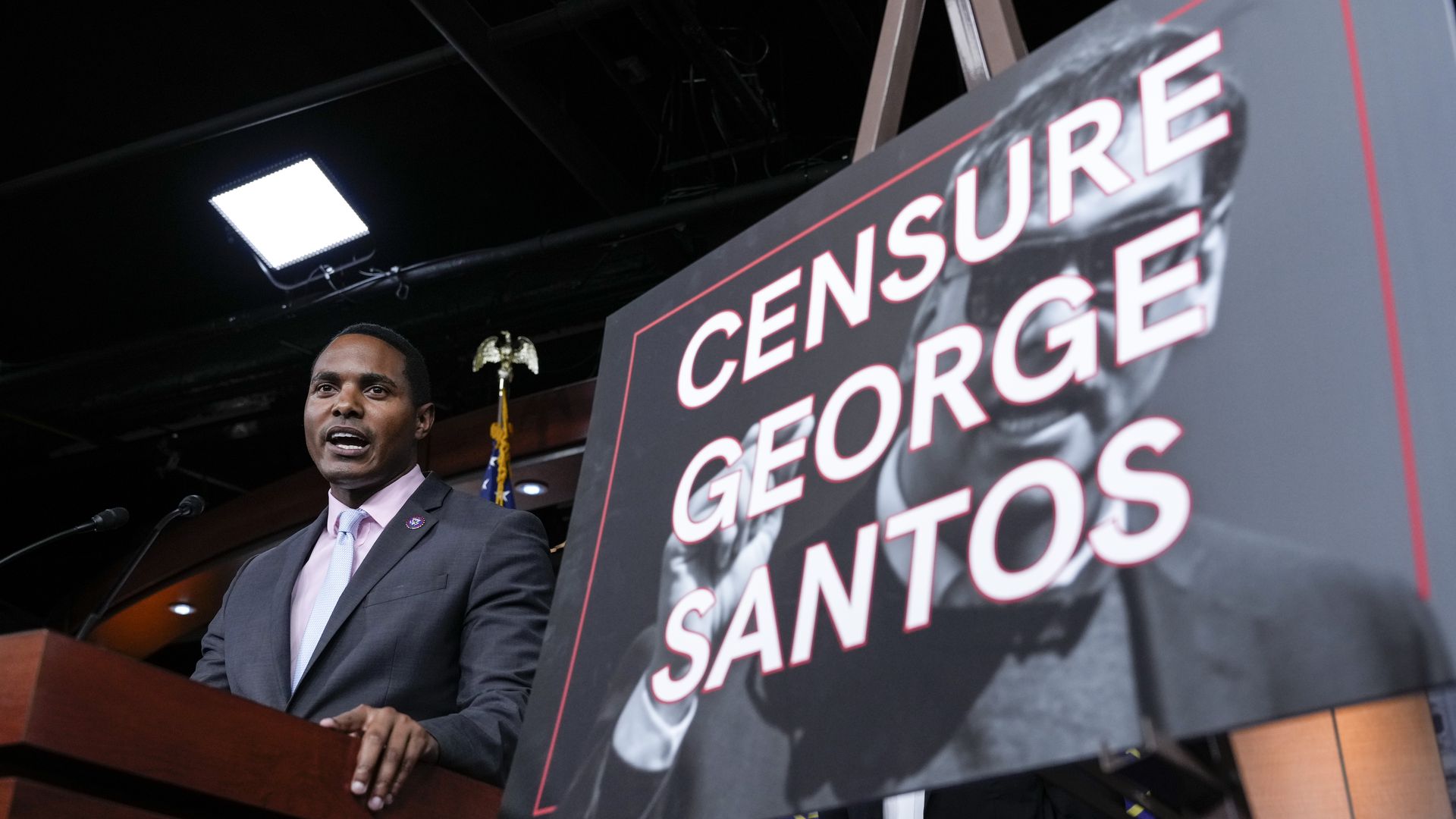 Half a dozen House Republicans say they would support Democrats' resolution to censure Rep. George Santos (R-N.Y.) if it's forced to a vote.
Why it matters: With Republicans holding a 10-seat House majority, it could take as few as five GOP defections for the measure to pass.
What they're saying: Asked if he would support the resolution, Rep. Mike Lawler (R-N.Y.) told Axios, "Yep."
"I will vote yes," Rep. Nick LaLota (R-N.Y.) told Axios.
Rep. Anthony D'Esposito (R-N.Y.) said in a statement: "I was the first to call for his resignation. I've said on the floor that he is a stain to our institution and I'd vote to censure."
Rep. Marc Molinaro (R-N.Y.) said he "called for George Santos to resign. I don't think he should be a member of Congress and if it comes to a vote, I'll be voting in favor."
"I would vote for it," said Rep. Nick Langworthy (R-N.Y.). "I've been pretty well on the record on what I think."
Rep. Max Miller (R-Ohio) "will vote yes," his spokesperson Tiffany Boguslawski told Axios.
The backdrop: All six have called for Santos to resign, as have several other House Republicans.
Rep. Nicole Malliotakis (R-N.Y.), who also called for a resignation, told Axios, "We have a lot of sh*t going on in Congress right now. George Santos is the least of my problems."
"At the end of the day, the voters are going to vote to just get rid of him ... so, it'll sort itself out."
Yes, but: Molinaro raised doubts that a vote will be forced. "The question is: is the Democrat leadership actually serious about bringing it to a vote? We haven't heard they are," he said.
Rep. Ritchie Torres (D-N.Y.), who introduced the measure, said "the only certainties in life are death and taxes," but, "I think it is probable ... that we would force a censure before the end of the August recess unless the Ethics Committee takes action."
Go deeper