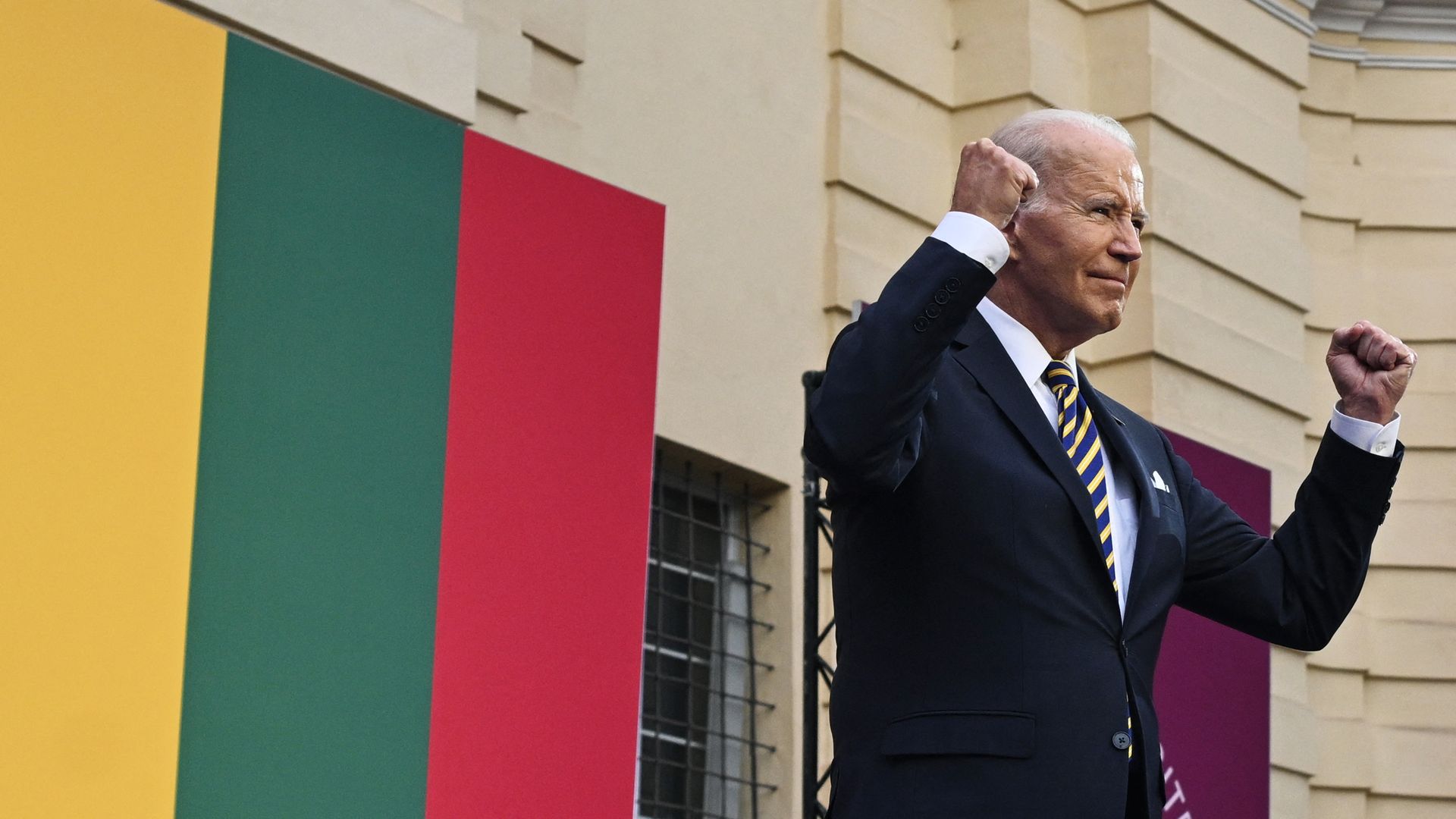 President Biden has notched major victories this week — both at home and abroad — that could shape his legacy and re-election hopes far beyond the partisan squabbles consuming Washington on a daily basis.
Why it matters: While his potential Republican rivals duke it out in Iowa — including former President Trump going to war with the state's popular GOP governor — Biden is harnessing the power of incumbency.
Driving the news: June's Consumer Price Index shows inflation has dramatically plunged from its peak, suggesting the end of a crisis that dragged down Biden's approval rating and gave Republicans political ammunition for nearly two years.
The report also showed wage growth was outpacing inflation for the first time since March 2021, meaning Americans may actually start to notice rising purchasing power.
That kind of shift in perception could do wonders for Biden's political fortunes, given the persistent disconnect between experts' views on the economy and negative sentiment expressed by voters.
What they're saying: "Good jobs and lower costs: That's Bidenomics in action," Biden said in a statement today, taking a victory lap two weeks after the administration launched its newly branded economic pitch.
Lael Brainard, director of the National Economic Council, said in a speech in New York today that the U.S. has the both lowest inflation rate and the strongest pandemic recovery among all G7 nations.
"The economy is defying predictions that inflation would not fall absent significant job destruction," Brainard declared.
The big picture: At the NATO summit in Lithuania, Biden booked two other wins: Paving the way for Sweden to join the alliance and finding a consensus on new security guarantees for Ukraine.
Turkey shocked the world by lifting its veto on Sweden's membership, a signature moment in Biden's pledge to strengthen NATO and a blow to Russian President Vladimir Putin.
Ukrainian President Volodymyr Zelensky's apparent fury at NATO's refusal to endorse a membership timeline abated today when Biden unveiled a long-term security framework for Ukraine backed by the G7.
Zelensky effusively praised Biden after their meeting, while the president told reporters that the NATO summit had "accomplished every goal" as he departed Vilnius for the final stop of his trip: Helsinki.
Reality check: Biden, now in Finland, can enjoy a long summer's night. But back home, his approval rating remains near the lowest of his presidency — with no shortage of negative media attention to sully an otherwise exceptional week.
A bipartisan push has emerged in Congress to block Biden's plan to send cluster munitions to Ukraine, citing humanitarian concerns about a weapon that more than 120 countries have banned.
The New York Times' Maureen Dowd skewered Biden in a column about his refusal to acknowledge his seventh grandchild, after Hunter Biden settled a child support case last month that began as a paternity dispute.
Go deeper: Listen to the Axios Today podcast, where host Niala Boodhoo and Hans Nichols talk about Biden's big week overseas and how the U.S. fared with NATO in a meeting in Lithuania.
Go deeper