First look: Yellen makes economic case for "Bidenomics"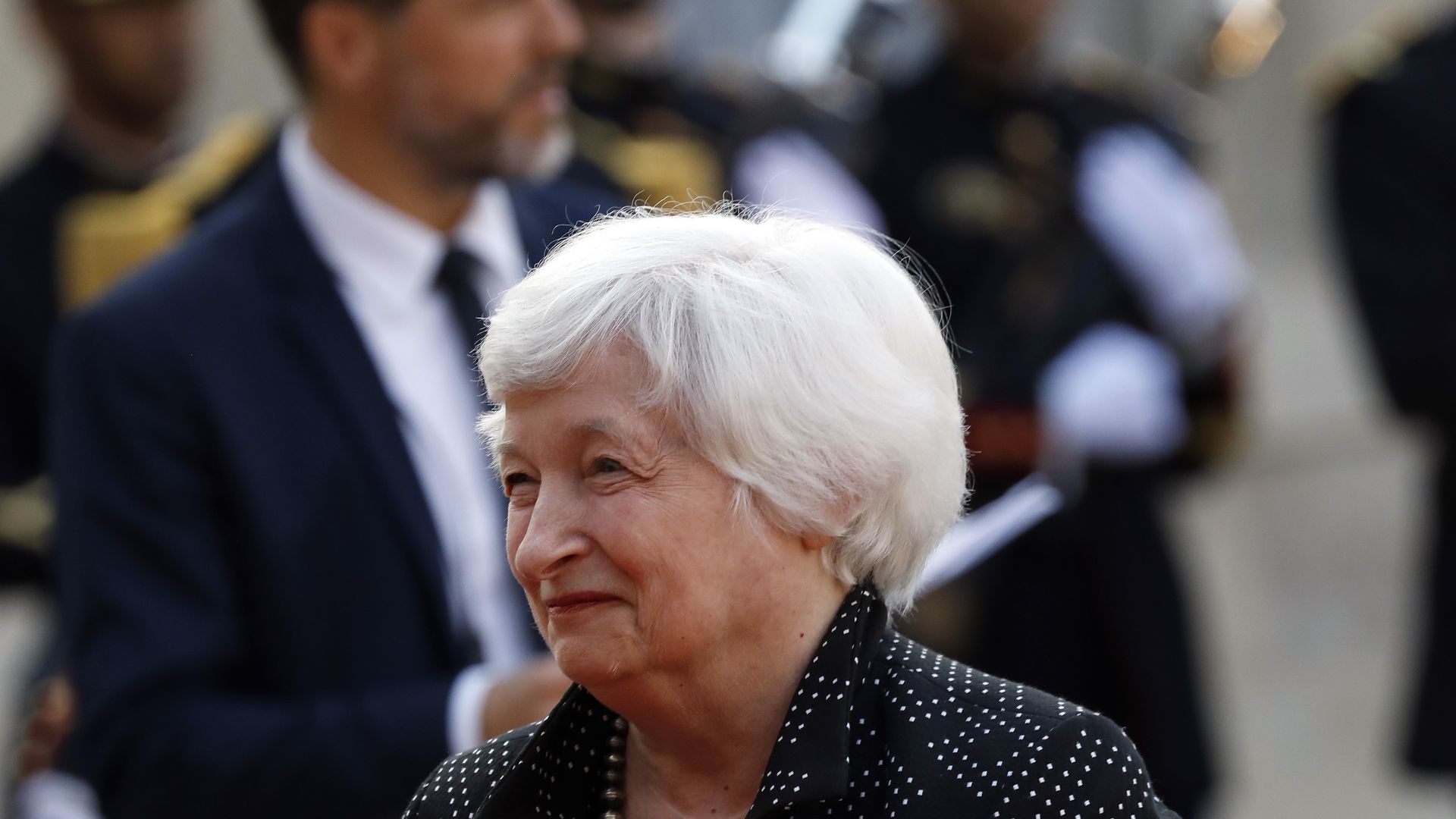 The country's top business leaders are telling Janet Yellen they are confident that the U.S. economy is resilient and can outrun a recession, the Treasury secretary will say today, Axios has learned.
Why it matters: Senior Biden officials are convinced the economy is healthier than some Wall Street analysts have suggested. But they know they need to convince the public that it's true.
This week, they have focused the powers of the presidency — including a Biden speech in Chicago where the president finally embraced the "Bidenomics" label — to double down on the economy before the 2024 election.
Yellen is drawing on her credibility as an academic and a former Fed chair to provide some intellectual gloss to that optimistic view.
Driving the news: She will use a speech at PosiGen, a solar energy company headquartered in New Orleans, to explain how Biden's approach can expand "the productive capacity of the American economy."
"I continue to believe that there is a path to reducing inflation while maintaining a healthy labor market," she will say, according to prepared remarks.
"This sentiment is echoed by business executives I've met with, who have increasingly voiced confidence in our economy."
"I expect the current strength of the labor market and robust household and business balance sheets to serve as a source of economic strength, even if our economy does cool a bit more as inflation falls."
The big picture: As Biden officials crisscross the country to talk up the economy, and the president's legislative accomplishments, they have been bolstered by solid data from Washington.
Reality check: Core inflation, which excludes volatile energy costs, is still north of 5 percent. While the Federal Reserve took a pause on its rate hiking schedule, there are strong hints that Fed Chair Jay Powell isn't finished.
"Inflation pressures continue to run high, and the process of getting inflation back down to 2% has a long way to go," Powell said last week.
The Biden administration continues to believe inflation can be tamed without a significant increase in unemployment, with Yellen suggesting that a slowdown in consumer spending might do the trick.
Flashback: Yellen's speech Friday will be an updated version of what she called "modern supply-side economics" in a speech to a virtual Davos summit last year.
Be smart: Yellen isn't doing a touchdown dance, and she will hedge her optimism with the kind of phrases she frequently deployed as a central banker.
Look for her language on "significant risks ahead" and her acknowledgment that "there are parts of our economy that are slowing down."
The bottom line: Yellen, along with the rest of Team Biden, wants to accentuate the positive on the economic front.
They are claiming business leaders as members of what might be called Team Half-Full.
Go deeper