Trump loyalists circle the wagons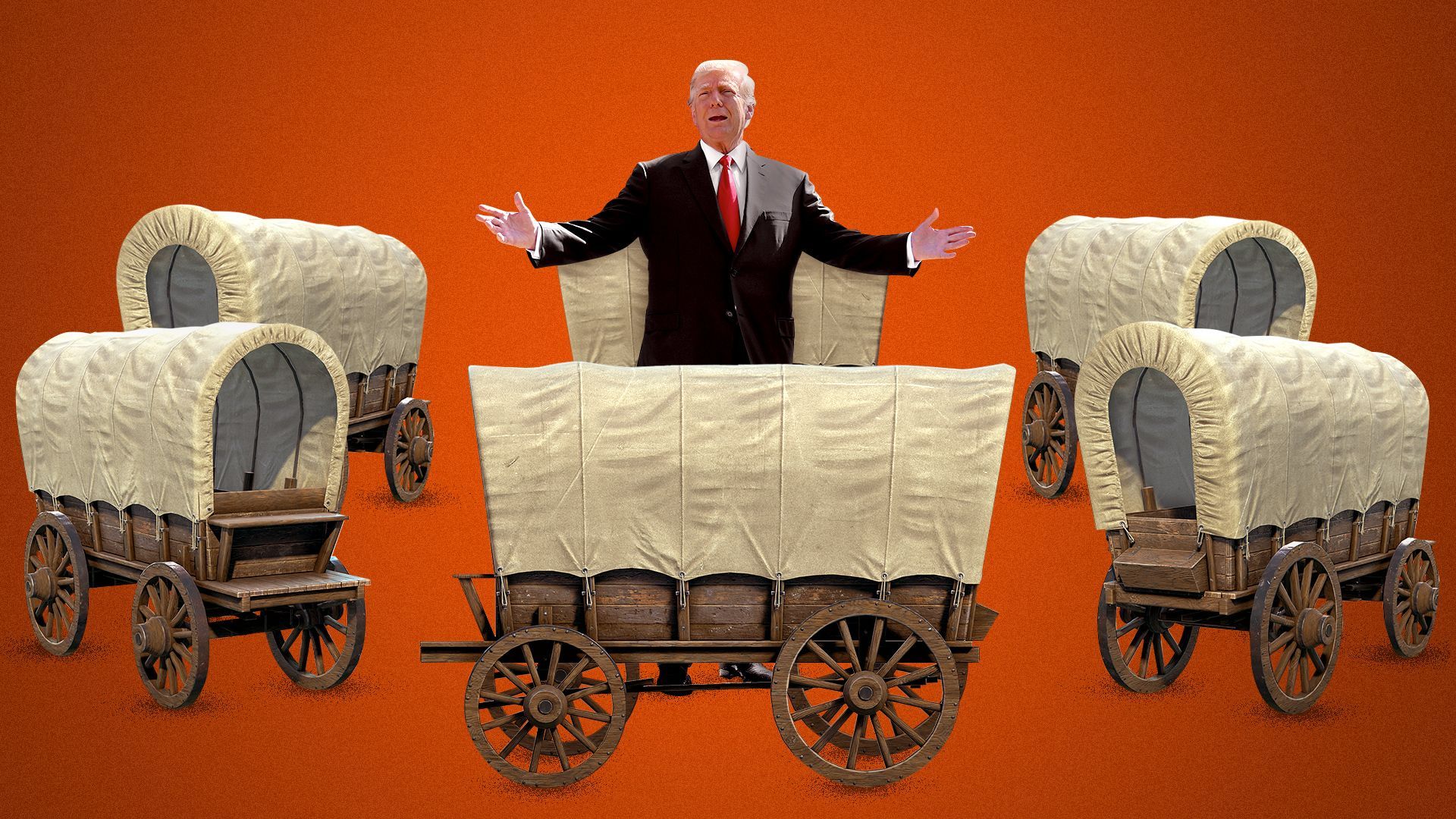 Former President Trump's allies in Congress have begun furiously pulling on every lever available to ensure his enemies — from federal prosecutors to President Biden himself — pay a price for his historic indictment.
Why it matters: Republicans have little recourse for saving Trump from the federal justice system to which he's now beholden. Instead, they're embarking on a political revenge campaign in a bid to prove their loyalty to Trump and muddy the waters in the court of public opinion.
Driving the news: House GOP leadership backed a resolution — which ultimately failed on the floor — that would have censured Rep. Adam Schiff (D-Calif.) and fined him $16 million for his investigations into Trump's ties to Russia as former chair of the Intelligence Committee.
House Judiciary Chair Jim Jordan (R-Ohio) is demanding information from the Justice Department about the scope of special counsel Jack Smith's classified documents probe and the FBI's execution of a search warrant at Mar-a-Lago.
Speaker Kevin McCarthy (R-Calif.) has backed the push for "accountability," claiming — misleadingly — that DOJ has held Trump to a different standard than Biden when it comes to classified documents.
Zoom in: The power of the purse is the most meaningful tool House Republicans have to exact revenge on the Justice Department and FBI.
Jordan is urging his staff to work with the Appropriations Committee to include policy riders in any budget bill that could slash DOJ or FBI funding.
McCarthy has signaled support for using the appropriations process to eliminate funding for the FBI's new headquarters, which Rep. Chip Roy (R-Texas) told Axios is a "fairly obvious" step.
Rep. Marjorie Taylor Greene (R-Ga.) has proposed defunding the special counsel's office, while other Republicans have called for using the "Holman Rule" to cut the salary of top FBI officials.
In the Senate, where Republicans have otherwise been more hesitant to defend Trump than their House counterparts, Sen. J.D. Vance (R-Ohio) has vowed to hold up all of Biden's DOJ nominees in response to the indictment.
Sen. Chuck Grassley (R-Iowa) took to the Senate floor Monday and alleged an FBI informant was told there are audio recordings supporting the unproven bribery allegations involving the Bidens and Ukraine.
Grassley and House Oversight Chair James Comer (R-Ky.) have acknowledged they don't know if the alleged tapes are legitimate, but that hasn't stopped Republicans from ramping up their Biden corruption allegations as a direct response to Trump's indictment.
The other side: House Oversight ranking member Jamie Raskin (D-Md.) said the GOP's multi-pronged assault was "basically authoritarian strategy."
"Authoritarians don't accept the rule of law as it applies to them. And so, if their cult leader is being investigated, then they have to attack the government, prosecutors, and investigators. And that's their entire strategy," he told Axios.
What's next: The fight is only just getting started, as new signs emerge that both DOJ and Georgia prosecutors could bring more charges related to Trump's efforts to overturn the 2020 election.
Rep. Ralph Norman (R-S.C.) baselessly called Smith "a known Trump hater," telling Axios "this is just the beginning" of Republicans' investigations and "defund" efforts.
Sen. Lindsey Graham (R-S.C.) warned the GOP will view it as a "major outrage" if Smith indicts Trump over Jan. 6, claiming "you could convict any Republican of anything in Washington, D.C."
Go deeper