House progressives warn they won't support "bad deal" on debt ceiling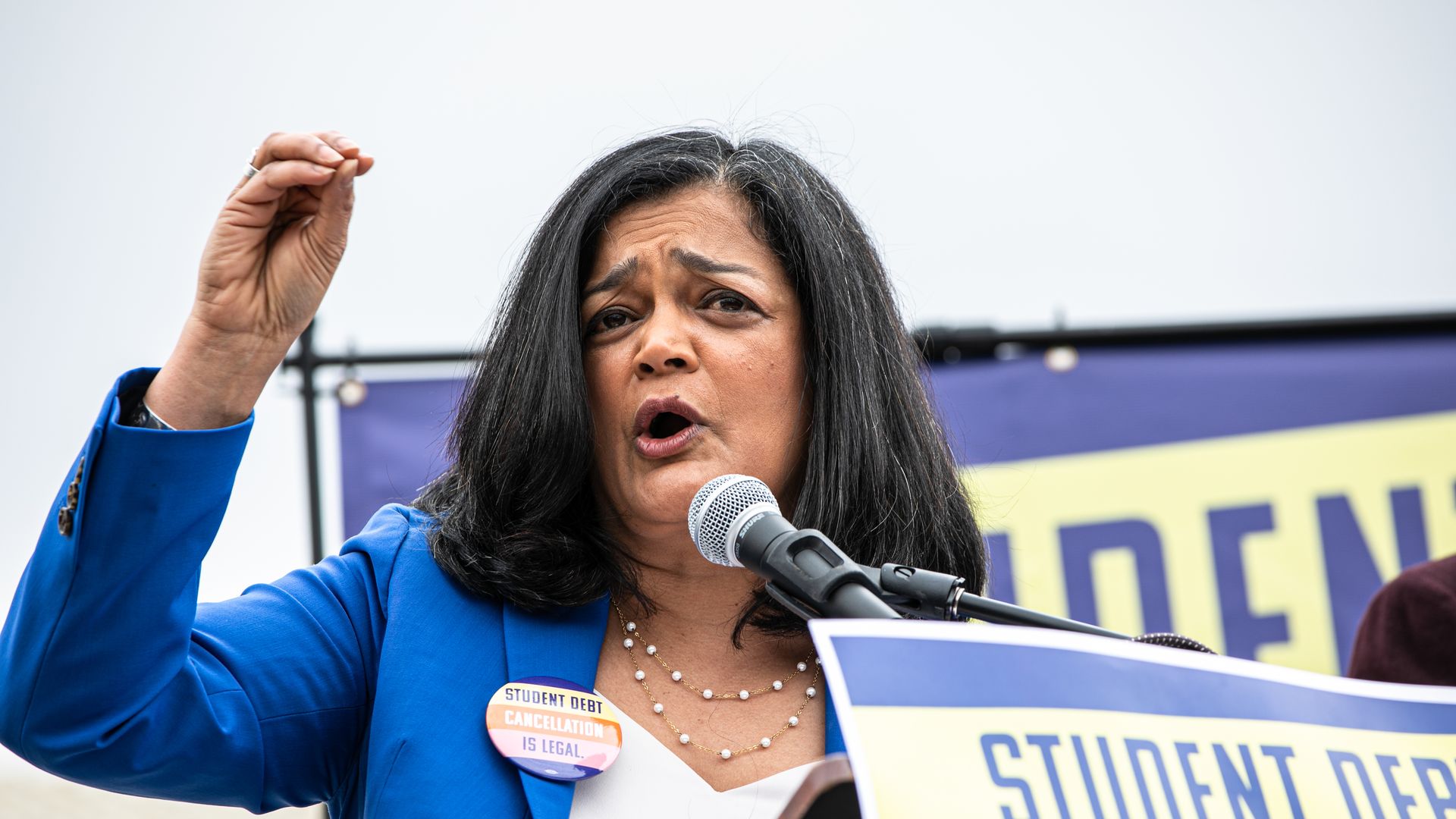 Dozens of House progressives on Friday warned President Biden that they won't vote for a "bad deal" to raise the debt ceiling, urging him instead to invoke the 14th Amendment to the Constitution.
Why it matters: It ratchets up pressure on Biden from his congressional allies not to compromise as debt ceiling talks with House Speaker Kevin McCarthy's (R-Calif.) team hit an impasse.
Driving the news: The Democratic lawmakers, in a letter to Biden obtained by Axios, wrote: "We, the undersigned, cannot support a harmful agreement that undermines our shared achievements, and we would choose a solution invoking the 14th Amendment of the Constitution over a bad deal."
The letter urges Biden to "use of all possible measures at your disposal—including preparing to invoke the Constitution's 14th Amendment—rather than acceding to bad-faith Republican attempts to ... slash essential federal programs that lift up millions of Americans."
The letter was signed by 66 House Democrats led by Progressive Caucus Chair Pramila Jayapal (D-Wash.) and Reps. Ilhan Omar (D-Minn.) and Greg Casar (D-Texas).
Section 4 of the 14th Amendment reads as follows: "The validity of the public debt of the United States, authorized by law, including debts incurred for payment of pensions and bounties for services in suppressing insurrection or rebellion, shall not be questioned."
Progressives have interpreted that to mean that the president has the power to raise the debt ceiling without Congress.
"It's one thing to have a debt ceiling limit if Congress will continually lift it in order to not question the public debt," Rep. Jamie Raskin (D-Md.), a constitutional law professor, told Axios.
The backdrop: The missive comes on the heels of a similar letter released yesterday by 11 Senate Democrats, led by Sen. Bernie Sanders (I-Vt.), calling for Biden to invoke the 14th Amendment.
House Democrats have also primed a discharge petition aimed at forcing a vote on a clean debt ceiling increase, with all but three of the House's 213 Democrats so far signing on (though it requires 218 signatures to force a vote).
The big picture: Biden has gradually shifted in recent weeks from his months-long refusal to sign anything other than a clean debt ceiling increase to negotiating with McCarthy's team.
That has left many of the president's liberal allies, still pulling for a clean increase, nervous he'll cut a deal that accedes too much to GOP demands on discretionary spending cuts, welfare work requirements and more.
Those fears have only grown since Biden agreed at a White House meeting on Tuesday to limit talks to just House Republicans – leaving congressional Democrats without a seat at the table.
The state of play: Talks between Rep. Garret Graves (R-La.) and a trio of Biden advisors were paused on Tuesday morning, according to a source familiar with the matter.
The development came as the right-wing Freedom Caucus has grown increasingly vocal in its demand for the House speaker not to accept anything less than the debt ceiling bill the House passed last month.
The White House said in a statement after talks were halted that there are "real differences" between the two sides, and that talks could be "difficult" going forward, Axios' Hans Nichols reported.
Go deeper