House Dems advance debt ceiling contingency plan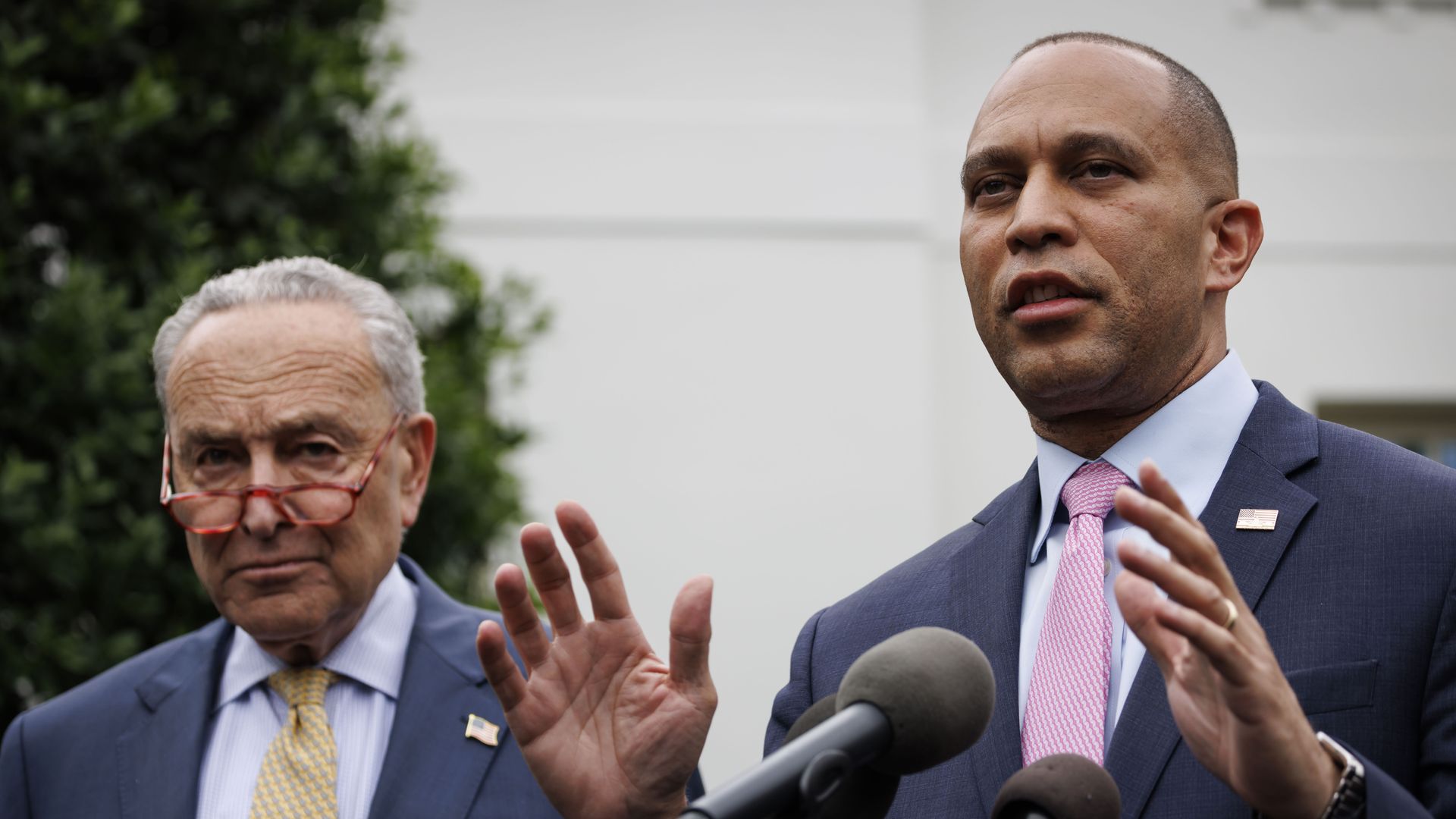 House Minority Leader Hakeem Jeffries (D-N.Y.) said Wednesday his caucus will still try to give themselves the option to force a vote on a clean debt ceiling increase despite ongoing negotiations.
Why it matters: With as few as two weeks until the U.S. reaches the fiscal cliff, Democrats are preparing a backup option to try to bypass House Speaker Kevin McCarthy (R-Calif.) if talks with the White House go south.
Driving the news: Jeffries, in a "dear colleague" letter, said Budget Committee ranking member Brendan Boyle (D-Pa.) will file Democrats' discharge petition to force a clean debt ceiling vote later on Wednesday morning.
Jeffries wrote that, after a White House meeting on Tuesday with McCarthy, President Biden, Vice President Harris and other congressional leaders, he is "hopeful that a real pathway exists to find an acceptable, bipartisan resolution[.]"
But, he added, "we confront the possibility that right-wing extremists will intentionally plunge our country into a default crisis."
"Given the impending June 1 deadline and urgency of the moment," he continued, "It is important that all legislative options be pursued in the event that no agreement is reached."
The details: Jeffries said the petition will be available on the House floor for members to sign beginning at 10 a.m. ET.
"It is imperative that Members make every effort to sign the discharge petition today," he wrote.
It appears the petition will have at least near-unanimous support from the chamber's 213 Democrats.
Rep. Greg Landsman (D-Ohio), a swing-district member and one of roughly a dozen House Democrats who has advocated negotiations between McCarthy and Biden, said he will sign it.
So will Reps. Jared Moskowitz (D-Fla.), Mary Peltola (D-Alaska) and Marie Gluesenkamp Pérez (D-Wash.), who have said Biden should negotiate the debt ceiling, their offices told Axios.
"[I] believe a discharge petition to bring a clean debt ceiling solution to the floor can provide a valuable backup option," Peltola said in a statement.
Yes, but: The petition needs 218 signatures to force a vote, meaning at least five Republicans will also need to sign onto it.
Centrist and swing-district Republicans, including those in districts won by President Biden, have consistently rejected the idea of signing on.
Democrats are hoping that changes if the U.S. reaches the fiscal cliff without a deal.
Go deeper