McCarthy called Biden's bluff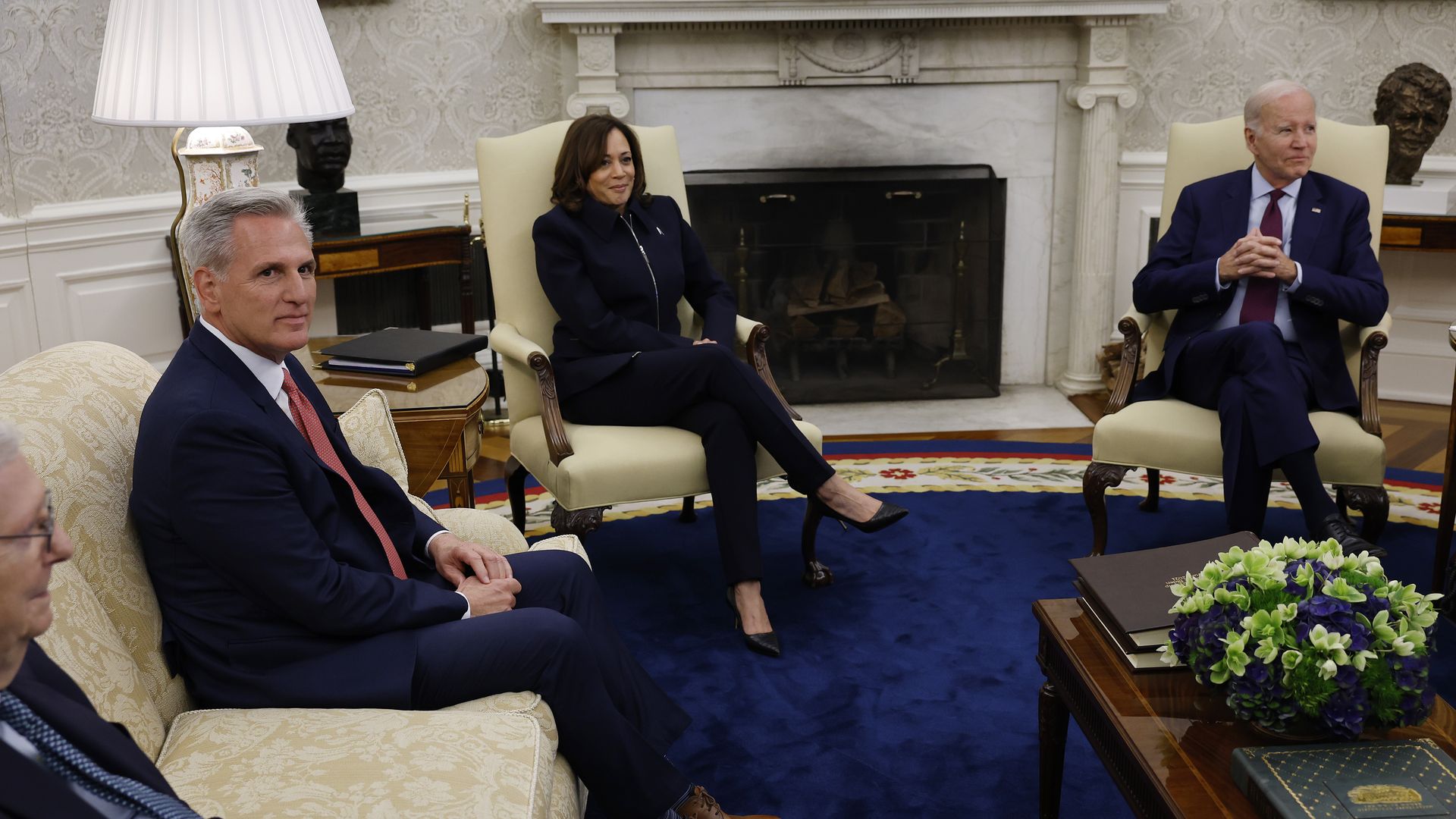 Republicans are taking an early victory lap after House Speaker Kevin McCarthy got the White House to the table on the debt ceiling.
Why it matters: President Biden spent months refusing any negotiations, citing a bipartisan tradition of raising the debt ceiling without preconditions.
Efforts to peel off vulnerable House Republicans failed. None openly opposed McCarthy's strategy of tying spending cuts to a debt ceiling hike.
"[T]hey're negotiating now and they weren't doing it before," House Rules Committee chair Tom Cole told Axios.
"Washington insiders continue to bet against Kevin McCarthy and they continue to be on the wrong side of that bet," Rep. Lance Gooden (R-Texas) told Axios.
With just two weeks until the "X-date," Biden has dispatched top deputies to cut a deal with the speaker's office. Their first meeting was Tuesday night.
Publicly, White House officials insist that Biden is proceeding on a two-track negotiation.
"We're having a separate discussion on budget and spending priorities, in good faith," White House deputy press secretary Andrew Bates said in a statement.
Privately, close allies of the president know that's not the case.
The other side: Even if Biden compromised on process, allies say, he is still in a position to win on policy.
And if Biden conceded to direct, one-on-one, negotiations, McCarthy is prepared to give ground as well. He's open to a deal that lifts the debt ceiling until 2025 – beyond the next election.
The bottom line: Default is still a very possible outcome, but this breakthrough shows how a deal could get done.
Senate Majority Leader Chuck Schumer hinted to McCarthy on Tuesday that he can rely on Democratic votes to get the bill through Congress, reiterating the importance of any deal being bipartisan.
Senate Minority Leader Mitch McConnell pledged to find Republican votes. "I'm prepared to try to deliver as much of my conference as I can for whatever the speaker and the president can agree to," he said Tuesday.
Rep. Jared Moskowitz (D-Fla.), who has urged Biden to accept that the debt ceiling must be subject to negotiation, told Axios in a statement: "I'm happy both sides are negotiating which is where this was always headed. Defaulting on the debt is not an option."
Go deeper