Congressional Democrats splinter on debt ceiling strategy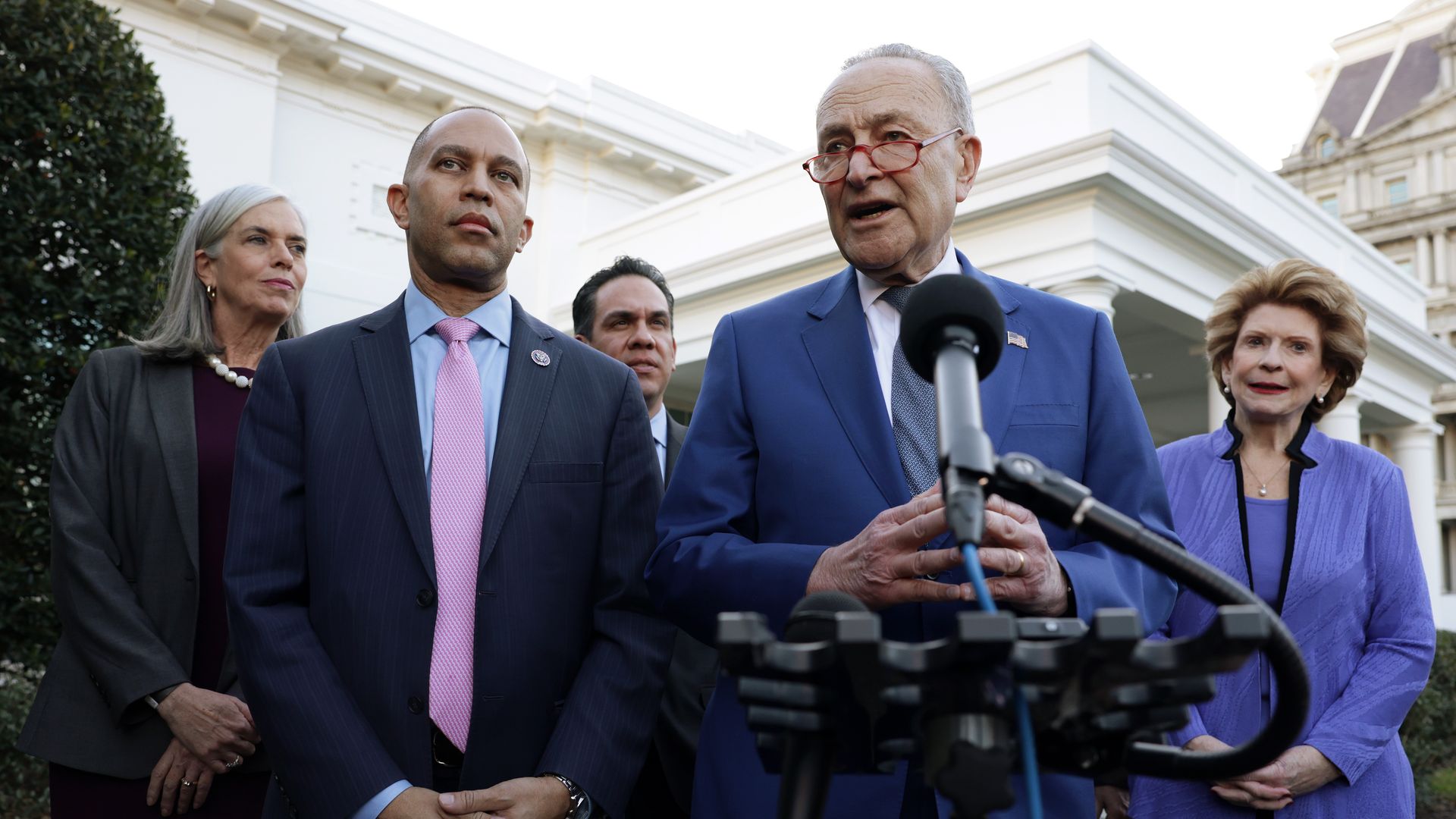 A divide has opened between House and Senate Democrats over whether President Biden should negotiate a debt ceiling compromise with House Speaker Kevin McCarthy (R-Calif.), Axios has learned.
Why it matters: The public discordance between the two caucuses, at a time when Democrats want a united front against GOP efforts to slash government spending, appears to have party leaders spooked.
At least one House Democrat has received a call from Senate Democratic leadership urging them to tamp down their advocacy for talks between the White House and House Republicans, according to two sources familiar with the matter.
Nearly a dozen House Democrats have told Axios, Politico and the Washington Post, or written publicly, that they believe Biden and McCarthy should be in discussions on the debt ceiling.
Most recently, Trump-district Reps. Jared Golden (D-Maine), Mary Peltola (D-Alaska) and Marie Pérez (D-Wash.) wrote in a letter: "It is time to end the partisan standoff and brinkmanship before it rattles markets, damages our economy, and hurts the American people."
Golden told Axios in an interview on Friday that, given divided control of Congress, it's "obvious that whatever resolution there is to this current situation, it's going to be bipartisan, so let's just skip the games."
The bipartisan House Problem Solvers Caucus has also proposed a bipartisan framework for raising the debt ceiling and cutting the deficit.
On the Senate side, Sen. Joe Manchin (D-W.Va.) stands largely alone in calling for talks – going as far as to commend McCarthy's bill to raise the debt ceiling in exchange for slashing government spending, clawing back unspent COVID aid, canceling student debt relief and more.
"While I do not agree with everything proposed," he said in a statement on Thursday, "it remains the only bill moving through Congress that would prevent default and that cannot be ignored."
But Sen. Jon Tester (D-Mont.), the only other Senate Democrat besides Manchin up for reelection this year in a state that voted for Trump by double digits in 2020, told the Post: "The debt limit is nonnegotiable."
Inquiries to more than a dozen Senate Democratic offices, including Manchin's fellow centrists, yielded similar sentiments to Tester's.
The big picture: The vast majority of Democrats, including leadership in both chambers, are standing by Biden's refusal to accept anything less than a standalone debt ceiling increase without corresponding budget cuts.
"Our position will continue to be clear that the only responsible thing ... is to do what has consistently been done under Democratic presidents and Republican presidents, which is to ensure America pays her bills," House Minority Leader Hakeem Jeffries (D-N.Y.) told reporters on Friday.
What we're watching: Several House Democrats who have called for talks are on McCarthy's CODEL to Israel, Jordan, Egypt and Italy this week, according to a list of the 16 attendees obtained by Axios.
An aide to one of the participants told Axios they think it is inevitable the Democrats on the trip will discuss the debt ceiling with McCarthy at some point.
In trying to bolster his case for Biden to come to the table, McCarthy has claimed multiple House Democrats have privately told him they believe it is wrong Biden is refusing to negotiate and that they're rooting for him.
The bottom line: Some Democrats holding out for a clean debt ceiling increase are far from confident that Republicans will blink if the U.S. reaches the fiscal cliff this summer without a resolution.
"Not only do I not know what to expect from the Republicans," said Rep. Kathy Manning (D-N.C.), "I think the Republicans don't know what to expect from the Republicans at this point."
Go deeper