Florida, Idaho governors answer Abbott's call to send officers to Texas border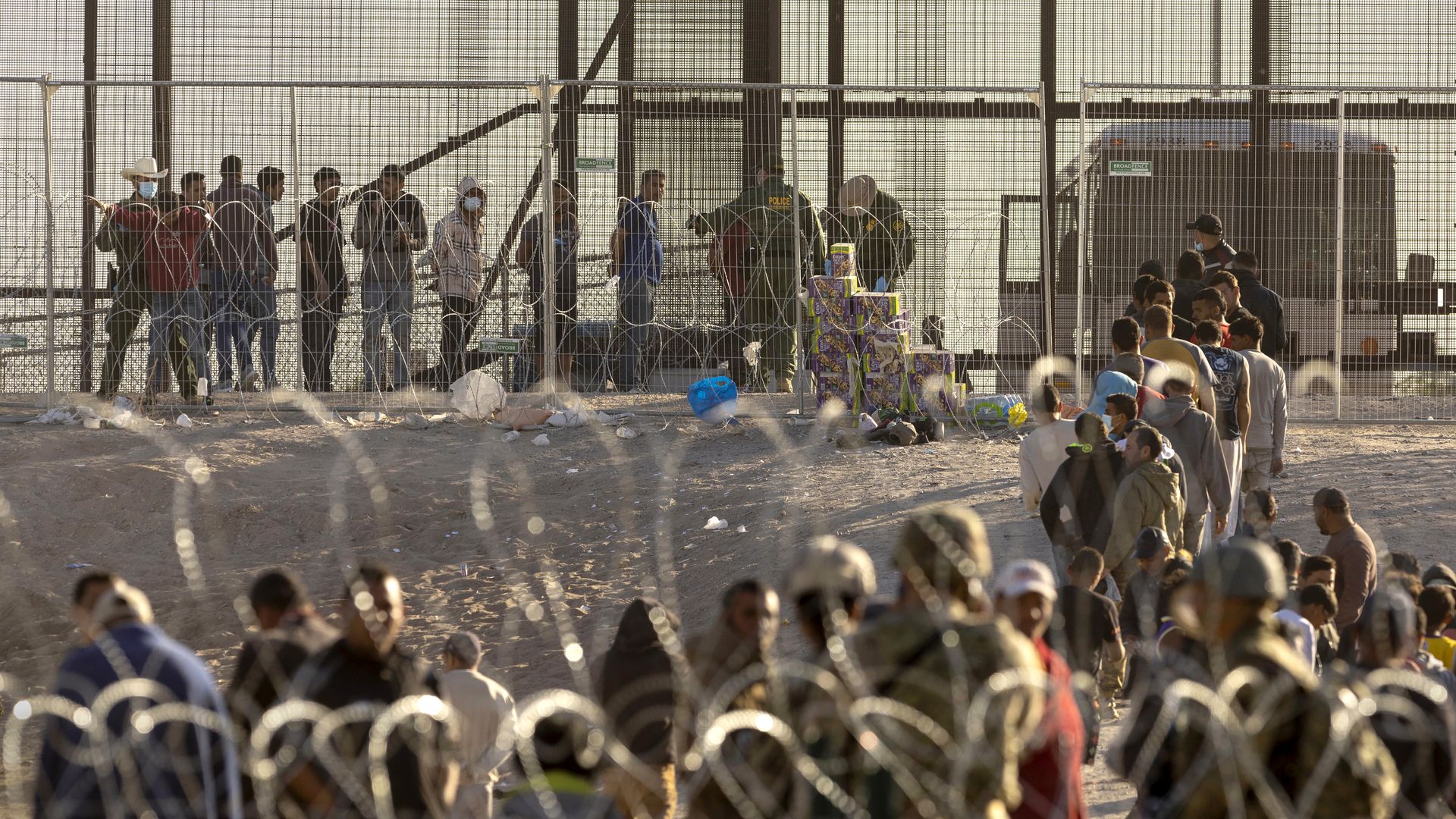 The Republican governors of Florida and Idaho are sending law enforcement officers and other assistance to the U.S.-Mexico border, Texas Gov. Greg Abbott (R) announced Tuesday.
Driving the news: Florida Gov. Ron DeSantis said he'll send resources and over 1,100 to Texas — including 800 state National Guard members, 200 law enforcement officers in teams of 40 and five aircrafts.
DeSantis said Florida "stands ready to help defend the southern border and is deploying assets to aid Texas' border security crisis."
Meanwhile, Idaho Gov. Brad Little (R) said he will send state police to support Texas officials at the southern border.
"With the help of states like Idaho, we continue to fill dangerous gaps created by Biden's open border policies," Abbott said.
Idaho officials had yet to announce how many officers they will deploy. The governor's office did not immediately respond to Axios' request for comment.
Context: Abbot sent a letter to his fellow governors asking them to deploy resources and "help respond to this crisis" at the Texas border in the wake of Title 42 ending last week.
Between the lines: There had been warnings of a rush at the U.S.-Mexico border following the end of the pandemic-era policy that allowed immigration authorities to rapidly turn back hundreds of thousands of people without giving them a chance for asylum, per Axios' Stef Kight.
However, the Biden administration announced this week that daily crossings had halved compared to the record-breaking days leading up to the May 11 end of the policy — though it's too early to determine whether the decline will continue.
Of note: DeSantis and Abbott have long criticized the Biden administration's border policies and have taken action including sending migrants to Democrat-run cities.
Flashback: It's not the first time the governors of these states have sent officers to the Texas border.
In 2021, DeSantis sent some 100 law enforcement officers to help at the border.
Last June, Little sent State Police troopers to the border to assist with intelligence gathering.
By the numbers: The latest dispatch from Florida is much greater than the number DeSantis sent in 2021, when he deployed over 50 officers to the border.
In addition to the Florida National Guard members, law enforcement officers and aircrafts, DeSantis is deploying 101 state highway patrol troopers; 20 Florida Fish and Wildlife Conservation Commission Officers; and 20 emergency management personnel — including radio technicians, logisticians, mechanics and planners.
What they're saying: "While Biden ignores the crisis he created, Florida stands ready to help Texas respond to this crisis," DeSantis said in a statement.
Meanwhile, Little tweeted: "Idaho is proud to support [Abbott] alongside [DeSantis] in response to the ongoing border crisis. We are stepping up to protect our communities and our nation!"
The other side: "While Governors Abbott and DeSantis remain stuck on political stunts, unlawful border crossings have dropped sharply since President Biden's plan to humanely manage the border went into full effect," White House spokesperson Abdullah Hasan said in an emailed statement on Tuesday night.
Editor's note: This article has been updated with comment from White House spokesperson Abdullah Hasan.
Go deeper