Biden sees an unexpected decline in border crossings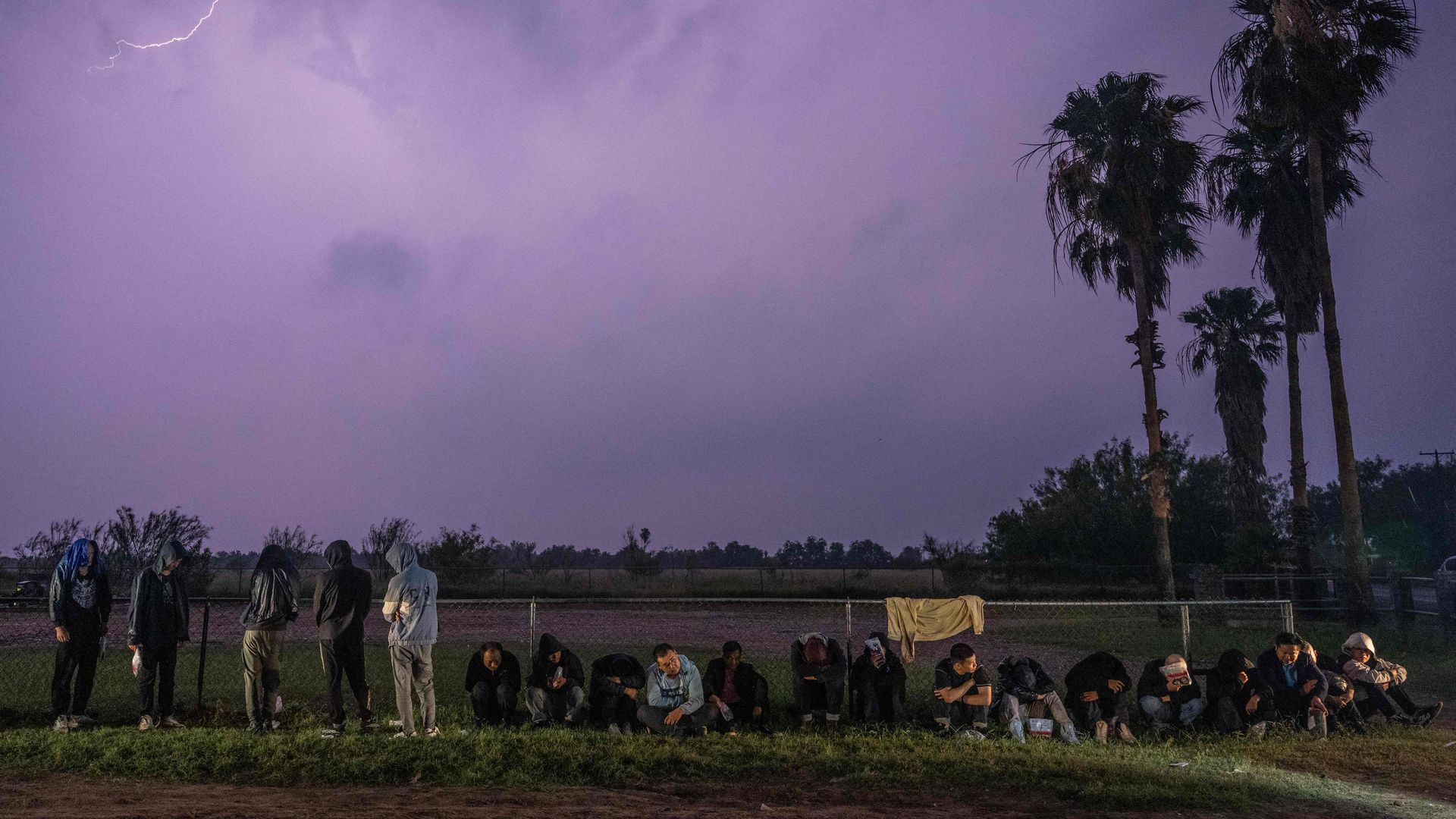 Concerns about a rush on the border following the end of a restrictive pandemic policy have not materialized — with daily crossings cut in half compared to the record-breaking days leading up to May 11.
Why it matters: It's good news for the Biden administration's post-Title 42 approach, which included a tougher image on the border and a strict new asylum policy.
The COVID-era policy Title 42 had allowed the rapid expulsion of hundreds of thousands of migrants.
A record 10,000+ migrants and asylum seekers had crossed the U.S.-Mexico border every day leading up to the end of Title 42 on Thursday.
But over the weekend, crossings averaged roughly 5,000 a day, top border official Blas Nunez-Neto told reporters Monday.
Yes, but: "It is still early," Nunez-Neto said. "And it is important to note that while Title 42 has ended, the conditions that are causing hemispheric migration at unprecedented levels have not changed."
Multiple lawsuits from Republicans and immigration advocates over Biden border policies also threaten future disarray.
"We continue to be concerned about the impact of litigation on all of the things that we are doing," Nunez-Neto said.
By the numbers: Although crossings have declined, hundreds of Venezuelans, Nicaraguans, Cubans and Haitians have already been deported to Mexico in the past three days under an agreement between the U.S. and Mexico, according to Nunez-Neto.
In addition, thousands have been returned to their home countries, including Colombia, Honduras and Peru.
DHS and the State Department are promoting those deportations and the new, harsh consequences for those who attempt to illegally cross the border, including a 5-year ban on reentry and the potential for criminal prosecution.
It's one of several regional efforts to respond to a years-long uptick in migration.
Mexico and Guatemala have deployed large numbers of law enforcement and troops to their own southern borders. Panama and Colombia have made efforts to root out smuggling networks in the Darién Gap.
The big picture: At the same time, the administration continues to tout new legal ways to enter the country that avoid the harsh new repercussions.
They have created humanitarian parole processes for Venezuelans, Nicaraguans, Cubans and Haitians as well as an app which migrants can use to schedule appointments at legal entry points.
The app now allows up to 1,000 appointments a day, although there have been many reports on the challenges and long waits faced by migrants trying to use it.
Go deeper