Scenes from the border: Chaos, desperation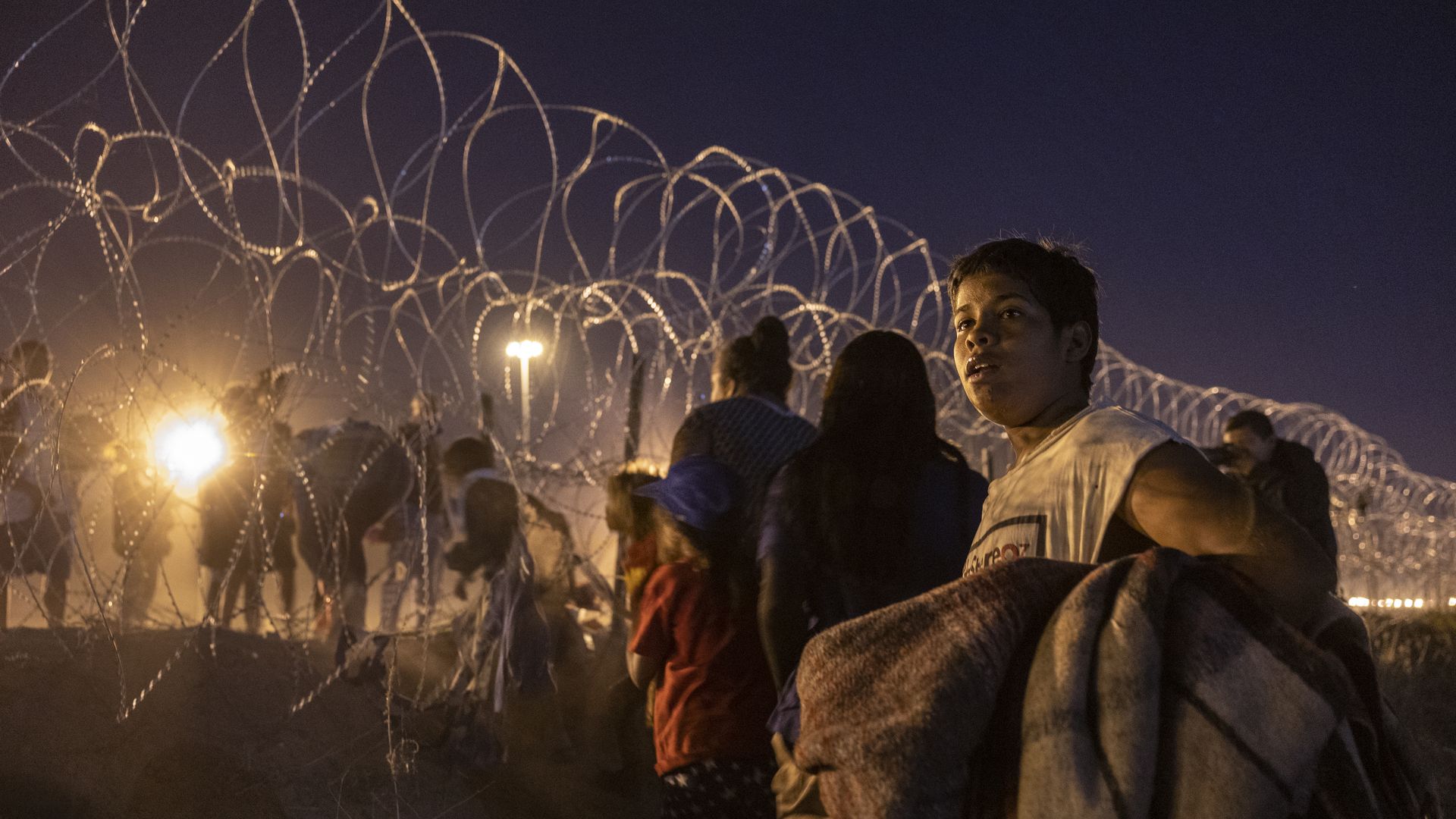 EL PASO, Texas — A day before the end of pandemic-era rules that allow officials to quickly expel migrants who enter the U.S. illegally, the southwest border is already a scene of chaos and desperation.
Makeshift camps, each with hundreds of migrants, have formed on both sides of the border in recent days — some people having already crossed into the U.S., others hoping to do so.
At Sacred Heart Church in El Paso, blankets, cardboard, clothing and plastic bags cover the fences and sidewalks surrounding the brick building — signs of the hundreds of migrants who have taken refuge there.
One woman teared up as she told Axios she had been camping at the church for a week.
Why it matters: In El Paso and many other cities along the southwest border, it's likely to get worse. An estimated 150,000 people in Mexico are headed toward the U.S. as the migration restrictions known as Title 42 end Thursday.
Several U.S. border cities have declared emergencies, federal officials are scrambling to round up undocumented migrants in El Paso to process or expel them under the expiring policy, and Border Patrol stations are filled with recent arrivals.
Migrants no longer will be expelled under Title 42 after Thursday — but a new policy by the Biden administration could block many from getting asylum.
It's not clear whether many migrants are aware of the new policy — only that the end of Title 42 has inspired thousands to rush to the border.
The big picture: The waves of migrants are part of a humanitarian crisis and unprecedented migration in the Western Hemisphere. Amid bitter political debates, the U.S. has struggled to control the situation at its border while protecting migrants' right to seek asylum.
For more than three years, the U.S. has used Title 42 to expel hundreds of thousands of migrants to Mexico or their home countries without a chance at asylum.
The policy is officially a public health order, but U.S. border officials have relied on it to manage overwhelming numbers of border crossings.
The Biden administration is replacing Title 42 with its own strict asylum policy, in addition to expediting initial asylum interviews and getting Mexico to continue taking back migrants of some nationalities.
What they're saying: "We're doing all we can," President Biden said of the crisis, adding that he'd spent nearly an hour Tuesday on a call with Andres Manuel Lopez Obrador, Mexico's president.
"It's going to be chaotic for a while," Biden added.
The Department of Homeland Security did not response to a request for comment.
Driving the news: The administration's new policy will automatically reject asylum seekers who illegally cross into the U.S. without first seeking protection in a country they traveled through.
It's a notable change from the U.S.'s longtime policy of giving people the right to seek asylum regardless of whether they crossed the border illegally. Title 42 also prevented migrants from seeking asylum, but was tied to public health concerns.
The new policy is expected to let more migrants be rapidly deported to their home countries or Mexico — and comes with severe penalties, including a five-year ban on re-entry.
Zoom in: There are many reasons migrants from Central and South America are overwhelming border communities now — but experts and officials say smugglers and cartels are part of the problem.
They often pounce on widespread confusion about U.S. border policies to recruit and exploit customers, experts say.
By the numbers: Biden's new policy will arrive at a time when border resources are severely strained.
As of Monday, there were roughly 25,000 people in Border Patrol custody — beyond the official capacity of roughly 19,000, according to internal data obtained by Axios.
Nearly 10,000 migrants were encountered by border officials on Sunday alone — a large daily number even compared to the historically high counts of recent years.
Go deeper