Inside a family's harrowing journey to the U.S. border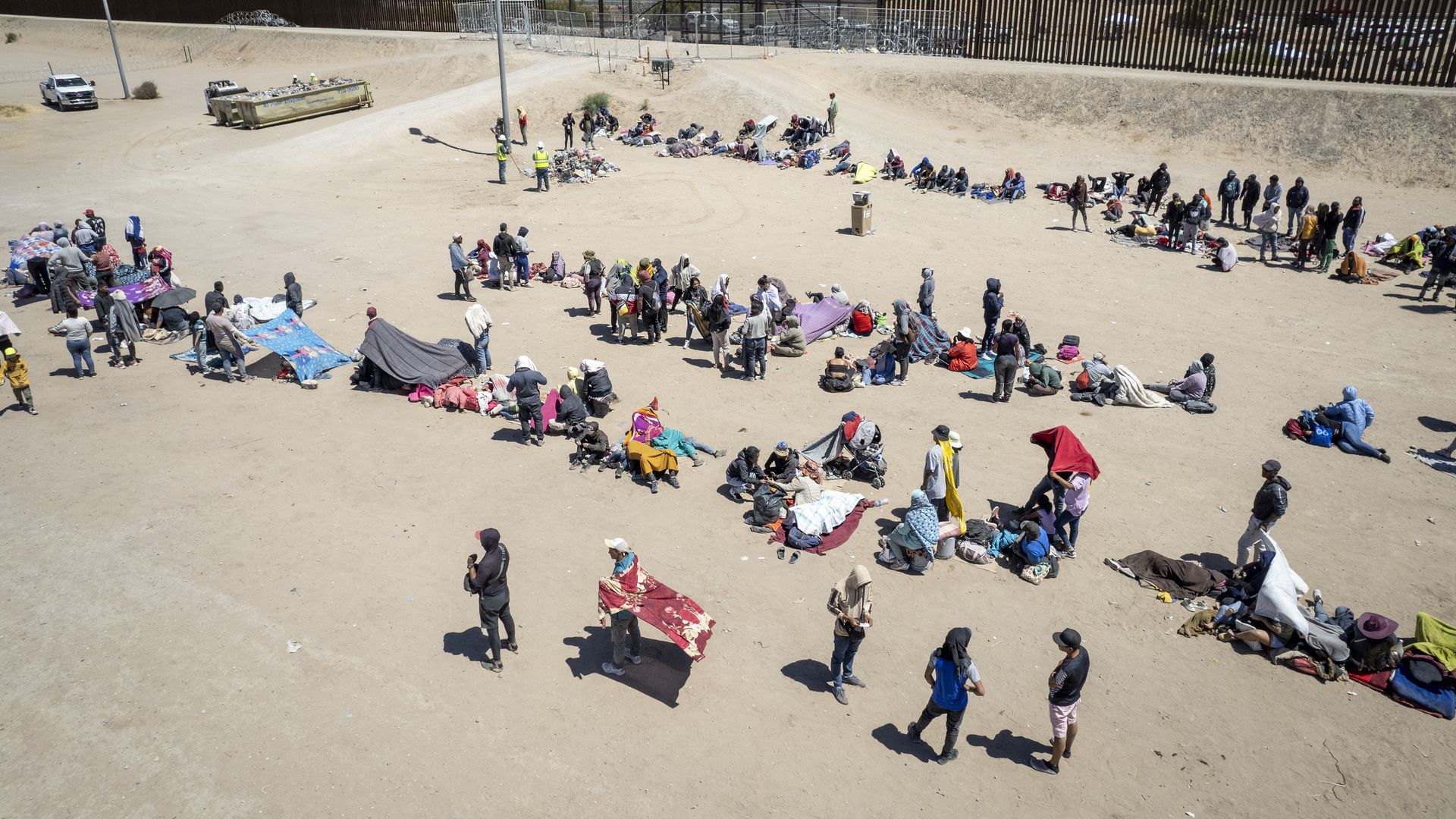 EL PASO, Texas — Tens of thousands of migrants are desperately lining up at the doorstep of the United States, having survived perilous journeys to take a chance on admission to the U.S. in the face of the Biden administration's strict new migration policies.
Why it matters: The confusion over changing U.S. policies has led many to rush to the border. Some who've crossed into the U.S. are being allowed to stay as they pursue their immigration cases — and are telling harrowing tales of their struggles.
Zoom in: Juan, 26, Jhosnnielyz, 22, and their two children, ages 5 and 3, left Venezuela four months ago. They were determined to seek a better life in the U.S. — and undeterred by immigration challenges they knew they'd face.
For days, the young family trekked through the dangerous jungles of the Darién Gap, the isthmus bridging South and Central America, Juan told Axios with help from an interpreter.
That's where they were robbed. Juan and Jhosnnielyz dug through their bags to show Axios their identification documents — taped together after the attackers had torn them. Three women in their migrant group of 60 were raped, they said.
The family survived and eventually made it to the Texas border — then spent three weeks in Ciudad Juarez trying to schedule an appointment with border officials through an app the Biden administration has touted as an orderly, legal way to schedule meetings with migration officials.
They finally chose to cross into the U.S. and risk turning themselves in to the Border Patrol. They were lucky to avoid being expelled to Mexico, as hundreds of Venezuelans had been in March, according to government data.
Juan and Jhosnnielyz were processed by the Border Patrol and now can settle in the U.S. until their next steps in the immigration process.
They have no relatives in the U.S., and originally planned to go to Orlando — but then they heard about Florida Gov Ron DeSantis' new laws targeting undocumented immigrants.
Now they're considering Boston.
Zoom out: Axios interviewed Juan and Jhosnnielyz while visiting a shelter for migrant families run by the Opportunity Center for the Homeless — among the many operations here overseen by nonprofits and religious groups to temporarily house new migrants.
The small, overflow space hosted roughly 100 people Thursday afternoon — hours before the end of a Title 42, the pandemic-era policy that allowed rapid expulsions of migrants.
Late Thursday, as Title 42 was about to be replaced by Biden's new restrictions, there were dozens of young children and toddlers in the shelter. They played with plastic toy cars or sat close to their young parents on American Red Cross blankets on the tiled floor.
"It's just heart-breaking," Bill Irvin, the program coordinator of the family Welcome Center, told Axios, watching several young children interact.
The big picture: Opportunity Center is a part of a network of nonprofits and shelters readying for surges of migrants and asylum seekers.
These organizations help quickly free up space at Border Patrol facilities, taking in migrants and asylum seekers and providing them with basic necessities.
They're anxious about what's ahead.
"I believe strongly that no matter how we feel we are prepared, that we will not be prepared," John Martin, who runs the Opportunity Center shelters, told Axios.
Go deeper