The GOP's shrinking Senate map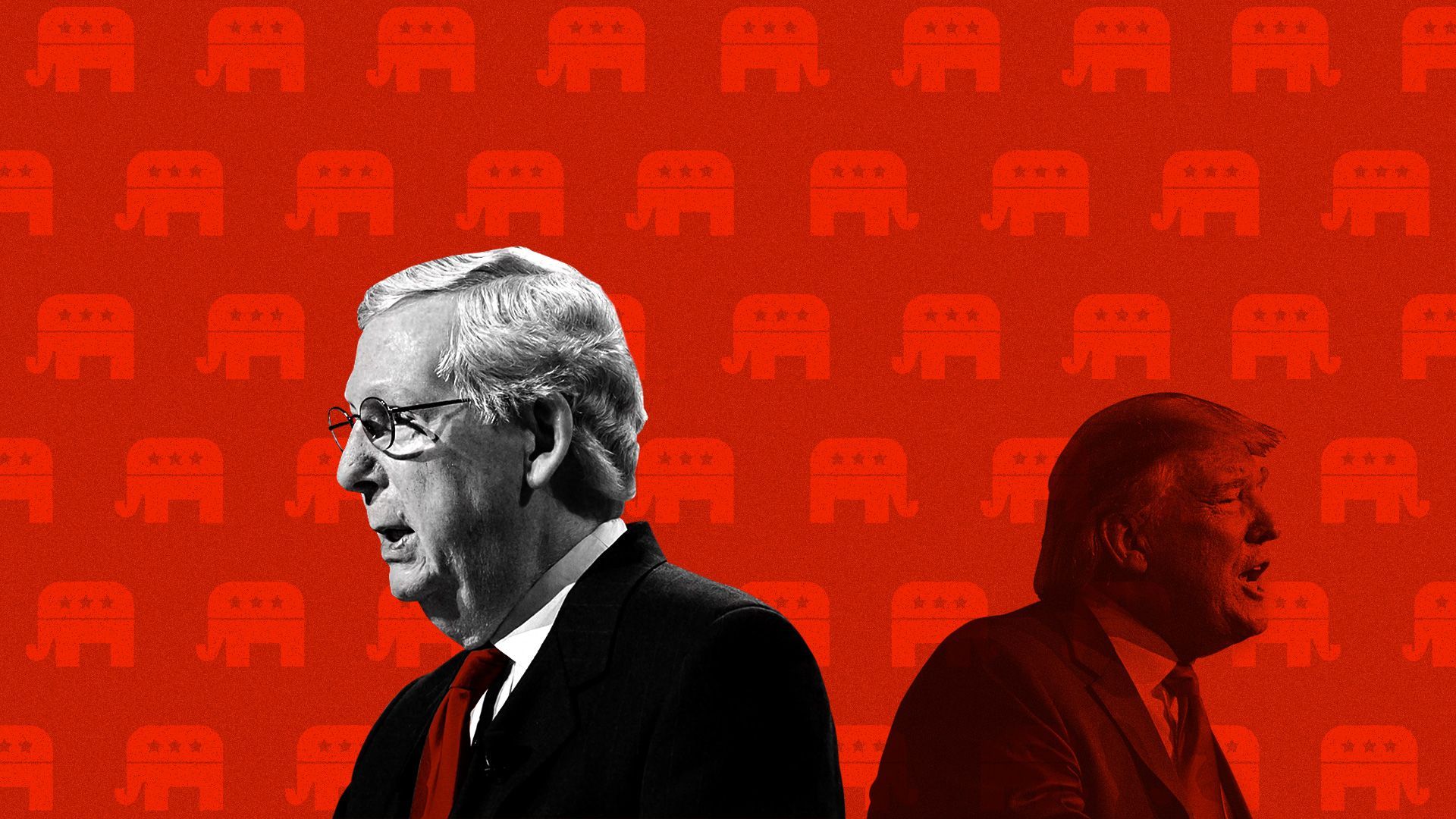 One of the biggest immediate consequences if Donald Trump is at the top of the ticket in 2024: Republicans may campaign aggressively in fewer Senate battleground races.
Driving the news: In an interview with CNN last week, Senate Minority Leader Mitch McConnell (R-Ky.) was cautious about the number of top GOP pickup opportunities — despite a historically favorable map giving the party a strong chance of ending Democrats' 51–49 majority.
"I just spent 10 minutes explaining to you how we could screw this up, and we're working very hard to not let that happen. Let's put it that way," McConnell said.
He only listed four Democratic-held seats as top opportunities: West Virginia, Montana, Ohio and Pennsylvania.
Why it matters: If Trump's endorsements of weak candidates hurt GOP prospects in 2022, it's the prospect that Trump will lead the GOP presidential ticket that could jeopardize purple-state opportunities in 2024.
Democratic-held Senate seats in Wisconsin, Michigan and Nevada would typically be toss-ups with a less Trumpified GOP, with Maine, Virginia and New Mexico representing second-tier opportunities.
But McConnell only mentioned Wisconsin and Nevada as other races he's keeping an eye on.
Between the lines: Arizona is a wild card, given the possibility of a three-way contest among Rep. Ruben Gallego (D-Ariz.), Sen. Kyrsten Sinema (I-Ariz.) and the GOP nominee.
McConnell told CNN there's a "high likelihood" that Republican leaders would wait to see who wins the GOP primary before deciding whether to support the nominee.
Former Arizona gubernatorial candidate Kari Lake, who still claims her election was stolen, met with the National Republican Senatorial Committee last week. Republicans familiar with the meeting expect her to run.
Despite the Democratic divisions, one recent public poll showed Gallego leading Lake and Sinema in a three-way race.
Reality check: Trump is still a political asset in the three red-state seats held by Democrats up for re-election — West Virginia, Montana and Ohio. Winning just two of those three is all Republicans need to win back the majority.
Zoom out: Trump's chaotic town hall on CNN this week, where he continued to deny the outcome of the 2020 election, promised pardons to many of the Jan. 6 rioters, and failed to offer support for Ukraine, is perfect fodder to use against purple-state GOP candidates — if Trump leads the ticket.
It also threatens to dampen recruiting among non-MAGA candidates. Rep. Mike Gallagher (R-Wis.), the respected chair of the House China select committee, would be an A-list recruit against Sen. Tammy Baldwin (D-Wis.), but he may not be eager to get pulled into messy intra-GOP politics.
One big bellwether: businessman David McCormick, a mainstream Republican who unsuccessfully ran for the Senate in 2022 after drawing Trump's ire.
McCormick is expected to jump into the Senate race against Sen. Bob Casey (D-Pa.) late in the summer, according to sources, but hasn't fully formalized plans.
The bottom line: In 2022, all but one Senate race went the same way as the outcome of the 2020 presidential race in the state. If that dynamic holds, Republicans would net three seats and have a 52–48 majority.
But winning the three Trump states won't be automatic. Not a single Senate incumbent lost re-election in 2022, and Sens. Jon Tester (D-Mont.) and Sherrod Brown (D-Ohio) are already preparing for tough races ahead.
Go deeper