Gallego's in, Sinema is quiet and GOP lines up for AZ Senate seat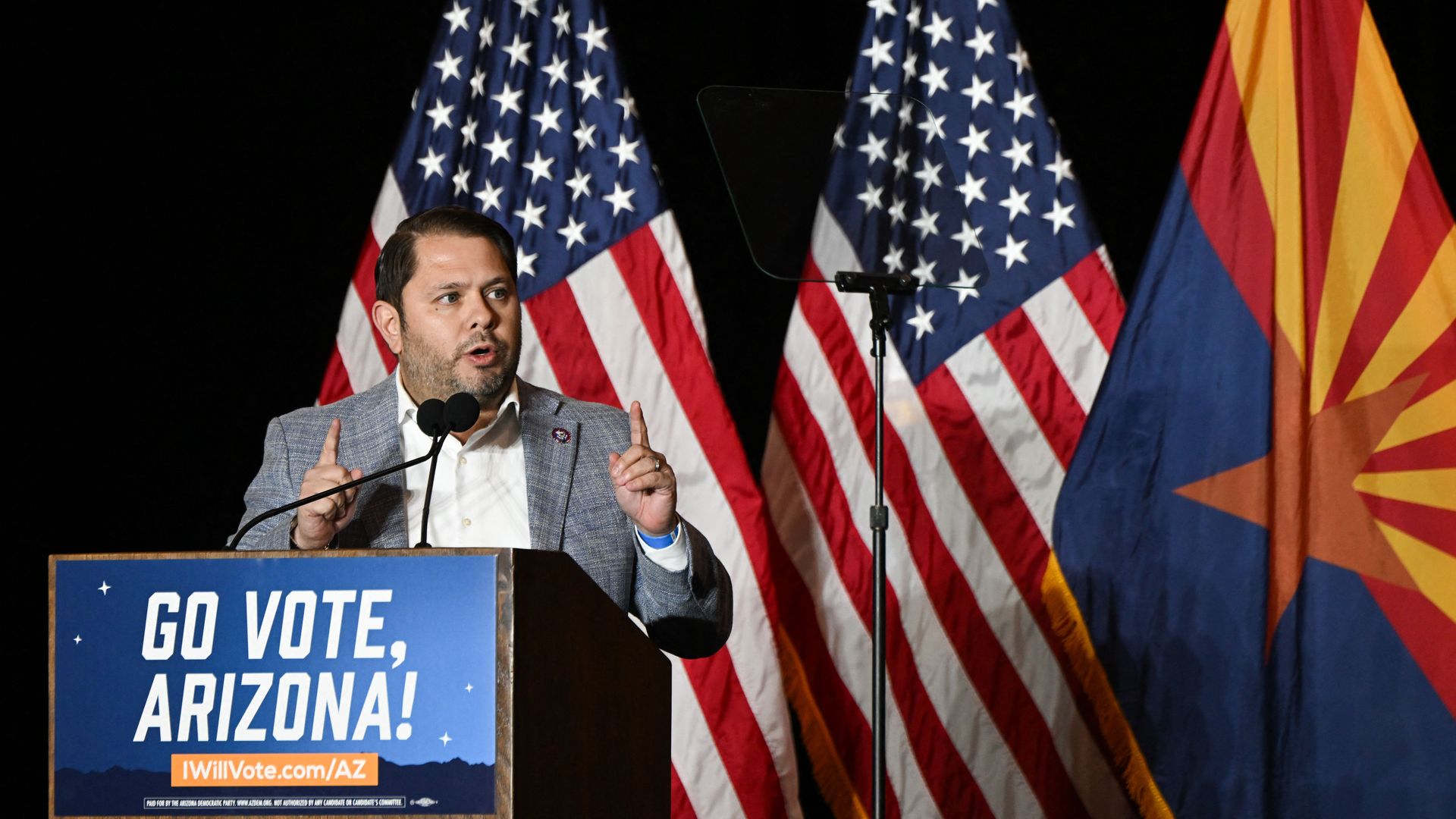 Rep. Ruben Gallego announced Monday he'll run for the U.S. Senate, kicking off what's expected to be a long and expensive 2024 campaign cycle.
Why it matters: With incumbent Sen. Kyrsten Sinema leaving the Democratic Party and remaining tight-lipped about whether she'll seek re-election, both Democrats and Republicans are gunning to take back the seat.
When Sinema won in 2018, she was the first Democrat from Arizona elected to the U.S. Senate in 30 years.
What they're saying: "If you're more likely to be meeting with the powerful than the powerless, then you're doing this job incorrectly," Gallego said in his campaign announcement — a not-so-subtle dig at Sinema. "I'm sorry that politicians have let you down. But I'm going to change that."
Sinema's campaign did not respond to Axios' request for comment.
State of play: Gallego is the first person to get into the race and is the presumed favorite for the Democratic nomination.
Democratic political consultant Tony Cani told Axios Phoenix the support Gallego received from party leaders in the hours following his announcement — and the campaign cash he's likely to raise in the coming days — is probably enough to keep any other Democrat who was serious about running out of the race.
The other side: The Republican field will almost certainly be more crowded. Here are some names floating around in GOP circles:
Reality check: Gallego's chances are hard to predict without knowing who the Republican nominee will be or whether Sinema will run.
Paul Bentz, of the political consulting firm HighGround, told us that if Republicans nominate a candidate who is not extreme — like Lake or Masters — the Senate race should be a "slam dunk" for them.
"This is the Republicans' opportunity to start winning again and be relevant. We'll see if they take it," Bentz added.
Meanwhile, Sinema's chances of winning are slim to none, Republican and Democratic pundits said.
Bentz noted that by his calculations, she'd need to win 25% of Republicans, 25% of Democrats and 60% of independents.
Yes, but: That doesn't mean she won't run anyway.
Who Sinema helps or hurts by staying in remains unclear, Cani said. There are likely some moderate Republicans and moderate Democrats she could siphon off, but without knowing who'll get the GOP nomination, her impact is hard to measure, he said.
More Phoenix stories
No stories could be found
Get a free daily digest of the most important news in your backyard with Axios Phoenix.