Biden administration under pressure to address press freedoms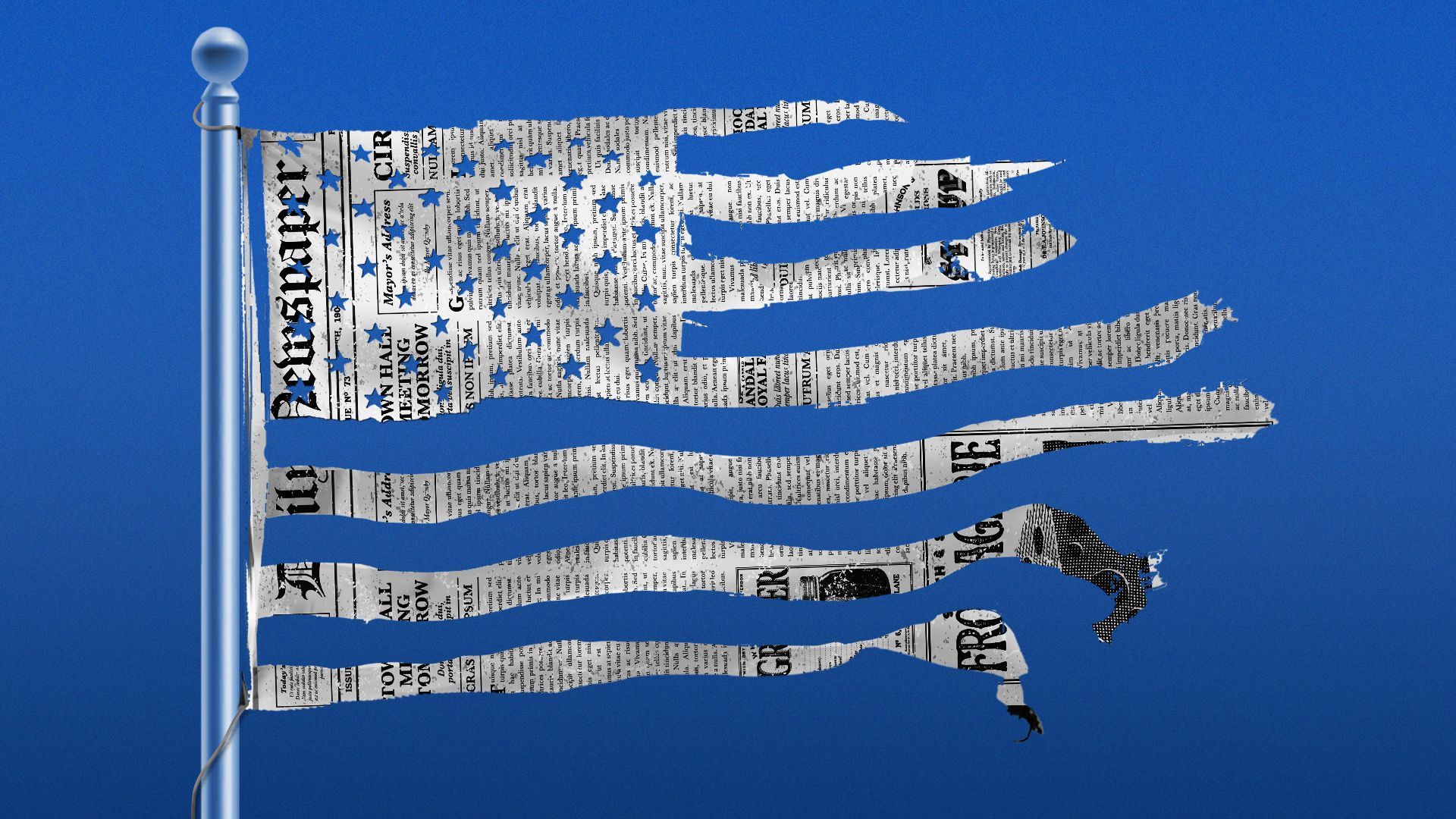 A series of blows to press freedom globally has put more pressure on the Biden administration in recent months to defend journalism as a part of its foreign policy platform.
Why it matters: Press freedom advocates are pleased with the progress, but argue there's more the administration could do.
"We do not think the administration is giving its full weight to these items," said Bill McCarren, executive director of the National Press Club (NPC).
(NPC president Eileen O'Reilly is Axios' managing editor of standards and training.)
Driving the news: The U.S. last week said it's imposing sanctions on Russian and Iranian security services for their roles in the wrongful detentions of U.S. citizens, including Wall Street Journal reporter Evan Gershkovich.
The sanctions package was being prepared before Gershkovich's arrest, per Axios' David Lawler.
Gershkovich was arrested in Russia in late March on espionage charges. Nearly two weeks later, the U.S. declared him to be "wrongfully detained" and officially transferred his case to the supervision of the State Department's Office of the Special Presidential Envoy for Hostage Affairs.
Zoom in: The government should be moving faster to declare reporters "wrongfully detained," McCarren said.
President Biden or Secretary of State Antony Blinken should "make this declaration immediately — when a journalist is taken hostage, call it an unjust detention."
Moving slowly gives countries arresting journalists weeks of "free PR, allowing them to claim espionage charges, be critical of journalists allowed and to put journalists in solitary confinement," McCarren added.
Of note: Gershkovich has been in solitary confinement for almost a month and has been denied regular consular visits. NPC has called his situation "torture."
Between the lines: During his speech at the annual White House Correspondents' Association dinner on Saturday, Biden made a point to show support for Gershkovich and Austin Tice, an American journalist who was abducted in Syria more than a decade ago and who remains missing.
"Tonight, our message is this: Journalism is not a crime," Biden said. "Evan and Austin should be released immediately, along with every other American held hostage or wrongfully detained abroad."
The big picture: The Biden administration's record on free press issues has been tainted by a few critical missteps internationally early on in his presidency, despite an improved relationship with the press corp.
In March 2021, free press advocates slammed the administration for not sanctioning Saudi Crown Prince Mohammed bin Salman, after a U.S. intelligence report concluded that he approved the 2018 operation to "capture or kill" Washington Post columnist Jamal Khashoggi.
A "fist-pump" greeting with the crown prince last summer drew blowback from the Post's publisher and press freedom groups.
In September 2021, the administration faced bipartisan criticism for leaving more than 100 government-sponsored journalists and their families in Afghanistan following a chaotic withdrawal from the country.
Be smart: Major news outlets have ramped up their advocacy efforts to push the Biden administration towards taking more serious steps to protect press freedoms.
The Post, in particular, has been running a series of ads for months pushing the Biden administration to free journalists held captive globally.
Last year, Bloomberg News journalist Haze Fan was released on bail after being detained in China for more than a year on suspicion of national security law violations. She was released after an ad by the Post brought attention to her case.
Last week, the publishers and top editors at the Post, the Wall Street Journal, and the New York Times ran a joint letter as a full-page advertisement in all three of their papers urging support from the Biden administration in fighting for Gershkovich's release.
Zoom out: Press freedom advocates in the U.S. and elsewhere argue the Biden administration should be more vocal about journalists in peril, even when they aren't U.S. citizens.
Democrats, for example, have pushed the Biden administration to review a U.S.-funded program meant to protect Mexican journalists amid a wave of unpunished killings.
"[W]e're increasingly seeing journalists across the ICFJ network, from El Salvador and Guatemala to Hong Kong and the Philippines, facing arrest, exile and harassment," said Sharon Moshavi, president of the International Center for Journalists (ICFJ).
"These are very disturbing trends. It is past time and necessary for democratic governments everywhere to prioritize a free press in their foreign policy agendas."
By the numbers: A record number of journalists were arrested in 2022, according to the Committee to Protect Journalists.
Seventy-six journalists were killed globally last year — the highest number since 2018.
To its credit, the Biden administration has taken a global lead in funding certain journalism programs.
What we're watching: While the Biden administration pushes more aggressively on press freedoms abroad, the president's record at home still lags in certain respects.
Biden has held the fewest number of press conferences since the Reagan administration, the NYT reports.
The bottom line: "It's in the interest of the U.S. and other democratic nations to fight for a free press abroad, and to ensure that journalists in their own backyard can safely do their jobs," Moshavi said.
"Journalism is not a crime. It's a public service."
Go deeper: Free press in peril
Go deeper