Inside Biden's meeting with Austin Tice's parents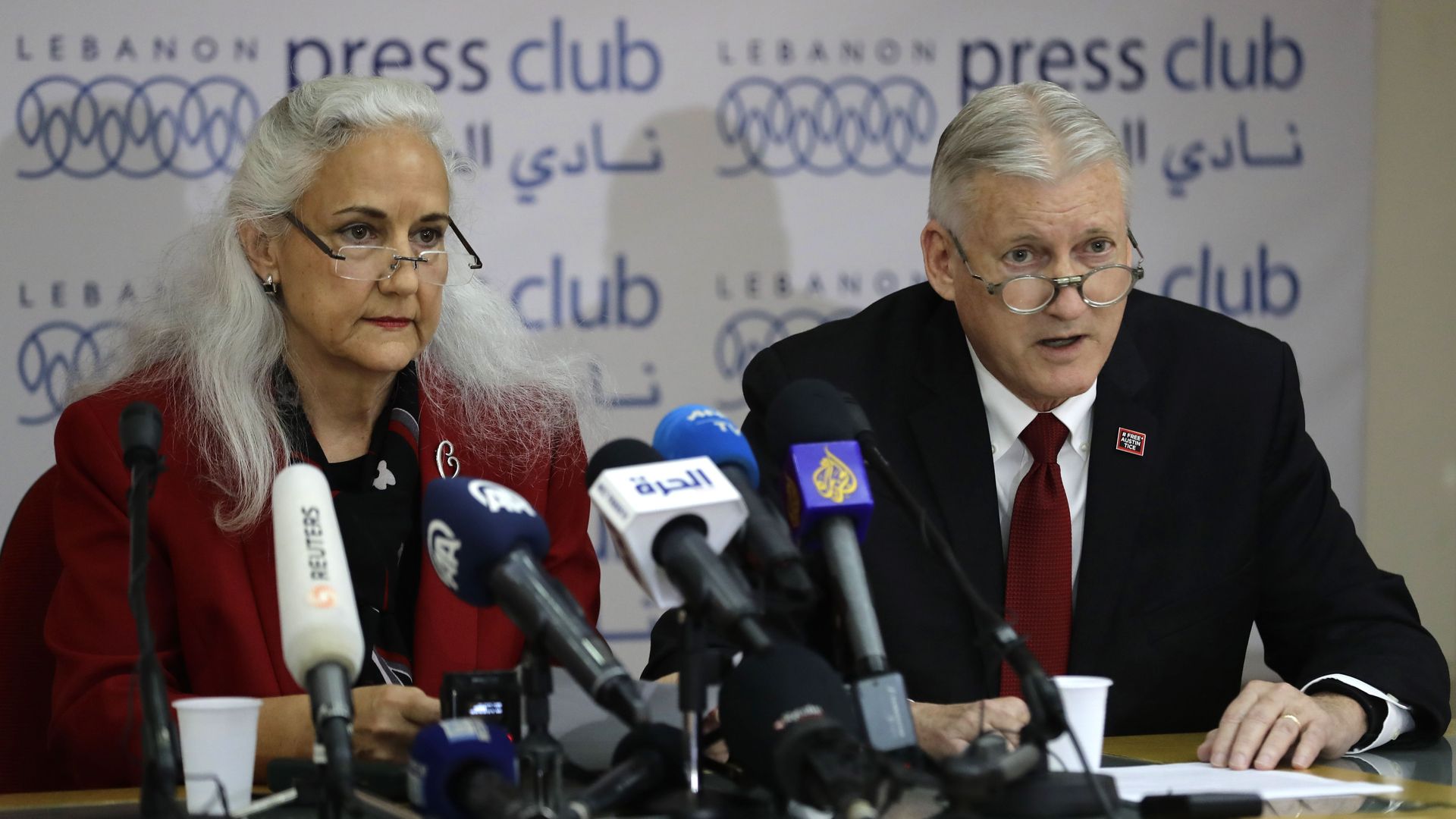 President Biden committed in an Oval Office meeting on Monday to engage directly with the Assad regime to find a solution that will bring Austin Tice home, the parents of the American journalist abducted in Syria in 2012 tell Axios.
Why it matters: The Tices believe that the president's personal involvement will signal to Syria that the U.S. government views their son's freedom as a priority and will negotiate in good faith after years of sanctions and isolation.
Driving the news: The meeting with Biden came together after Steven Portnoy, a CBS reporter and the current president of the White House Correspondents' Association, used his speech at Saturday's annual dinner to call attention to Tice's case.
Debra and Marc Tice praised Portnoy for the idea in an interview with Axios, saying he had asked for their approval ahead of time.
Debra Tice was prepared to stand up to be recognized during Portnoy's speech but was caught off guard by what happened shortly after. "Mom, I'd like to meet you and Dad to talk about your son," Biden said in his own remarks, going off script to address her directly.
Debra Tice still wasn't sure she had heard Biden correctly until she ran into White House deputy national security adviser Jon Finer, who was also attending the dinner and confirmed to her that his team would work to make the meeting happen.
At 5:30am ET on Monday, Debra Tice woke up in Houston to a message from Finer asking her if she could be at the White House at 5pm.
She shook her husband awake and told him they had a flight to catch for a meeting with the president in less than 12 hours.
Behind the scenes: The Tices described Biden as personable, compassionate and fully aware of the details of Austin's case during their 45-minute meeting in the Oval Office on Monday.
"He told us that he had contacted people from past administrations that knew about Austin's case to get up to speed and ask them questions about what they thought could be done," Marc Tice said.
Debra Tice said that they spent much of the meeting "just being parents together," noting that Biden recalled the "big Texas bear hug" she had given him seven years earlier when they had met at an Obama White House event shortly after Beau Biden's death.
A White House official told Axios: "We will continue to pursue all avenues, to include engaging anyone, including direct engagement, to secure the return of U.S. hostages and wrongfully detained persons."
Between the lines: The Tices view Biden's commitment to engage with the Syrians as a turning point that will "energize and free" U.S. officials working on the case to take more decisive action that may have previously been considered too risky.
"Knowing that Biden supports the efforts and wants the same things we want gives them license to pursue these things without worrying about repercussions or making a misstep," Marc Tice told Axios.
Direct U.S. engagement with the Assad regime has been extremely rare in the years since the Syrian civil war, but the Syrians have "repeatedly made clear" that they will not negotiate on Tice's case with mediators.
What to watch: The Tices expect the nature of their routine meetings with U.S. government officials — which have been going on for years — to change now that Austin's case is "fully on Biden's radar."
"I left the meeting thinking those were hugely uplifting words. I can hardly wait to see some action," Debra Tice said.
"We've had lots and lots of words in the past nine years and almost nine months. We need action."
Go deeper: Trevor Reed's release fuels new push for Biden to act on hostages
Go deeper