WSJ, WaPo, NYT leaders run joint ad demanding reporter's release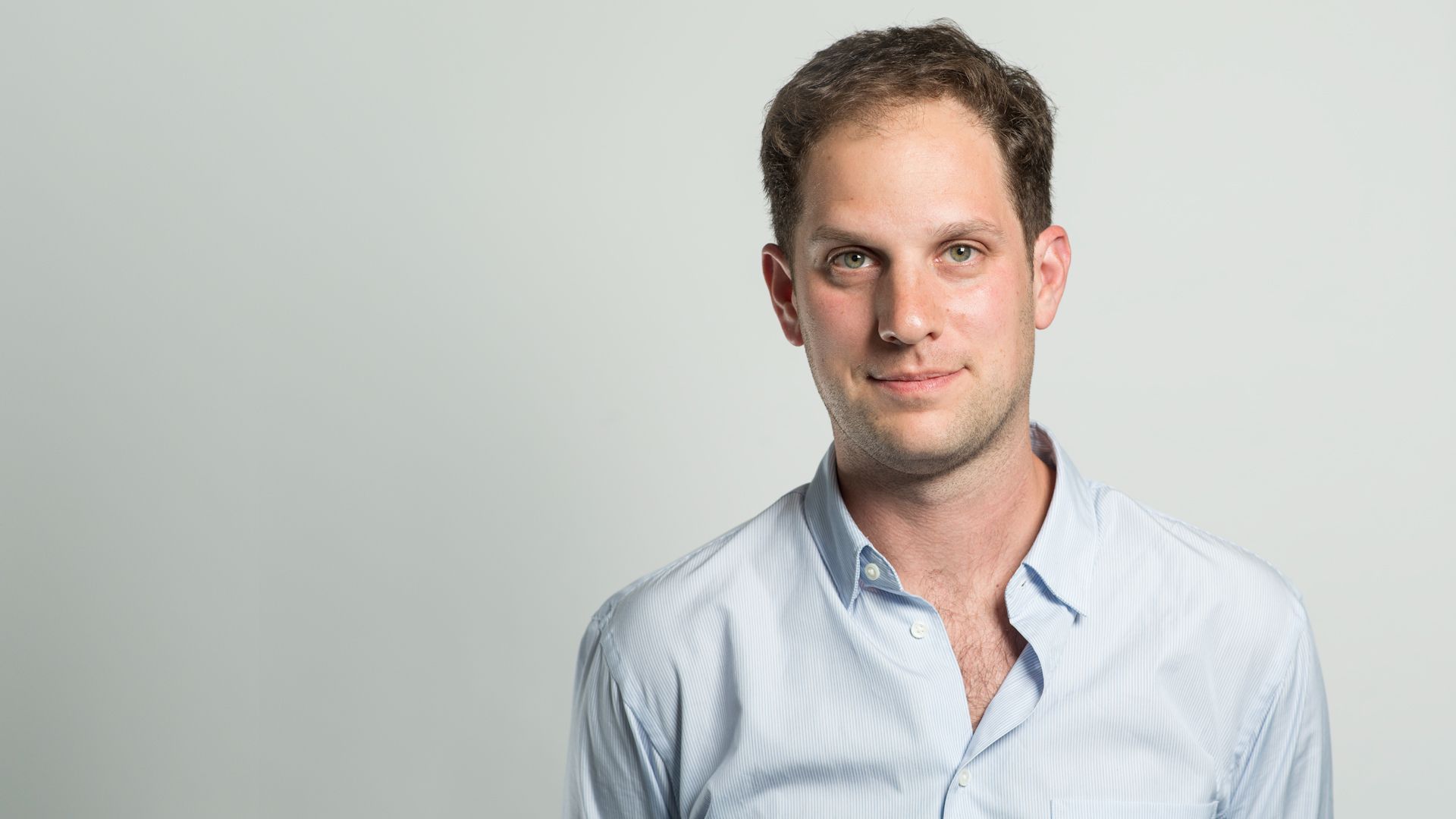 The publishers and top editors at the Wall Street Journal, Washington Post and New York Times on Thursday will run a joint letter as a full-page, color advertisement in all three of their papers urging support from the Biden Administration in fighting for the release of Wall Street Journal reporter Evan Gershkovich from a Russian prison.
Why it matters: Gershkovich is being held under espionage charges. The papers' leaders argue that "his detention is a loss not just for our individual publications but for the people of Russia and society at large."
Details: The ad will run for free in the national editions of all three papers Thursday.
The letter featured in the ad is signed by Wall Street Journal editor in chief Emma Tucker, Wall Street Journal publisher and Dow Jones CEO Almar Latour, Washington Post executive editor Sally Buzbee, Washington Post publisher and CEO Frederick J. Ryan, Jr., New York Times executive editor Joseph Kahn and New York Times publisher and chairman A.G. Sulzberger.
The Journal has separately been running an extensive awareness campaign as well, including a house ad in its paper every Wednesday that tells a story about Gershkovich from his colleagues in the newsroom.
"We continue to be shocked and outraged over the wrongful arrest of Wall Street Journal reporter Evan Gershkovich, who is imprisoned by the Russian government for no other reason than newsgathering," the letter in the ad says, addressed to readers.
"As editors and publishers of some of America's largest news organizations, we are united in calling for his immediate release. Reporting is not a crime."
Catch up quick: Gershkovich was arrested in late March. In early April, the U.S. declared him to be "wrongfully detained," which officially transferred his case to the supervision of the State Department's Office of the Special Presidential Envoy for Hostage Affairs.
Under that jurisdiction, the government said it is working to "develop a strategy to secure" Gershkovich's release.
On Tuesday, Russia's foreign minister hinted at the possibility of a prisoner swap for Gershkovich and Paul Whelan, another detained American.
Gershkovich appeared in a Russian court last week, where he was denied an appeal.
Now, press leaders are urging the government for support.
"Over the past month, we have watched our industry not only rally around Evan but stand up for journalism and the importance of a free press. We also encourage support from the U.S. government, including President Biden and the White House," the letter in the ad reads.
"Evan's case is the latest in a disturbing trend where journalists are harassed, arrested or worse for reporting the news."
The big picture: Around the world, a coalition of more than 40 countries, led by the U.S., are pushing for Gershkovich to be released, but press freedoms continue to decline worldwide.
A record number of journalists were arrested in 2022, according to the Committee to Protect Journalists. Seventy-six journalists were killed globally last year, the highest number since 2018.
The bottom line: "The unjust arrest of any reporter, anywhere in the world, is simply unacceptable," the letter in the ad reads.
"We stand united in demanding Evan's release and we won't rest until he is safely brought back home."
Go deeper: Read the full ad below.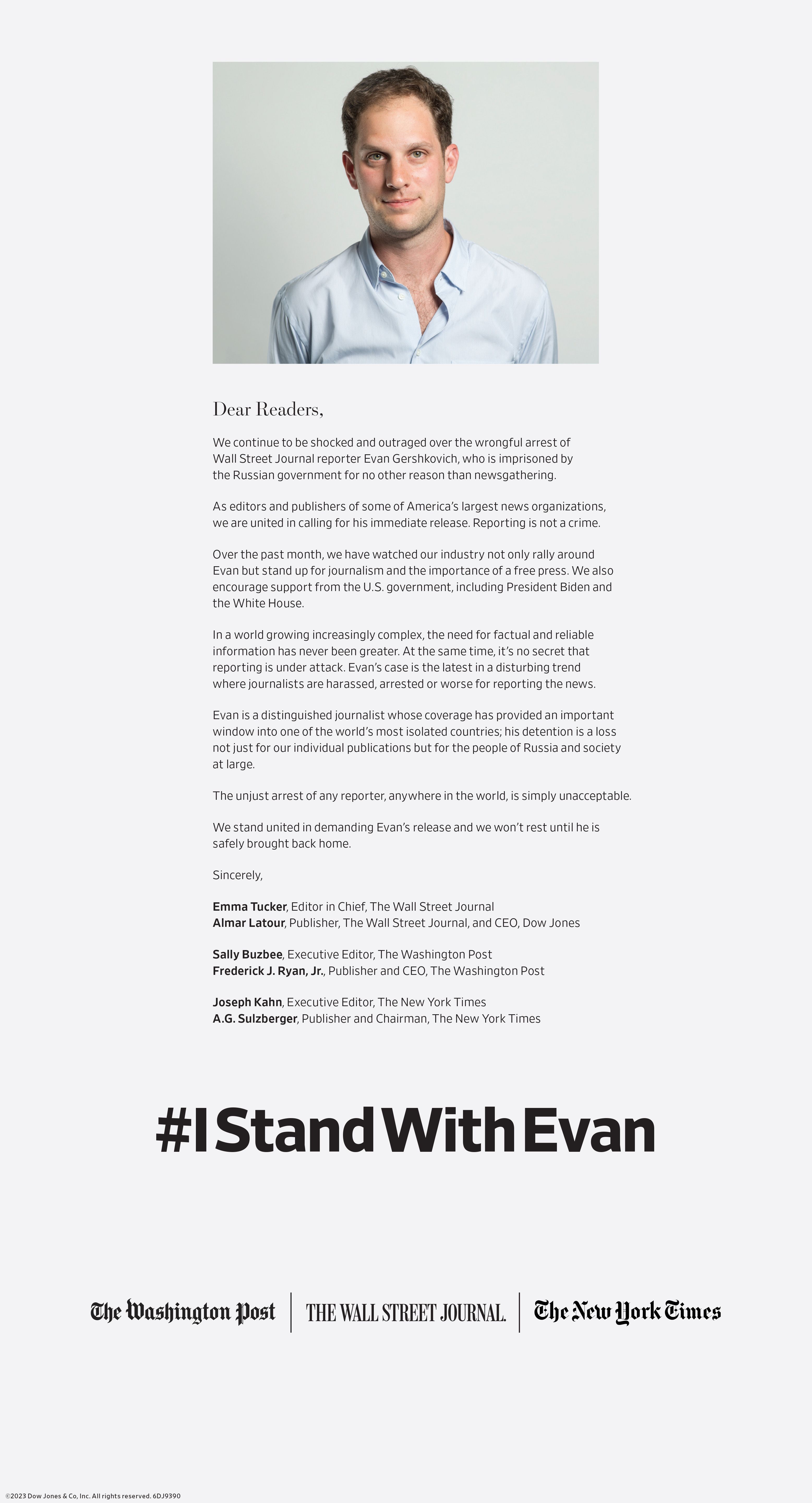 Go deeper