Former Arkansas Gov. Asa Hutchinson formalizes presidential bid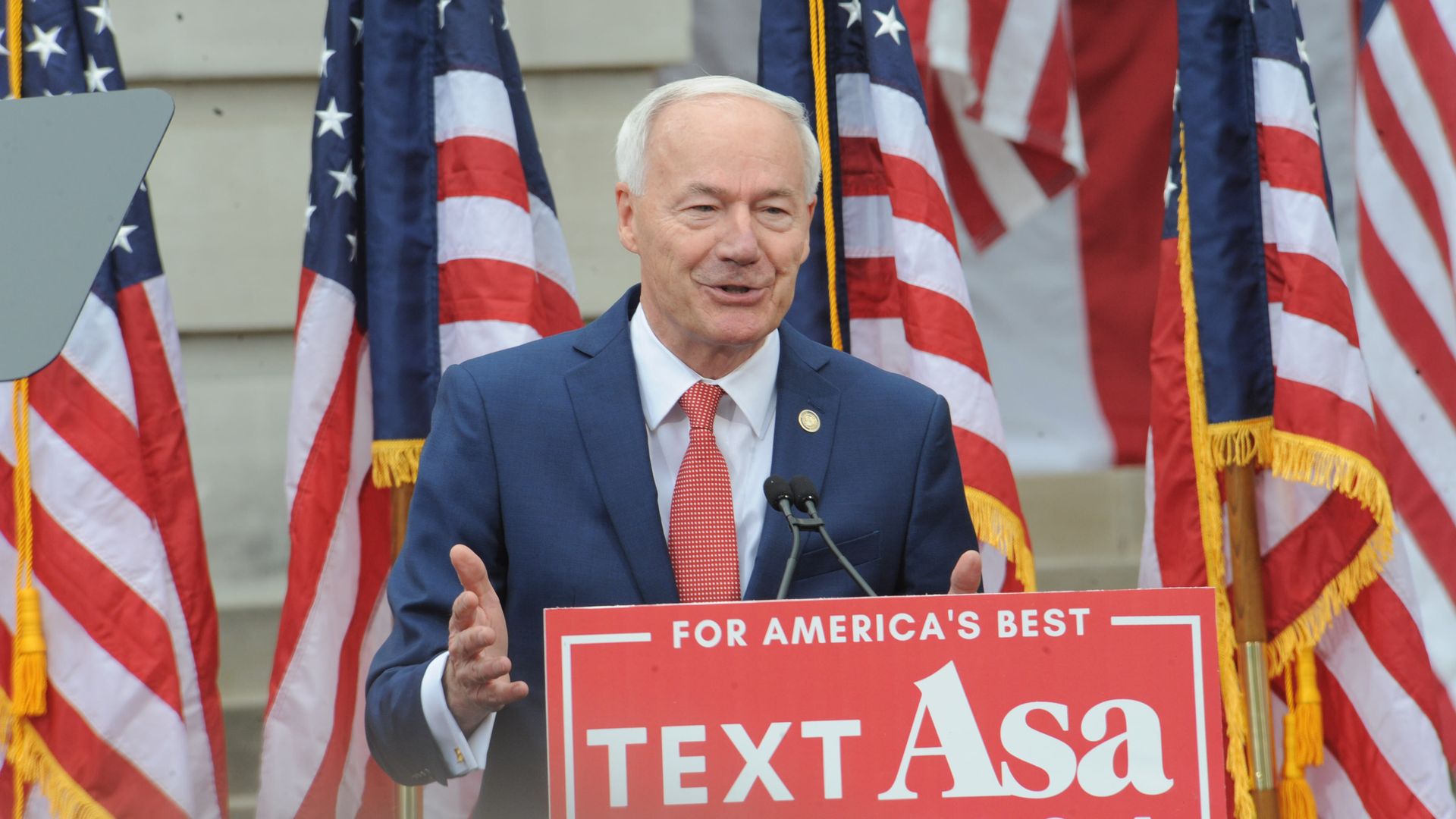 Former Arkansas Gov. Asa Hutchinson formalized his presidential candidacy Wednesday in Bentonville, the town where he was born. The facade of the courthouse behind him read: "sovereignty rests with the people."
Driving the news: Hutchinson, who served as Arkansas governor from 2015 to 2023, is the fourth Republican to announce a campaign. Former President Trump, former South Carolina Gov. Nikki Haley and venture capitalist Vivek Ramaswamy are already in the race.
State of play: Hutchinson, 72, has said previously he doesn't think Trump should be re-elected.
Catch up quick: He listed in Wednesday's speech his qualifications in politics and law enforcement, highlighting his time as administrator of the Drug Enforcement Agency and as first undersecretary for the U.S. Department of Homeland Security.
Hutchinson pointed out that he led the effort to balance Arkansas' budget for the eight years he was governor, a state constitutional mandate.
Between the lines: While details are lacking, Hutchinson's platform broadly reads like a 1990's-era GOP playbook.
What he mentioned:
Curbing federal spending to improve the economy and reduce inflation;
Securing the country's southern border and reducing crime related to fentanyl;
A pro-growth energy policy that's not focused on oil production limits;
Strengthening relations with other countries and ensuring the U.S. has the most prepared military in the world;
Reducing crime by "enforcing the rule of law" nationwide.
What he didn't mention:
Former President Trump;
Abortion or reproductive rights;
Transgender issues;
The Supreme Court;
Race.
What he's saying: "America is a democracy's lighthouse. We must not let the light be dimmed," he said, seemingly a reference to how the country's politics are split.
"If freedom's light goes out in the United States, then other countries will have their freedom shipwrecked on rocky shoals."
Editor's note: Axios will continue to update this story.
Go deeper