What young Democrats want from a 2nd Biden campaign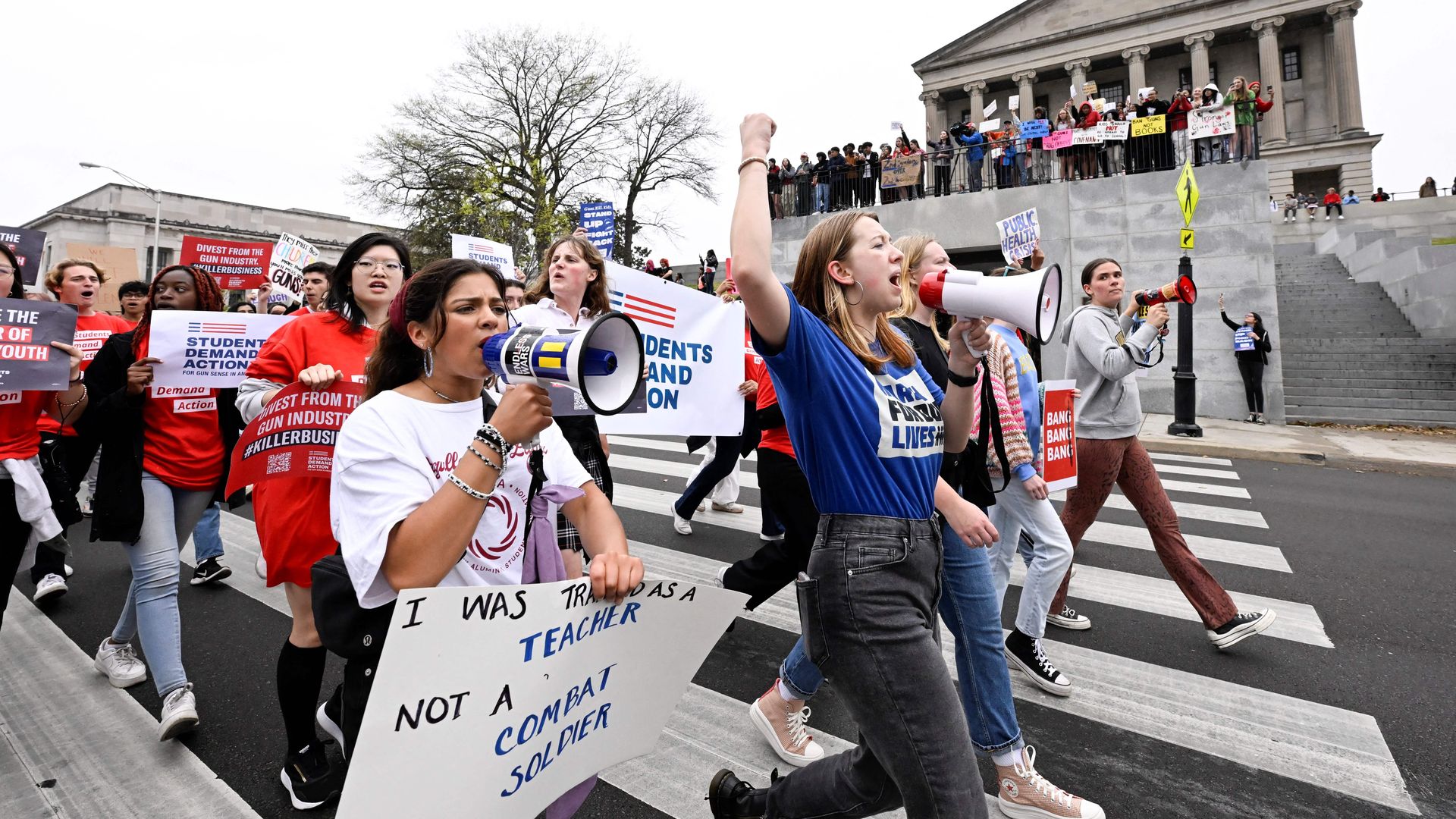 Young Democrats have a message for President Biden as he seeks a second term: Listen to us.
Driving the news: As Biden, 80, announces his re-election campaign, America's youngest Democrats want the octogenarian's platform to align with their priorities.
"He's not a candidate that really gets me going as a young Democratic voter," said Ben Bograd, 23, who voted for Biden in 2020.
The big picture: Youth organizing contributed to Biden's 2020 win — but enthusiasm surrounding his second run is low.
Just a quarter of people under 45 said they would definitely support Biden in a general election, compared with 56% of older Democrats, per an AP-NORC poll.
Biden's pledges to young voters, like student debt relief or gun control, have been caught up by court rulings or congressional inaction.
Zoom out: Biden, already the oldest president in history, would be 86 at the end of a potential second term, and some voters worry that his age could be a political liability.
Partisan disdain for former President Trump, who Biden might face in a historic rematch most voters don't want, may be a motivating factor for many, and Biden's age alone won't keep young voters away from the polls. But younger voters told Axios they worry about his ability to reinvigorate his base.
What they're saying: Biden's team says they are all in on listening to this crucial voting bloc.
"As we did in 2020, we are going to work hard to earn every Americans' vote by using innovating ways to reach them, and highlighting the stakes of this election," campaign spokesperson Kevin Munoz, 27, said in an email.
Young people are "starving for a fighter"
More than anything, this key constituency wants to feel as if Biden really hears their concerns, even if his hands are tied on pushing through policies they like.
"Young people right now are starving for a fighter, not just a talking head, and I think that that's something that we expect to see more of from the Biden administration," John Paul Mejia, 20, told Axios.
Mejia, who is the spokesperson for the Sunrise Movement, a youth-led organization on fighting climate change, is disappointed by some of the Biden administration's policies on environmental initiatives like approving ConocoPhillips' Willow oil project on Alaska's North Slope.
"It feels like the administration is taking young people for granted."
Issues like gun safety, abortion, the environment and the economy are all top of mind for young progressive voters. In the 2020 primaries, much of that group broadly favored Sen. Bernie Sanders (I-Vt.), who is older than Biden, but ultimately rallied behind the president and pushed the moderate candidate leftward.
Biden's record and stances provide a stark contrast with Trump's — which he plans to make a centerpiece of his campaign — and young voters want him to continue a commitment to progressive ideas.
"If the president can demonstrate a serious commitment to elevating young voices and listening to Gen Z ... I think that is a way to combat concerns that young people might have," said Aidan Kohn-Murphy, 19, the founder of Gen Z for Change.
Mejia said that he and his peers in the Democratic Party are committed to defeating "right-wing extremism" but "we're going to need to see that same fight reflected back to us and the Biden administration still has a lot more room to prove that to young people."
Biden's age, young people say, is less of a concern. They care more about the "age of his ideas," per Mejia.
But Bograd said that Biden's longtime status as a "relic" of Washington makes him less enthusiastic about the president's re-election campaign.
"I think that there's just so much inertia in the fact that he's been there for so long, he just doesn't feel like a changing of the guard and I don't really know how you overcome that."
Biden can resonate with young Democrats by connecting with them on the social media platforms they use, Katherine Jeanes, 23, said.
"I think communicating directly to young people ... and speaking to us in the ways that we're familiar with, I think that's the best way to get folks excited about this," Jeanes, who voted for Biden in 2020 and is a member of the Democratic National Committee Youth Council, said.
What to watch: Biden is already planning to deploy hundreds of social media "influencers," who will tout his record, as part of an effort to boost his standing among young voters, Axios' Sophia Cai reports.
Go deeper... First look: RNC slams Biden in AI-generated ad
Go deeper